Online education is convenient in several ways. You can study and work at the same time and it is not necessary to interrupt your projects, commitments and plans to pursue a degree with a distance learning institution. However, a lot of people can experience a sense of isolation as they don't find comfort in a community on campus.
At European International University, we take the accompaniment of our students very seriously. That is why we rely on a Careers team which offers advice, coaching and guidance to those who wish to get in touch. And unlike brick-and-mortar universities, where you have to wait for an appointment with these kinds of departments, we are always online to respond to our students' concerns. EIU-Paris students speak for us.
Jerry Modesto, a seasoned Human Resources professional, Training Specialist and a freelancer Visa Consultant, has recently finished his MBA in International Business at EIU-Paris. He said that "the program offers a personalized learning experience that is tailored to the current needs of every professional. Salute to the EIU for passionately helping and preparing future leaders who can inspire others to work towards fruitful common goals."
We are proud to see how a rigorous program and the right consulting from our team can help hard-working and entrepreneurial students to reach the best version of themselves. Jerry Modesto worked as a training specialist for Middle East Propulsion Company, an MRO that offers cutting-edge services through a military aircraft engine refurbishment facility. He also held a position with The Boeing Company, the largest aerospace producer in the world and a supplier of aircraft, helicopters, rockets, satellites, telecommunications gear, and missiles. He was in charge of training and personnel development for the French multinational Carrefour. Now, he is working for DaVita, a 500 Fortune healthcare company, as a Team Leadership Administrator.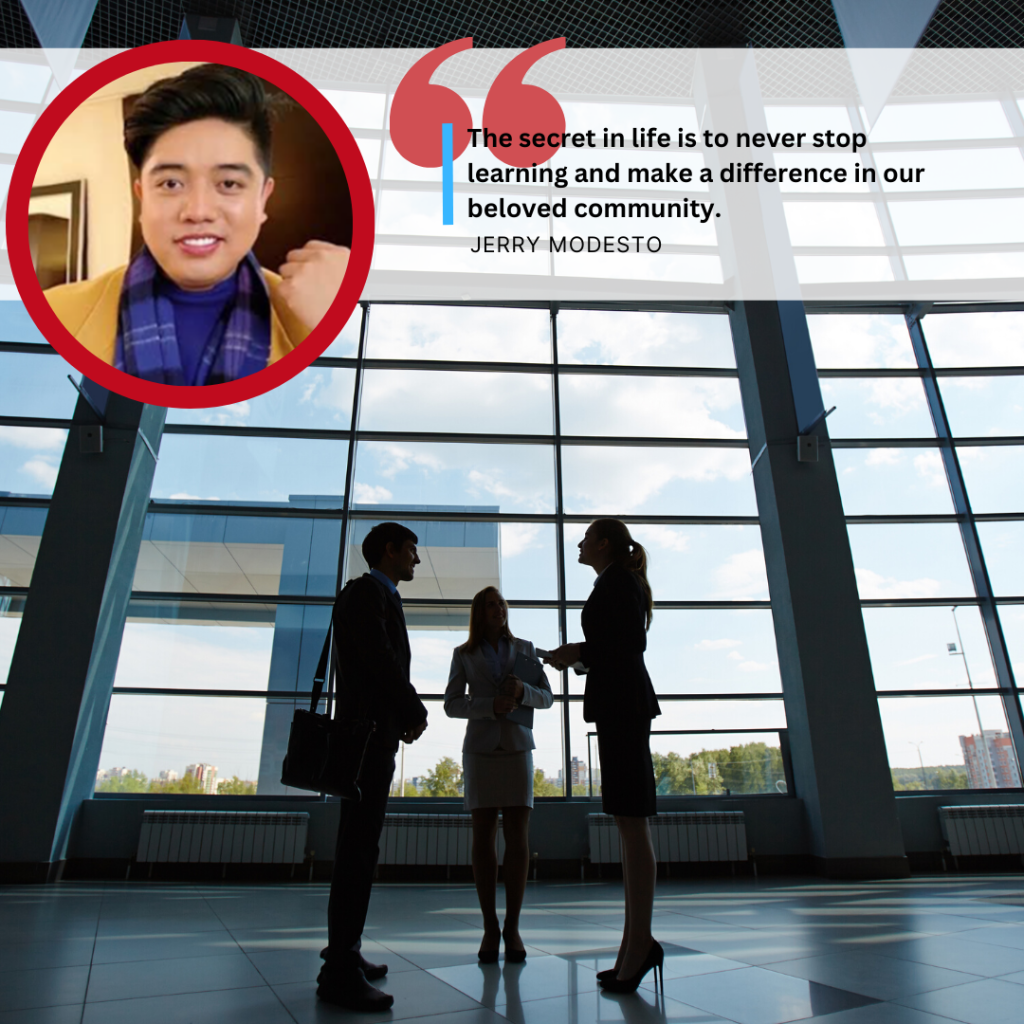 Moreover, Jerry has always sought the path of excellence in education. He holds a BSc in Information Technology (Ifugao State University, Philippines), Post Graduate Diplomas in Marketing and HR Management (IQN Global, UK), a Level 7 Diploma in HR Management (Qualifi, UK), a Master of Public Administration and an MBA in General Management (Aldersgate College, Philippines). He decided to pursue an MBA from EIU-Paris, but with a specialization in International Business, because graduates with this degree are sought after by the top multinational companies as it is quite demanding and vast.
These days, the majority of employers demand candidates to have a postgraduate degree-level education when hiring for leadership positions. An MBA can take you to careers in numerous industries. You can observe how globalization has increased cross-border connectivity of markets, businesses, people, and information by studying international business.
Our graduate Jerry Modesto also claimed that this program has made a big impact on his career in positive ways, fostering a lot of resilience, meritoriously boosting his self-esteem and life goals. It is highly suitable to any working professional looking to take the next step and transform their career.
Jerry mentioned that "Education doesn't stop after you graduate from college. It doesn't stop after you finish your Master's degree or Doctorate either. Wisdom acquisition is a moral duty. The secret in life is to never stop learning and make a difference in our beloved community by sharing our God-given talent, skills, and knowledge that we have acquired."
What is the advantage of MBA in a management related occupation ?
A Master of Business Administration can bring out a lot of advantages. First of all, studying an MBA is linked to an increase in professional qualification. This type of training is also related to greater security when it comes to finding a job, keeping the position you hold or finding a new one. Professionals who have an MBA usually occupy executive or managerial positions, which means that they have a salary that is way above the average.
Undoubtedly, networking is one of the fundamental reasons why it is recommended to study for an MBA. Whether you are looking for a job or already working in a company, this postgraduate degree is a very powerful tool that facilitates contact with people with similar professional interests who often hold management positions in other companies.
The EIU-Paris not only offers all the advantages mentioned above with its MBA. We have 17 specializations available to our students, so that each one can find their place and destiny in our virtual classroom. We continue to be one of the most affordable institutions in international rankings as we are #55 World's Best Business Schools for 2023 by CEOWORLD Magazine.
"I absolutely recommend new students to contact the EIU Careers team early on to take full advantage of the services offered". said Jerry Modesto, providing an overview of the career support he received during his MBA at EIU-Paris
submitted on 10.04.2023 [email protected]