Submitted by Alessandro Odoardi
Dr. Kaiser Naseem is an International Development Banker who has assisted in the economic development of several emerging economies around the world. He is also known as a global thought leader on several issues facing the global economy.
Dr. Naseem started his career as an engineer in Pakistan's largest industrial complex- Pakistan Steel Mills where he served as head of the sintering plant for four years after which he joined Pakistan's largest financial institution where he was involved in industrial development and project finance in the 1980s. He also established two financial institutions in the private sector there before moving on to Central Asia where he was instrumental in establishing the region's first financial institutions (commercial banks and leasing companies) in different newly independent countries in the 1990s. He also spearheaded efforts there to promote and develop SMEs and to build SME banking capacity within local banks. He continued this in the MENA region, where in the early 2000s Dr. Naseem, from the platform of the International Finance Corporation/World Bank Group also helped establish institutes of corporate governance in several countries. Under his leadership several banks were able to provide banking and financing services to MSMEs. He also established Pakistan's SME Bank and served as its founder President & CEO.
The sector in which Dr. Naseem works is fundamental to economic development since the financial system has a significant influence on economic growth as it serves as an essential pathway for directing resources toward viable projects without which the economy may not be able to grow. Financial systems that play this role smartly can raise national productivity and boost economic activity in many key sectors. However, commercial financial institutions are not always ready to utilize their resources to fund long term initiatives, even when they are socially and economically significant. This is where development banking comes in with a significant role to play to create a more prosperous and sustainable world.
From 2015 onwards Dr. Naseem focused on encouraging and assisting banks globally to leverage technology by helping the design and implement digital transformation strategies. During this period, he also mentored and advised several FINTECHs and other startups. Cutting across all this have been his efforts at promoting good governance, sustainable business, green banking, and women empowerment
Today, Dr. Naseem continues all these efforts and initiatives by sitting on the board of directors of several regional and Global institutions as an independent board member. He also advises and mentors business owners and entrepreneurs. The skills and competencies that he brings to institutions, both as an independent board director and as an advisor are: (a) Corporate Governance; (b) Strategy Formulation and Oversight; (c) Digital Transformation; (d) MSME Development and Banking; (e) Entrepreneurship Development; and (e) alignment of Business Goals with SDGs/ESG. He was one of the top 50 fintech influencers in the Middle East in 2017 and top 100 Global Fintech influencers for SDGs in 2019. In addition to that, he was awarded the title "Leader in Global Development Finance" in April 2019.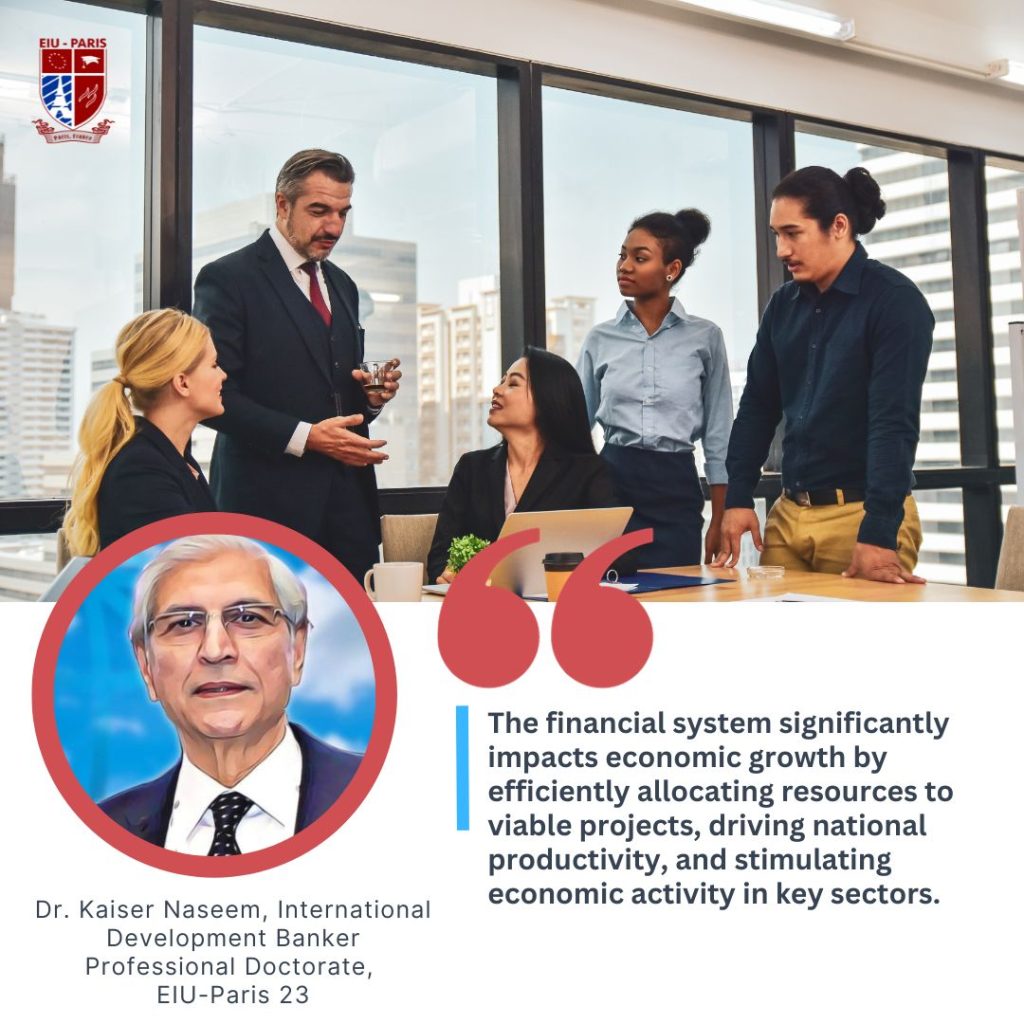 As a highly educated person, he holds a Master of Science in Metallurgical Engineering (National University of Science and Technology, Russia, 1978) and a Master of Business Administration (Asian Institute of Management, Philippines, 1984). Dr. Naseem was also part of the "Competitive Dynamics in Islamic Finance" Programme at Cambridge Judge Business School (UK, 2014) and the "Strategy in the Age of Digital Disruption" course at INSEAD (France, 2018).
In recognition of his untiring efforts for global economic development and making the world a better place for everyone, the European International University, Paris honored him with a Professional Doctorate in Development Finance and Economics in October 2022.
"The recognition of the EIU-Paris Professional Doctorate inspires me to continue striving for global development through focusing on the several issues that continue to challenge our planet. This university provides a value that very few in the educational world can provide. And that is why I am more committed than ever to providing my experience and knowledge for the common good of all humanity."

Dr Kaiser
"He is an exemplary Doctorate Graduate at EIU-Paris to learn from & look upto" – Summarizing Dr Naseem's dedication in one sentence 𝙨𝙖𝙞𝙙 Dr. Jatin Anand of European International University – Paris (Official)
The Professional Doctorate at EIU-Paris
EIU-Paris offers its innovative Professional Doctorate (PD), which concentrates on real-world applications of a certain discipline. In fact, the Professional Doctorate degree may be seen as an honorary recognition of the recipient's superior knowledge and proficiency in their area of study.
The VAE procedure is used to process all PD candidates. The French phrase "Validation des Acquis de l'Expérience" or "Validation of Prior Learning and Experience" (VAE) means that a candidate must submit a portfolio of supporting documentation for review by a VAE committee, which then evaluates the candidate's work history, abilities, and skills. If the applicant is accepted, EIU-Paris may award them a diploma or certification.
After receiving this degree, many professional doctorate holders will be eligible for specific leadership positions within their sector.
If you have been able to build an amazing career and created a substantial work in your area of expertise, then it's possible to get in contact with the EIU-Paris staff to know further about our PD. It's possible that you can make an impact with this certification from our prestigious French institution, which is now ranked at #55 in the 'Best Business Schools In The World for 2023' (CEOWORLD Magazine) along with listed on QS stars