No missed opportunities when Education is on our side – A case of excellence in operations management
Due to globalization and the acceleration of technology, we live in an environment of high volatility, uncertainty and complexity. In light of these changes, companies must be able to adapt their strategies, products, services and processes to remain competitive and innovative. That is why operations management (OM) is important. With the proper OM, businesses have a great sense of planning, organizing and monitoring the production, and processing of products and services. This system is very important as it helps to effectively manage and control changes that may occur in the business.
In that sense, it is vitally relevant for today's companies to have an excellent sales and operations manager. Mahmoud Allam has a career that demonstrates plenty of solvency in this area. He has spent the last fifteen years managing sales and operations for many multinational businesses in the retail sector. With lots of enthusiasm, he has a proven track record of success in different job positions. He gained a lot of knowledge from this experience on how to lead a team, create and implement sales strategy, and streamline processes.
Mahmoud Allam worked as an Operation & Import Executive at 'United For Import & Export' Egypt Moreover, he holds a bachelor's degree in Accounting and Finance from Tanta University (Egypt).
But Allam believed that he needed to take further steps in his education to improve and be the best.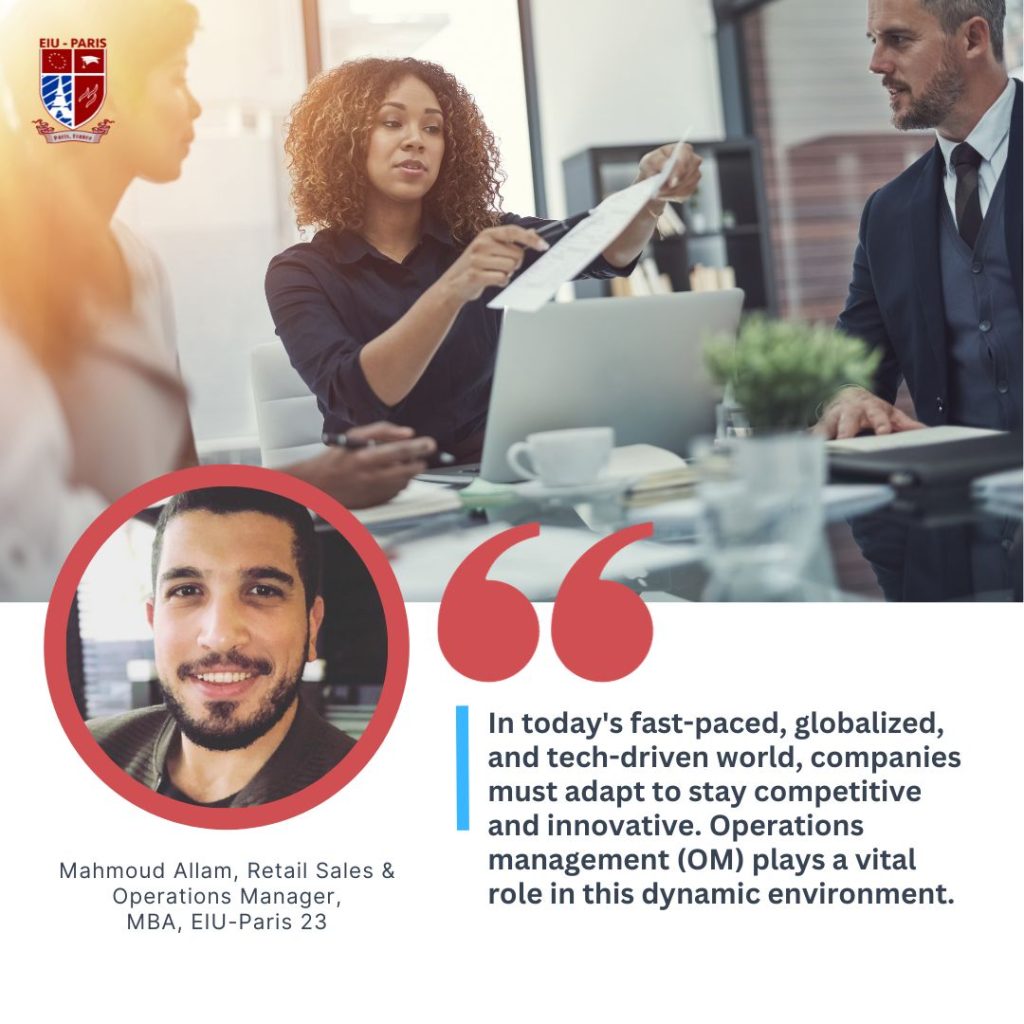 A world-class degree from EIU-Paris
For many potential students, it is difficult to find an institution where they can develop their talents and acquire knowledge, without giving up their promising and busy careers. That is why Allam knew immediately when he learnt about the European International University-Paris that he wanted to pursue our Master of Business Administration (MBA) in Strategic Management. This elite postgraduate degree gives students a solid foundation in the principles of competitive advantage, which are necessary to understand for a detailed analytical analysis of the distinctive situations organizations face to be well managed.
This excellent graduate had his expectations confirmed and said: "EIU-Paris' program gave me deep understanding of the strategic planning process, as well as the tools and techniques needed to assess the competitive landscape, develop and implement strategies, and measure performance."
The skills obtained in this distance postgraduate degree are critical in a highly competitive environment in which opportunities must be taken advantage of. Allam is working as the Retail Sales and Operations Manager at 'eXtra-United Electronics Company' in Muscat, Sultanate of Oman, and the World Bank predicts this country to be fastest growing economy in the Gulf Cooperation Council (GCC) in 2023.
Also, according to the World Bank, Oman's optimistic prognosis was also influenced by the Omani government's attempts to balance its budget and lower its gross debt to 40% of GDP in 2022 from over 60% in 2021. Mahmoud asserted that "the intellectual insight of the EIU-Paris MBA has helped me take advantage of growth opportunities in ways I never imagined"
An opportunity that is available for everyone
For many years, prestigious higher education in Europe was restricted to those few who could afford to stay outside their countries for several years, taking a break from career or family commitments. With EIU-Paris, anyone with Internet access can obtain an MBA from a rapidly growing European university.
Not only that but the European International University-Paris has been ranked #55 in CEOWORLD Magazine's 'Best Business Schools In The World For 2023'. So, those who wish to receive an excellent education from the comfort of their homes, with the academic rigor of our professors, will be able to achieve it at our university. Today, you can follow Mahmoud Allam's example to join our global community of brilliant students and miss no opportunities in these changing times.