In today's article we're going to give insight on one of our prestigious students and their doctorate career here at EIU-Paris, Dr O Henry and his journey with us in acquiring a professional doctorate (PD) in healthcare management. Before we dive into how the PD helped him professionally let's discuss his achievements as an educator who has had 18 years of experience in the field. His passion for learning and imparting knowledge continues to inspire people around the world. He believes that embracing a philosophy of lifelong learning can be a powerful force for personal and professional growth and we at EIU couldn't agree with his wise words more. 
With such determination, he has won multiple awards like master teacher of honor in 2017, national teacher of the year in 2007 and the U.S professor year in health and sciences in 2020. He travels globally to attend and add value to many presentations and events hosted by prestigious universities across the globe. From his talk on 'innovative strategies in clinical nutrition' in Manila, Philippines to his talk on 'how the brain works' inTrinity university of Asia, he sure knows how to communicate his ingenious ideas across the world and actively helping the healthcare industry grow.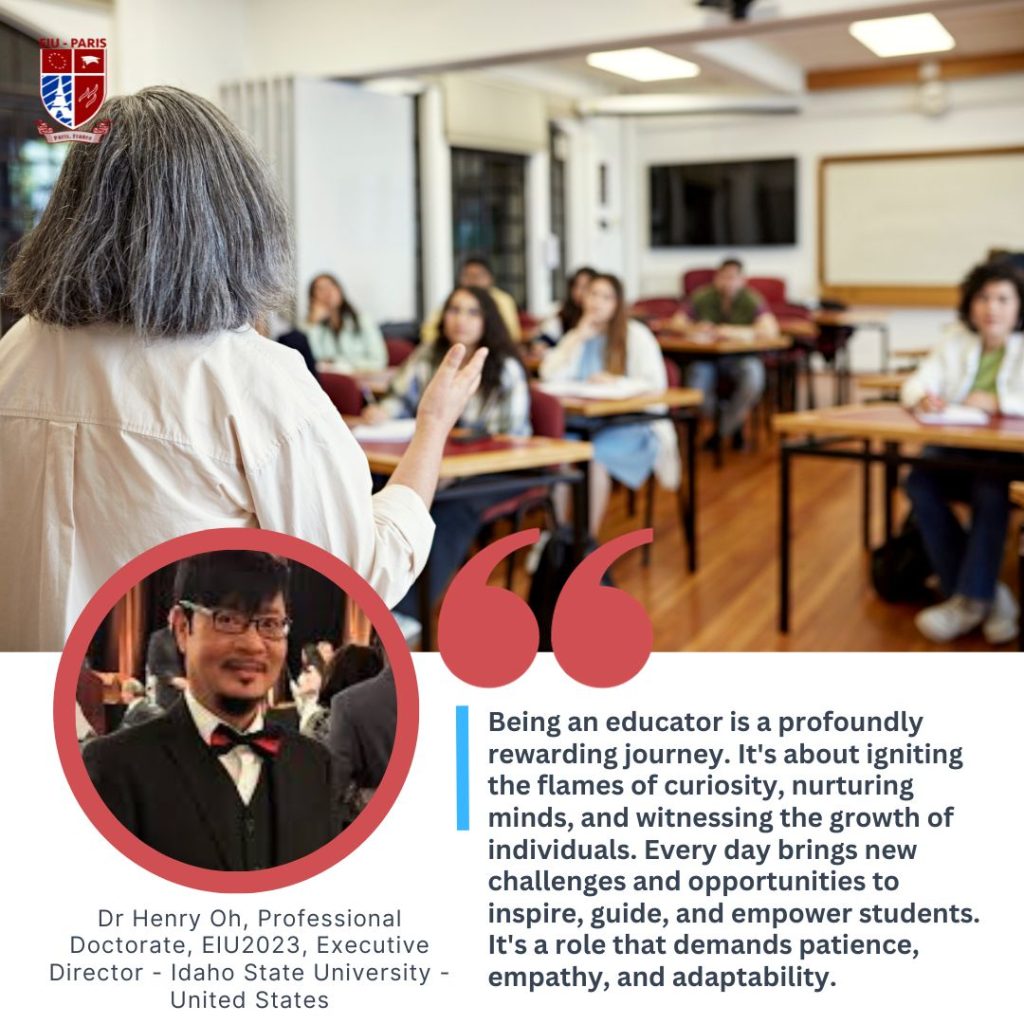 Dr. Henry Oh is the Executive Director, Department Chair and clinical Professor of Health Occupations (HO) at the Idaho State University College of Technology, Pocatello, ID While receiving his PD at EIU-Paris he kept his ambitious work and career ongoing by actualizing his goals to develop an interdisciplinary simulation laboratory in November of 2022. With so many successes in his bag, he made himself highly deserving of the prestigious PD of EIU which has a strict selection process and is majorly based on the application of knowledge individuals have portrayed in their field of specialization. The PD is conferred on deserving candidates based upon the "Portfolio of Evidences" submitted to EIU's team of VAE Assessors (validation of prior learning and experience), gauged and validated through their noteworthy contributions, as well as achievements which in case of Dr O Henry were outstanding.
Our PD aims to professionally validate the experience and careers of achieving people like Dr O Henry entitling them to use "Dr" before their name. This leads to personal fulfillment which could be a great milestone in the lives of people who have dedicated their work to a particular field with utmost attention and perseverance. Moreover, earning a professional doctorate can open up opportunities for career advancement and increased earning potential. In the case of Dr O Henry, his busiest year where he traveled across the globe to give speeches and presentations was after achieving his PD which definitely may have added value to his already spectacular resume.
The Idaho State University Board of Directors were impressed with Dr. Henry's Professional Doctorate from EIU-Paris, it made a huge positive impression. Congratulations!

Spokesperson at Idaho State University – Idaho, United States.
A PD allows individuals to achieve professional development, advanced expertise and recognition which are sure to further boost their career prospects, giving them a nudge towards their goals. With Dr O henry's skills in leadership, organization and communication that shone through his work, EIU was pleased to provide him with the Professional Doctorate award that we hope adds to his lifelong work and contributions to the field of Healthcare Management.
It brings esteem and abundant joy to us seeing such caliber, talented and highly professional individuals from America choose to continue their higher learning at the European International University-Paris & getting our awards and using it proudly says a lot – The Alumnus like Dr. Henry Oh. are a testimony to EIU-Paris quality and values which continually raises the bar for educational standards and fosters an environment of innovation and growth. This is also an achievement for us as our university continues to get chosen across the globe and specially in US by students for their growth and careers.

Prof. Dr. Edward Roy Krishnan
Submitted by Dr. J Anand of EIU-Paris