At EIU-Paris, we derive immense satisfaction from collaborating with world-class institutions that share our unwavering commitment to quality assurance and the provision of exceptional learning experiences to students. Among these esteemed partners stands Nilgiri College in India , a beacon of excellence in education. We extend our heartfelt congratulations to Mr. Rashid Gazzali , Managing Director of Nilgiri College of Arts & Science on their remarkable achievement, a testament to their dedication and relentless pursuit of academic distinction. It is an honor for us to be associated with an institution that continually raises the bar for educational standards and fosters an environment of innovation and growth. This achievement resonates with our mutual ethos and reinforces our belief in the transformative power of education. As we continue this journey together, we anticipate even greater accomplishments and a shared legacy of educational excellence.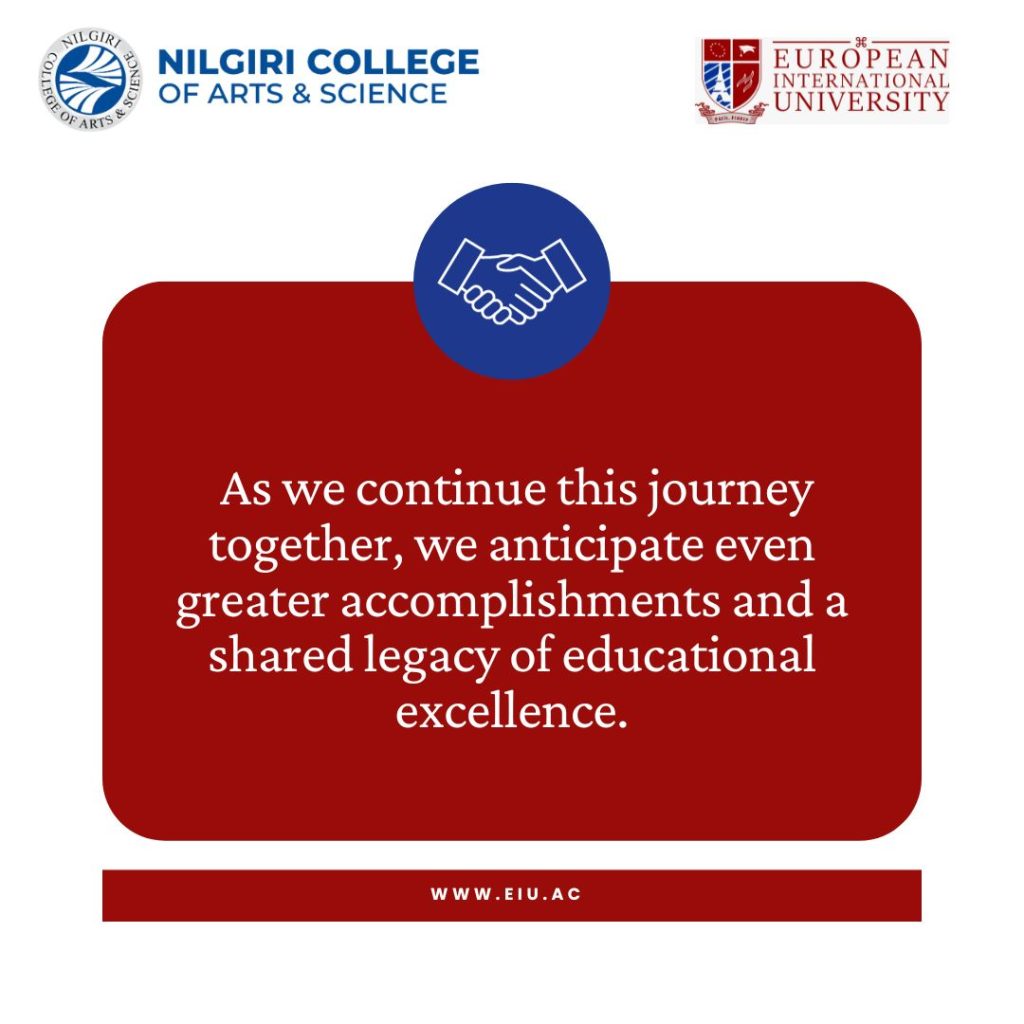 EIU-Paris validates and certifies their short term programs and intend to do more certifications in future in their effort to introduce more international flavor to their offerings in their respective country.
About Nilgiri College of Arts & science
NILGIRI COLLEGE OF ARTS AND SCIENCE, established in 2012 with affiliation to Bharathiar University, is continuing its academic journey by creating many stories of success, growth and innovation. With unique blending of state-of-the-art infrastructure and novel teaching and learning practices, the college is on its right track to emerge as an ideal academic destination for students all over the world. Enveloped by serene landscapes around, the campus inspires everyone with the intrinsic positive vibes encompassed in its environment.
The college started with three UG program with 65 students and now it is offering nine UG and 3 PG programs with a student strength of 1335 and with a faculty strength of 69. The college is enlisted in the UGC 2(f) & 12(B) status and is an ISO 9001-2015 certified institution. It has signed 11 international and 60 national MoUs for academics, research, and placement.