Use Case & Scope of Professional Doctorate from EIU-Paris
It's disheartening to witness how students with various learning disabilities specially Dyslexia fall through the cracks, not due to lack of potential but a widespread lack of awareness. Misinterpretation of dyslexia leaves many parents, teachers, and schools in the dark. Unfortunately, not all educators are equipped with the knowledge to identify and support dyslexic learners, leading to their needs being unmet.
"My pursuit of the Professional Doctorate at European International University is driven by a desire to amplify my impact. Armed with enhanced knowledge, I'm eager to advocate for better education, spearhead awareness campaigns, and ensure that every dyslexic learner receives the support they deserve". Dr. Sri Juliana Safri: Founder & Managing Director BioDyslexia
European International University-Paris takes pride in presenting inspiring accomplishments of a Captivating Woman Dr. Sri Juliana Safri: Founder & Managing Director of BioDyslexia, a place where innovative teaching methods and emotional support converge. Dr. Safri has reached another milestone by attaining Professional Doctorate through the European International University-Paris. This achievement is more than just a title; it's a testament to the unyielding dedication and passion that drives her.
Professional Doctorate from European International University-Paris
Her journey is a testament to the transformative power of awareness and action. In Malaysia, the silent struggle of students with dyslexia often goes unnoticed, overshadowed by a lack of understanding and awareness about this learning difference. As a dedicated teacher, Dr. Safri personally witnessed and recognized the urgency for change. This realization ignited the birth of BioDyslexia that aimed to provide not just education, but also a safe space for dyslexic learners to flourish. Her motivation stems from witnessing their struggles, not only in learning but also in navigating their sensitive emotions. Dyslexic learners are often more emotionally attuned, making their educational journey even more intricate.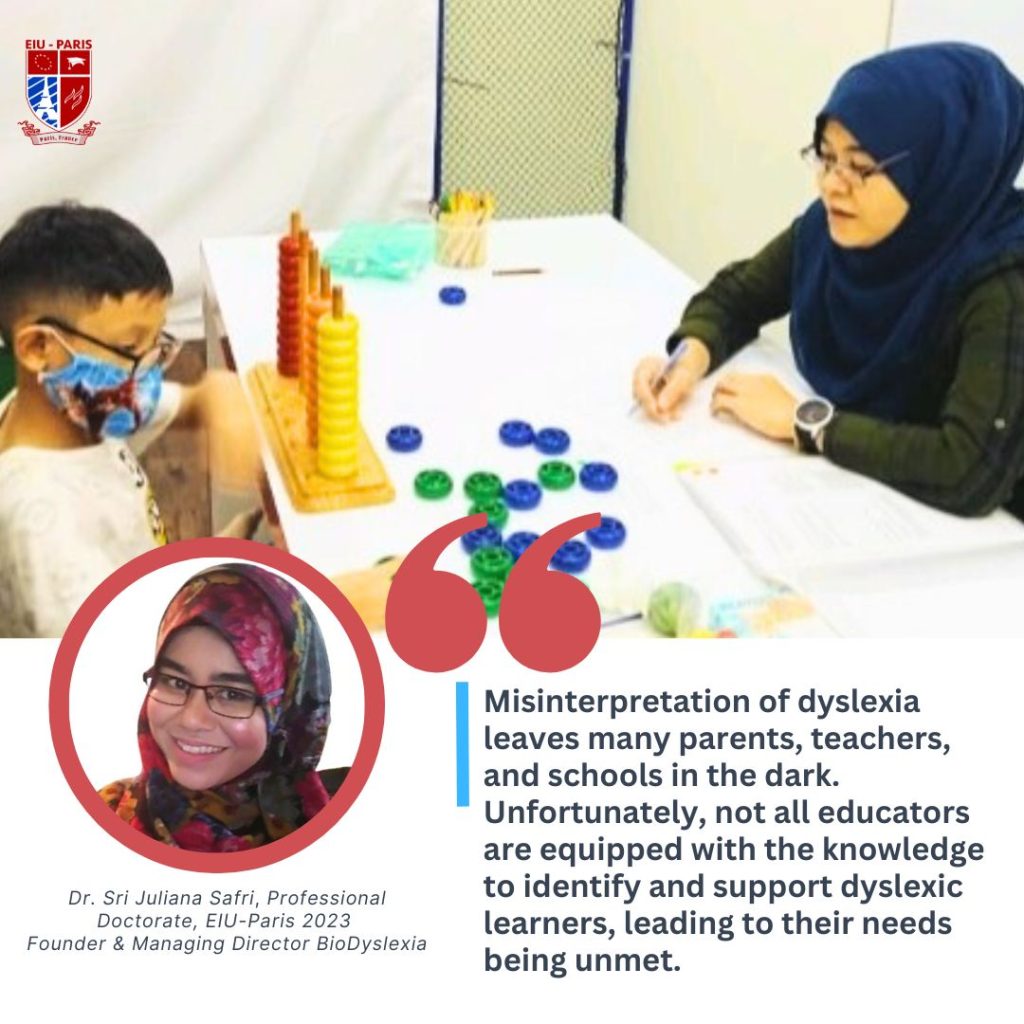 This journey of Dr. Sri Juliana has been a testimony to the power of perseverance, knowledge, change and hence growth.  As she embraces this new chapter, with excitement to continue championing awareness, compassion, and transformation in the field of dyslexia education, European International University-Paris applauds her for her outstanding and exemplary contributions to society through the field of Special Education. Not only EIU, but BioDyslexia clients' testimonials demonstrates Dr. Safris dedication and devotion to the cause.
Professional Doctorate from EIU-Paris via VAE (Validation des Acquis de l'Expérience) acknowledges and takes into account the actual translation of knowledge and expertise into real life application and contributions to society which makes it more prevailing than a traditional PhD with limited research (very narrow) and eventually the thesis sits on university shelf collecting dust. It's the Professional Doctorate (PD) in Special Education from EIU-Paris that empowered Dr. Safri to amplify the impact of her work in dyslexia education through BioDyslexia.
Dr. Safri's heartfelt thanks to European International University for recognizing her efforts and providing a platform to further elevate the cause she holds dear, is a reward that EIU-Paris earns through outstanding achievers like her.
Together, let's continue to make a difference and inspire positive change
Submitted by Dr J Anand [email protected]