Dr. Eugene Seah is a celebrated entrepreneur, business leader, and philanthropist from Singapore. He is COO of Meinhardt Singapore, which is one of the most respected Asian-based engineering companies in the world. Eugene is a pioneer in the field of construction industry and civil engineering industry and has been involved in numerous initiatives to promote the industry globally.
Here is his story which is worth appreciating.
Eugene joined the construction industry in 1999. He graduated with a BSc in Quantity Surveying (1st Class Honours) from the University of Reading and started work in Davis Langdon & Seah as a Quantity Surveyor. He subsequently broadens his knowledge by reading a BSc in Technology and Computing (1st Class Honours), a MSc in Construction Law and Arbitration and a MSc in Sustainable Building Design (Merit). He subsequently attended the Senior Management Development Program from Harvard and also has a Diploma and a Certificate in Advance Learning and Performance for Adults from the Institute of Adult Learning at Singapore University of Social Science. He also has a certificate for Value Management from the UK Institute of Value Managers. He is currently undergoing a Thesis by Portfolio at the Swiss Business School.
Through the years in Davis Langdon & Seah, subsequently renamed to Langdon & Seah, he carried out project management and quantity surveying work and was a Partner of the firm in 2008. As a Partner, he has businesses in Singapore, Vietnam , Korea, Indonesia and India. In 2012, the firm merged with Arcadis , a Dutch Multidisciplinary company and was the Managing Director of Arcadis Singapore and the City Executive for Singapore. The City Executive role enabled him to understand how large multinational corporations works and he had also to integrated the various brands and cultures in the Arcadis business in Singapore. In 2017, he joined Surbana Jurong as a Senior Director at the Group CEO's office (special projects) and became a Director in Three sixty Cost Management and Three sixty Contracts Advisory, a subsidiary of the Surbana Jurong Group. In his role as Senior Director, he led the Digital Management Office and the Sustainability and Resilience office . In late 2020, he became the Managing Director of Surbana Technologies, the Smart Cities arm of the Surbana Jurong Group and subsequently brought the company to win several awards for their innovative approach to asset and environmental management through a proprietary platform. In 2021, he successfully participated in a M&A with a Systems Integration company, bringing one more specialised company into the group to carry out platform development and systems integration into the Group's capabilities. He subsequently became a Director in this newly formed system's integration company.
"Seah has a formidable reputation, endless energy and solid experience in the built environment industry, having successfully undertaken various senior leadership roles covering Singapore and overseas markets,"

Omar Shahzad, chief executive of Meinhardt
In 2023 February, he left Surbana Jurong Group to join the Meinhardt Group, a multidisciplinary and international design and engineering company that is head quartered in Singapore. He undertook the role of Global Director of the Group and the Chief Operating Officer of the Singapore office with the strategic focus to improve the company's performance through the adoption of digital and technology, sustainable and resilient practices and increasing their competitive edge all round. He reports direct to the Group CEO and to the Board. Eugene is an Adjudicator at the Singapore Mediation Center and is also a Mediator at the Singapore Institute of Surveyors and Valuers. He has supported Expert Witnesses and has Facilitated and resolve disputes amounting to hundreds of millions of dollars. With his experience as a Quantity Surveyor, Project Manager, and equipped with Information Technology , Digital and Construction Law knowledge, he is uniquely placed to support and give advice on projects involving the various disciplines as well as disputes in Smart Cities projects. A polymath in his own right and experienced from Construction related industry practices to Smart Cities and Technology, Eugene loves to share industry knowledge and his learning. He speaks at local and international symposiums and in 2021, he won the Best Practice paper award from the Pacific Asia Quantity Surveyors congress. In 2019, he was awarded the inaugural Royal Institute of Chartered Surveyors , Construction Professional Award. In 2012, he was also awarded the Green Advocate of the Year, jointly by BCA and SGBC.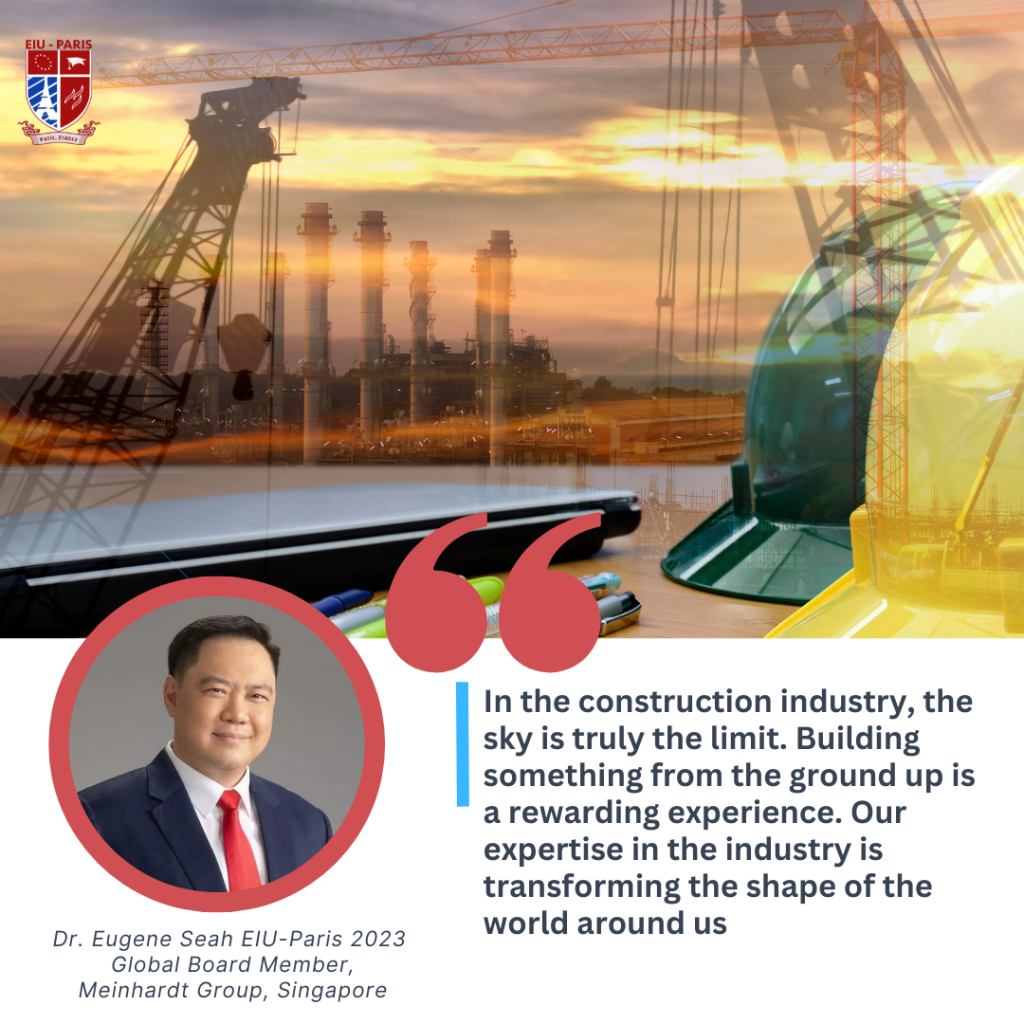 He has been teaching at the National University of Singapore since 2008 till present and lectures on Contract and Cost Management. To contribute back to the community and society, Eugene is the current Chairman of the National Youth Achievement Award Council and the President of Building Smart Singapore Chapter. He is the Honorary Treasurer of the Society of Project Managers and sits on various advisory boards for Institute of Higher Learning and Schools. He is in the Building Information Modelling Sub Committee at the Singapore Institute of Surveyors and Valuers and is the Senior Vice Chairman of the International Cost Engineering Council. For his quiet time, he enjoys reading his Bible, playing Command and Conquer to keep his wits on the edge and going to the gym to sweat it out. His motto is to Live with Passion and to always be God fearing.
Eugene Seah's Doctorate at EIU-Paris
Achieving a PD from EIU-Paris (Professional Doctorate) in a field like Construction Management entails a highly applicative approach and is a degree taken up by individuals and entrepreneurs As a business leader of few large organisations & globally recognized multinational corporation, a professional doctorate was apt for Dr. Eugene Seah who started off by working as a Quantity Surveyor and now runs international corganisations and is a well known figure in the industry.
Dr. J Anand of EIU Paris said in a recent ceremony that the process for this achievement is acutely stringent making the selection worth commending a celebration"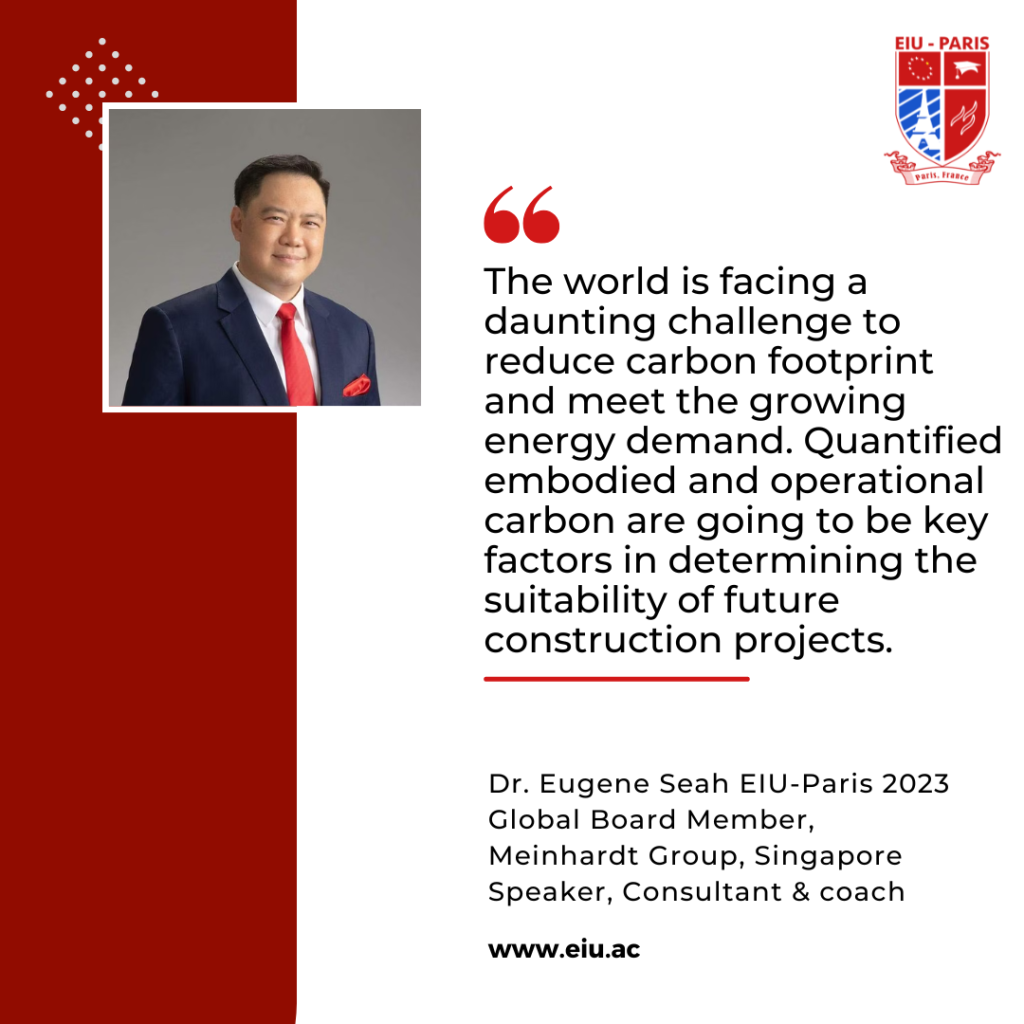 The Professional Doctorate at EIU-Paris
EIU-Paris offers its innovative Professional Doctorate (PD), which concentrates on real-world applications of a certain discipline. In fact, the Professional Doctorate degree may be seen as an honorary recognition of the recipient's superior knowledge and proficiency in their area of study.
The VAE procedure is used to process all PD candidates. The French phrase "Validation des Acquis de l'Expérience" or "Validation of Prior Learning and Experience" (VAE) means that a candidate must submit a portfolio of supporting documentation for review by a VAE committee, which then evaluates the candidate's work history, abilities, and skills. If the applicant is accepted, EIU-Paris may award them a diploma or certification. After receiving this degree, many professional doctorate holders will be eligible for specific leadership positions within their sector.
It is an extra mile worth of effort for recognizing your expertise in the industry. This doctorate is further an assurance of the seal of your competence, prowess & the command of your skill.

Said Prof. Dr. Edward Roy Krishnan in a recent ceremony glorifying the achievements of Dr Eugene Seah
Submitted by Dr J Anand [email protected]