As a distinguished institution in the landscape of higher education, European International University (EIU) Paris stands out for its unwavering commitment to academic excellence and its profound impact on student success. Nestled in the heart of Paris, EIU Paris has garnered a well-deserved reputation for nurturing talents and propelling individuals towards remarkable achievements. Among its many success stories, one shines particularly bright—the inspiring journey of John Stephen Kimwemwe, a professional whose accomplishments exemplify the transformative power of an education at EIU Paris. With a versatile skill set, unwavering dedication, and an impressive track record, John Stephen Kimwemwe has not only achieved personal success but has also emerged as an influential figure, showcasing the unparalleled opportunities that EIU Paris offers to its students.
Unveiling Remarkable Accomplishments: A Testament to Excellence
John Stephen Kimwemwe's accomplishments span a diverse range of fields, solidifying his position as a formidable professional in areas such as External and Internal Audit, Governance, Risk Management, and Compliance. His expertise extends to encompass Accounting and Finance, Internal Control, Risk Management and Compliance, Corporate Governance, and Fraud Prevention and Investigation. With a proven track record of delivering exceptional results, his proficiency in utilizing Data Analytics tools like IDEA and ACL, combined with his mastery of MS Applications, further enhances his skill set, making him an invaluable asset in his field. He is currently working a Senior Banker at CRDB Bank Plc in Dar es Salaam, Tanzania
Choosing EIU Paris: A Strategic Move towards Success
When contemplating further education to expand his knowledge and skills, John Stephen Kimwemwe made a well-informed decision to pursue an MBA in Strategy at EIU Paris. This choice was informed by careful consideration of various factors, all of which aligned harmoniously with his aspirations and professional objectives. Notably, EIU Paris offers a flexible learning environment that allows students to tailor their studies to suit their own pace, effectively managing their work commitments alongside their academic pursuits. This unique feature ensures a seamless integration of education and career, empowering students like John Stephen Kimwemwe to thrive and achieve their goals.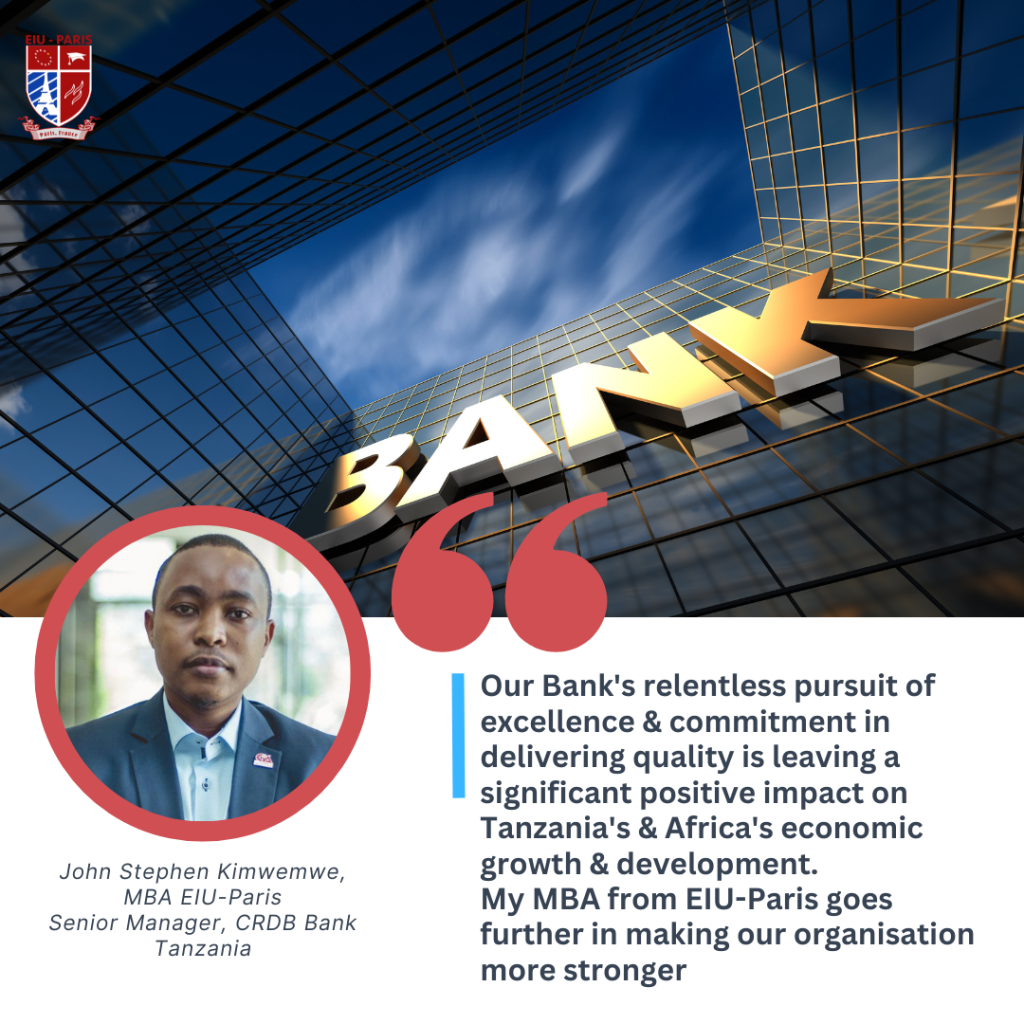 The EIU Paris Advantage: Unlocking Potential and Unparalleled Opportunities
EIU Paris goes beyond traditional educational paradigms, serving as a catalyst for personal and professional growth. The institution's unwavering commitment to excellence and the cultivation of talent create an environment that fosters the full potential of its students. Expert faculty members, renowned for their knowledge and experience, deliver a robust curriculum that equips students with the knowledge, skills, and insights necessary to excel in their chosen fields. EIU Paris also emphasizes the creation of a stimulating and supportive learning environment, empowering students to unlock their latent abilities and achieve extraordinary feats.
Fostering Career Growth: EIU Paris' Impact on Professional Success
The impact of EIU Paris extends far beyond the confines of the classroom, empowering students like John Stephen Kimwemwe with a competitive edge in their respective industries. The institution places a strong emphasis on practical application and real-world scenarios, ensuring that students are well-prepared to navigate the complexities of their chosen professions. Through the guidance and mentorship of experienced faculty members and industry experts, students develop the skills and expertise necessary to make a lasting impact on their careers. EIU Paris enables students to become influential figures who shape their industries and make meaningful contributions to society.
Conclusion
In conclusion, John Stephen Kimwemwe's journey at EIU Paris exemplifies the institution's unwavering commitment to academic excellence and its ability to empower individuals to achieve greatness. EIU Paris provides an exceptional education that unlocks a world of opportunities and sets students on a trajectory toward success. With its dedication to flexibility, outstanding faculty, and a nurturing environment, EIU Paris remains a prestigious institution that continues to shape the future of education. John Stephen Kimwemwe's remarkable achievements and inspiring journey stand as a testament to the transformative power of an education at EIU Paris, reinforcing the institution's reputation as a driving force for empowering success.
Submitted by Dr J Anand [email protected]