—-Dr Rajeev Thakur, Managing Director, Grassik Executive Search Pvt. Ltd
Rajeev's journey from a Marine Engineer to running a highly successful Executive Search firm has been unique, path-breaking & highly transformative. His successful career transition encompassed diverse learning spanning Merchant Navy to Hotels to Manufacturing to Mushroom Farming to running one of the country's most successful Executive Search firms. Every stage was a career step-up for him which required him to mold himself to the "here & now" with agility. Now in the 50th year of his work-life, Rajeev spoke to us about his transformative journey.
A self-taught entrepreneur, Rajeev says he owes his consistent success to his ability to remain "relevant" at any given point of time, something he owes to his insatiable quest for knowledge, his agility to adapt to change & fearlessness to tread where others hesitate. He follows a self-defined philosophy of "winning by being different" & exults in his uniqueness in whatever he does. He is forever excited about the future & insists that people should not be defined by their past, especially in today's world which is hurtling rapidly towards an unknown new.
When he started Grassik in 1993, he pioneered executive search in Media, Hospitality & Telecom sectors in India. In 2015 he set up a new line of industry practice within Grassik, called the "Tech Enabled Business", even as technology was looking to advent into our lives. That initiative has helped place Grassik at the helm of the tech start-up space in talent search, as technology seeps into every aspect of our lives. A self-professed hustler, he proudly proclaims that "Grassik is my hobby, everything else is work". He doesn't believe that one is successful when they follow their passion. Instead, he says, "One needs to become passionate about whatever one does, else life becomes restrictive".
During the pandemic, Rajeev passed on the operational role of his organization to his two sons, taking on the role of a "MENTOR & SOLUTIONIST", a designation he proudly proclaims defines his current status. From being an empanelled Mentor to students of Management Schools to Mentoring CXOs, is a range that allows him to operate & communicate across multiple levels of generations & age groups. He has learnt to communicate effectively with every age group in a language they understand. He calls himself a "neologist" in the making.
He has a different take on what constitutes an effective mentor. "Mentoring is never a one way street. In any interaction, the mentor must look for a take-away for himself. Mentoring is a process that helps a mind to start functioning dynamically, picking up cues that would not come up in a stagnant mind, no matter how brilliant. Every mentoring session ends in a new learning for me; hence I remain a student for life. A session that has no take away isn't mentoring, it's preaching".
He considers his role of a Solutionist as being that of a facilitator in finding solutions. He teaches people to look at a problem with a view that a solution MUST exist. Once that belief crystalizes in one's mind, the solution is only a step away. Most complex problems do have simple solutions hence he encourages people to always look for answers that seem most likely. As part of this premise he has devised games & brain teasers as exercises for his team.
Rajeev realized the risk of not keeping pace with the change driven by technology early on. He now runs a weekly programme "LEARNING WITH GRASSIK" that focuses on impacting people's lives personally & professionally as he believes both are closely interlinked. "Creating better humans is my goal" he says. He researches extensively & speaks on a wide range of topics covering mental health & happiness, religion, psychology & human behavior, emerging technologies, consumer trends, fashion, self-esteem, self-belief, politics, state of economy or anything that will impact people's lives positively. He does believe "the more you learn, the faster you learn", something he realized while understanding neural behaviors.
On the risk of generative AI being a threat to jobs, Rajeev feels that if technology is harnessed responsibly, it will prove a huge asset. If it is used to replace jobs, it can be counter-productive. "No economy can grow where people don't have jobs with disposable income". The solution, according to him, lies in organizations leaping ahead rather than following change.  "The only option to professional survival is be to ready when the inevitable change happens. That is the only way to negate an ambiguous & uncertain world", hence his constant effort to keep Grassik ahead of the curve.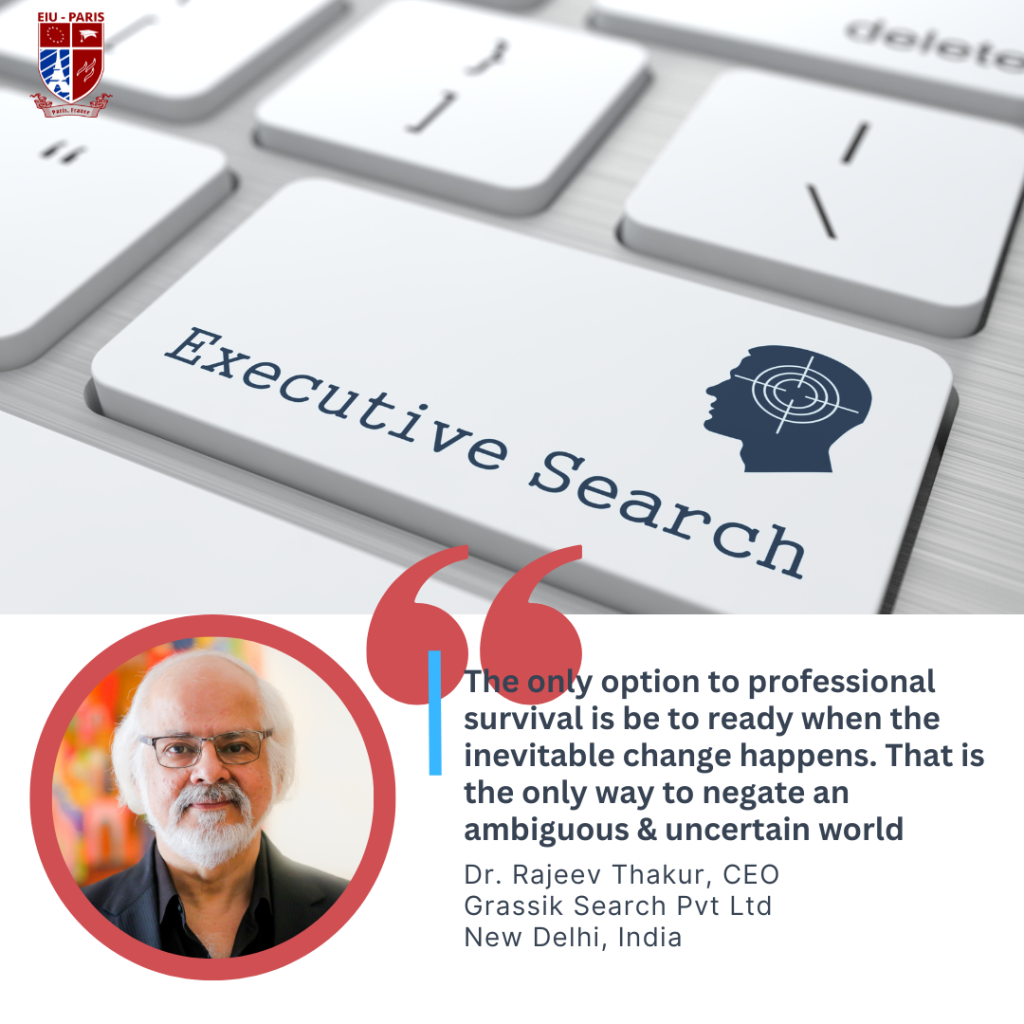 Rajeev's endeavors have been universally recognized. The recent spate of recognitions & awards are proof that Grassik has leapfrogged into the top league as the most effective search firms in the country.
In 2020 Rajeev was recognized as amongst the 50 "MOST PROMISING BUSINESS LEADERS OF ASIA" by Economic Times, India's top business newspaper.
In 2021-22 & again in 2022-23, Grassik was certified as a "GREAT PLACE TO WORK" by the global organization of the same name.
Also in 2021 Grassik was recognized by CNBC-TEAM MARKSMEN as amongst the 100 "MOST TRUSTED BRANDS OF INDIA". 
In 2022, Economic Times recognized Grassik amongst the "BEST ORGANISATIONS FOR WOMEN".
But the crowning glory for Rajeev came in December 2022, when European International University (EIU), Paris conferred a "Professional Doctorate in Business Management" to him for demonstrating "exemplary leadership qualities".
Giving his parting shot to Dr J Anand of EIU-Paris, Rajeev has this advice for today's youngsters. "Money is a necessary evil. We all need it & yet it is the root cause of many social & personal problems. Don't chase it. Chase dreams, chase goals, chase excellence by being the best version of you. Money will follow. If you reverse the cycle, as majority do, it's only a matter of time before you fall into the gorge of oblivion".
For queries contact [email protected]