Dr Vuthy Keo is a critical player in the finance industry, with extensive experience in finance, accounting, audit, risk management, fraud investigation, and detection. His vast knowledge has enabled him to significantly contribute to ensuring the effectiveness of internal controls, a vital aspect of finance. Dr Keo's expertise in identifying potential risks and detecting fraud within an organization has made him a valuable asset in the industry.
Meet Dr Keo who is the Chief Internal Audit Officer at Prince Bank Plc, where he is critical in ensuring the bank's financial integrity. Having spent most of his career in finance, his contributions has significantly improved the processes and structures of financial management within the banking organization which has made the overall operations very efficient and effective. He holds impressive qualifications, including a PhD, DBA, MBA, MA, CMA, CPA, CIA, CFE, CAT, AAIA, MIPA, and AFA.
Dr Keo firmly believes that trust is essential, but control is necessary. His unique mindset has allowed him to identify potential risks and prevent fraud by ensuring the effectiveness of internal controls. The contributions which he was able to deploy in his organization have helped organizations avoid significant financial losses and maintain their reputation.
Trust is essential, but control is necessary. As a finance professional, I'm responsible for ensuring the effectiveness of internal controls and identifying potential risks to prevent fraud and maintain financial integrity." – Dr Vuthy Keo.
As an expert in risk management, and having played critical roles in identifying potential organizational financial hazards including risk exposures, He has managed to set up systems leading to avoidance of losses and maintain their financial stability. His contributions in this area have enabled organizations to prepare adequately for potential risks and mitigate them effectively.
Dr Keo's expertise in fraud investigation and detection has been significant. He has identified and prevented several cases of fraud, which could have resulted in substantial financial losses for organisations. His expertise in this area has made him a valuable asset to organisations.
Risk Management is a specialized field of study designed to prepare graduates for a successful career in the field of risk management. The program at EIU-Paris typically combines coursework in finance, accounting, economics, and management, with additional coursework in areas such as risk assessment, risk management strategies, and insurance. It may also include classes in business law, international business, and business ethics. Graduates of the program will have the skills necessary to assess and manage risk in a variety of business contexts, allowing them to contribute to a company's overall success. In the Case of Dr Keo, who manages the risk department at the most seniority level in a large banking corporation named Prince Bank in Cambodia had completed successfully his Professional Doctorate in Audit, Risk & Fraud management by demonstrating all the key KPI's and core concepts with ease
Dr Keo believes in knowledge sharing and has significantly contributed to the professional community by sharing his expertise. He has contributed towards developing the skills of finance professionals through training programs and seminars and publishing several papers and articles on finance, audit, and risk management which have been a hand of guidance to finance professionals enhancing to their knowledge and skills and significantly impacting the industry.
Dr Keo's impressive array of qualifications is a testament to his commitment to professional development. He holds Professional Doctorate in Business Administration from EIU-Paris, an MBA in Financial Management from the Royal University of Law and Economics, and an MA in Education from Norton University. He is also a Certified Management Accountant (CMA), Certified Public Accountant (CPA), Certified Internal Auditor (CIA), Certified Fraud Examiner (CFE), and Certified Anti-Money Laundering Specialist (CAMS). Furthermore, he is a Certified Accounting Technician (CAT), Accredited Anti-Corruption Auditor (AAIA), Member of the Institute of Public Accountants (MIPA), and Associate of the Financial Accountants (AFA).
"I firmly believe that a professional doctorate from EIU-Paris will significantly boost my career, allowing me to exhibit my commitment, knowledge sharing, and know-how to the professional community."

Dr Vuthy Keo.
His contributions in the finance industry has immensely helped the organizations to grow and increase their profits along with been instrumental in introducing innovative financial strategies and products which have been monumental in increasing the organizations' financial stability. Having been involved in the development and implementation of financial policies and procedures in the development of applicable laws and regulation his expertise in financial analysis and management has been extremely constructive over the years. Dr Keo's impressive qualifications and vast experience testify to his dedication and commitment to the finance industry.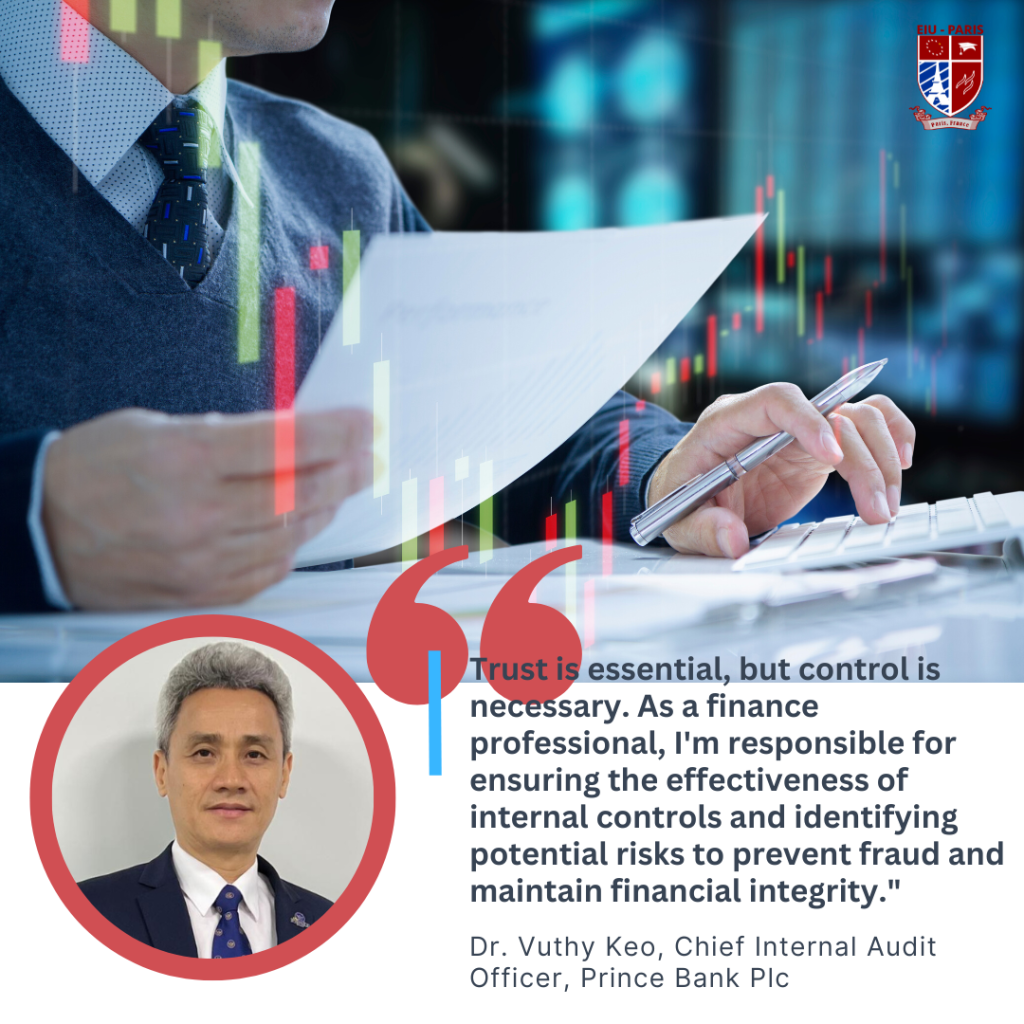 About Professional Doctorate in risk, fraud and audit management by European International University- Paris
The Doctorate in Risk, Fraud and Audit Management by European International University is an advanced program designed to validate comprehensive knowledge of risk, fraud and audit management of the applicants. The program requires that applicants possess the skills required to understand the complexities of risk management, identify and mitigate fraud risks, and develop and implement effective audit strategies. The program focuses on the development of an understanding of the principles and practices of risk management, fraud prevention, and audit management. The program also requires that applicant understands the legal and regulatory requirements of these areas.
Many Applicants would also complete a dissertation on a chosen topic related to risk, fraud and audit management. Students are also required to complete a professional internship or research project in order to gain practical experience in the field. Graduates may find employment as auditors, accountants, financial analysts, risk managers, and fraud prevention specialists. With an advanced degree in risk, fraud and audit management, graduates will be able to pursue a career in the public sector, private sector, or in a consulting capacity.
For Queries contact [email protected]