The Industrial Revolution may be in the history books, but it seems that there are still people who want to see the world of business in ways not too distant from those times. A few ads on billboards or the word-of-mouth strategy are no longer enough. For the growth of modern enterprises, it is necessary to have a marketing strategy that promotes them to greatness through digital media.
In consequence, all the businesses have had to adapt their strategies and expectations to needs of our modern society in this digital era. These entrepreneurships and companies need experts like Dr. Lim Khee Guan. He started serving as a retail investor in start-up companies and was a guest speaker at colleges such as Heriot Watt University (Scotland, UK) and Management and Science University (Malaysia). And now, with over 15 years of experience in web development and e-commerce, he has completed and consulted with over 2000 start-ups and businesses from ten different countries.
As a marketing insider, Dr. Lim Khee Guan is able to get customers engaged the business venture, create a good brand image, multiply sales, build customer loyalty and make a brand known. In other words, he is a serial entrepreneur and also a HRD Corp TTT Certified Trainer who co-founded O2O eCommerce Sdn. Bhd., a digital agency dedicated to providing all-in-one O2O eCommerce platform solutions to businesses who wish to tap into the digital market. This company offers services such as creative branding, digital marketing, logistics, business analytics, and consultations.
And since we live in an era in which every venture needs a clear marketing strategy, Dr. Lim Khee Guan's O2O eCommerce Sdn. Bhd. doesn't have specific target business segments. O2O aims to provide the best digital solutions to businesses across all sectors, including established organizations, associations, start-ups, and non-profit corporations.
Logically, this success has been widely recognized in his professional career. Among his several acknowledgments and awards, Dr. Lim Khee Guan has received the 2021 Mighty Leadership Award, 2021 Best Intelligent Figures, Top 14 Companies for the Best Website Design in Penang, 17 Best Website Builders Company in Malaysia Product Nation, 2022 Consumer's Choice Awards, 2022 Malaysia Influential Educators, 2022 SME and Entrepreneurs Business Awards (SEBA 2022), and APAC CIO Outlook 2022 as Region's Top 10 E-Commerce Consulting/Services Company.
Dr. Lim Khee Guan holds a bachelor's degree from Nottingham Trent University (United Kingdom), a Master of Business Administration from California Metropolitan University (United States) and a Doctorate in Business Administration in Marketing from European International University (France).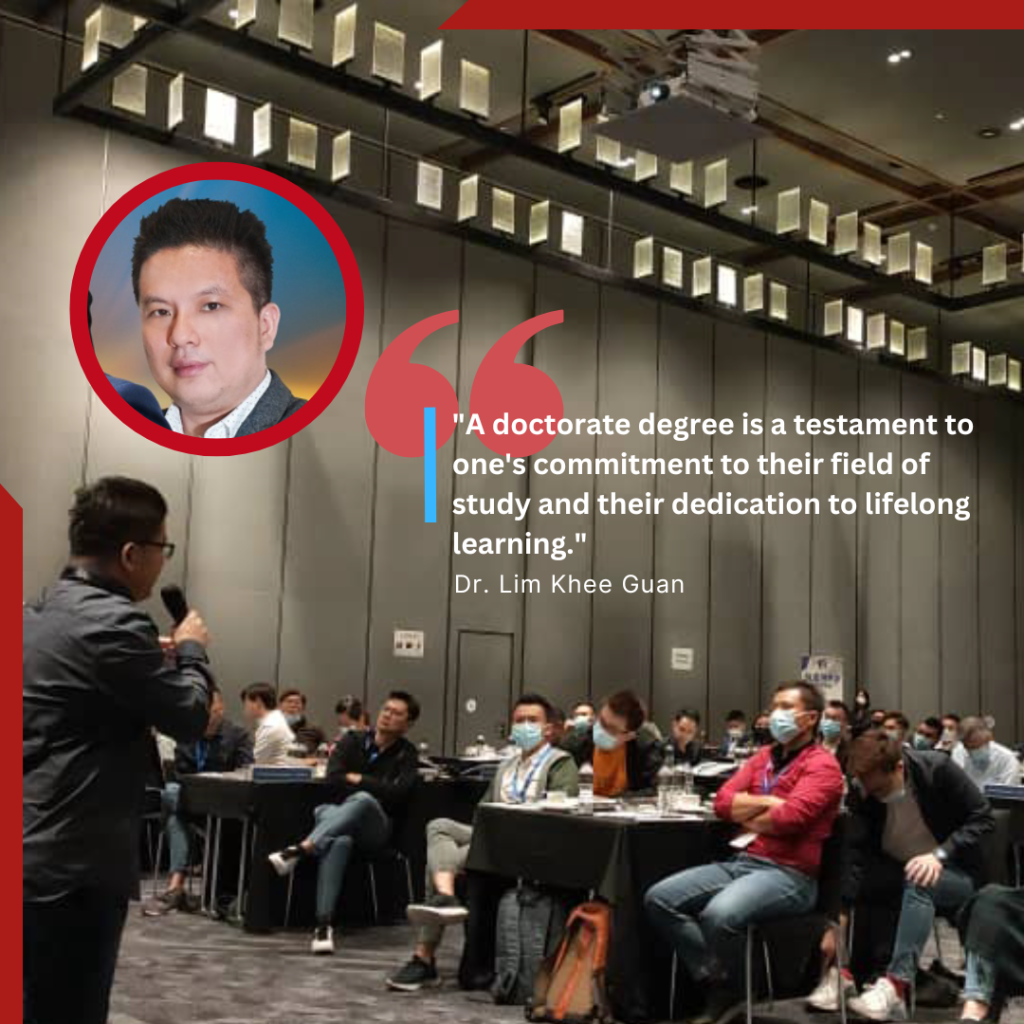 Among the reasons why he chose EIU-Paris' DBA program, it was important for him to join a network of peers with high academic and professional aspirations: This institution counts with an extensive alumni network from a variety of industries and backgrounds. No other way is better to find a valuable resource for learning and collaboration. Our students can be found all over the world. So, we connect, for example, London with Bangkok or New York with Dubai, given the large number of countries where we have MBA or DBA students.
This brilliant graduate said that "At EIU-Paris, I've found an inspirational source of knowledge and peers. My DBA experience started with a Marketing approach and finished with a brand-new network of incredible professionals"
EIU-Paris DBA Program: A path to a brighter future
Our institution offers the opportunity to grow in the field of knowledge management strategies and potential development in various business areas. An EIU-Paris' DBA degree can help anyone develop the skills that are required to drive change and solve complex business problems.
A large number of talented and brilliant professionals have seen doctoral studies as unattainable. And this is not a surprise. For most, the logical path after graduating from their bachelor's degree is to work hard to shape their success and destiny.
Would it be worth interrupting this commitment to destiny, family and the chores of life for a doctorate? For EIU-Paris, people with high capacities should not be in dispute between one thing and another. We give the chance to rise further in various areas of business with high-caliber professors who will help you research and become a Doctor of Business Administration, without stopping the avalanche of achievements you are making. Furthermore, our studies provide graduates with the tools they need to advance their careers.
Do not settle for poor perspectives of life. We know that you can shine with the European International University in Paris. As also said by Dr. Lim Khee Guan (EIU-Paris' DBA in Marketing Graduate): "If you are capable of being outstanding, why settle for mediocrity? If you are a diamond, you will always shine… inspire and motivate people to strive for excellence and not settle for mediocrity."
Submitted on 29.04.23 For thoughts and queries email [email protected]