Technology. This word, whether or not we accept it, surrounds us and is playing a vital part in our lives today. As we progress technologically, the real-world is becoming more efficient and well-informed. It has prompted concepts like globalization and change which have provided us humans with multiple opportunities to grow- some examples of which are remote learning and work from home. Thanks to these excellent ideas, the world survived COVID and was so quick to adapt to the new normal. With the immensely strong power that technology holds, it is important that newer generations learn to use it to their advantage and hence become an integral part of the futuristic technological inventions that are in the years to come.
At EIU-Paris, with its foundation so strong in remote learning, we believe in this power of technology and not only in the classroom but also the real-world. We have been quick to adapt to newer ways of teaching which maximizes the learning experience for all our students regardless of their location. EIU-Paris, while already being in sync with technology, has also always been motivated to teach students real life skills and applicative thinking which involves keeping up with the most efficient online tools. With these objectives in mind, we embarked on yet another insightful venture in the launch of an extremely informative book titled ' advances in business informatics empowered by AI & intelligent systems.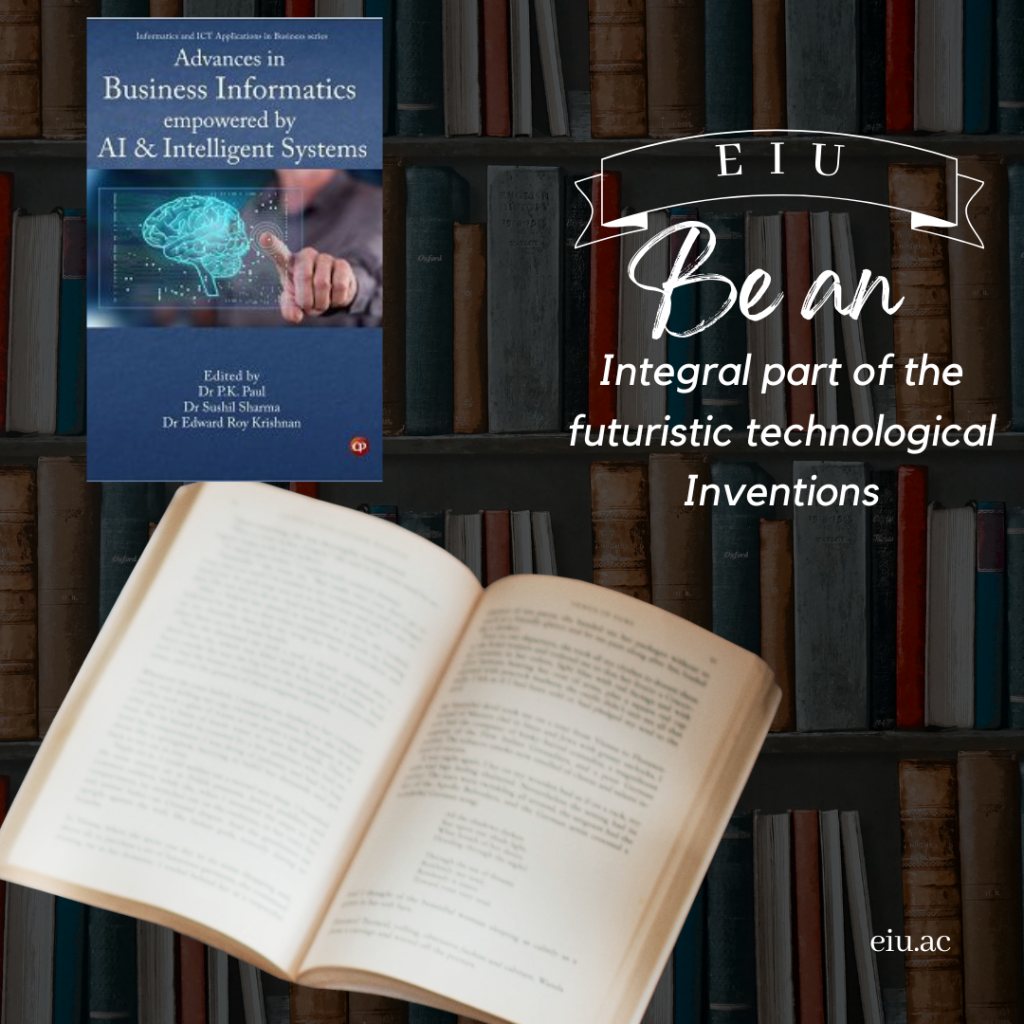 This book's primary objective lies in simplifying and explaining the importance of technological advances which can be used to a particular business's advantage. Today, technology is required at every stage in the businesses functioning to its promotions and could even be used for decision making. With such heavy reliance on technology, the importance of this book is almost self explanatory as it aims to make businessmen more tech-savvy and grow their businesses while using technology as a powerful tool to success. The book includes the viewpoints and perspectives of many sectors like healthcare, education, aviation and transportation which truly gives a more holistic understanding of the concepts it discusses.
The book includes plenty of real life examples like COVID-19 being the catalyst towards digital transformation and artificial intelligence in the Indian banking sector. This further makes it a great report for researchers and analysts as well who could get important simplified information through the chapters of the book that discuss matters in great detail. One read would allow the understanding of the importance of and convenience that lies in technological tools for business informatics which includes collecting, organizing and managing information.
With EIU's vision that has always held technology with high regard, this book is an exciting and important milestone in our journey to educate budding entrepreneurs and businesses about technological advances. It stands as evidence to our objectives in educating people across the world and has surely fine-tuned our interests and understanding of business informatics and its connection to technology. The ideas portrayed in the book, as we hope, are an important 21st century lesson that are building our future pathways towards technological success.
Submitted by Rea on 28.04.23