Introduction: With an MBA, you can build a successful career in any field. You have the opportunity to start your own business or join a large company. But first, you need to have an MBA. Here are five tips to help make the jump into the world of business.
What is the MBA degree all about?
The MBA is a professional degree that provides students with the skills and knowledge necessary to pursue a career in business. The key to a successful career as an MBA student is to have strong leadership and management abilities, as well as an understanding of financial planning and decision-making.
What are the Benefits of a Successful MBA Career.
A successful MBA career can offer many benefits for students, including:
– Increased earning potential: An MBA degree can give you the ability to earn money after you finish your program. Many businesses require a high level of skill and experience, so having an MBA will increase your chances of landing a job that matches your skills and qualifications.
– More opportunities for travel: A successful MBA career can lead you to new opportunities for travel, which can help broaden your horizons and expose you to new cultures. Additionally, traveling during college can give you valuable experiences that you can use in your future career.
– More fulfilling work experiences: After completing an undergraduate or graduate program at an accredited school, most students receive offers from several top employers seeking their expertise in business. This variety of opportunity makes it easier for students to find work that meets their needs and interests, which allows them to build their own careers rather than following someone else's path.
How to Get Started in the MBA Career.
MBA students who want to pursue a career in business should start by learning about the basics of business studies. This includes EIU-Paris BBA undergraduate degree and upgrading to MBA as a Post graduate.
Get a Job in an MBA-related field.
After completing your basic business studies, you'll need to find a job or increase further learning with research by upgrading to MBA that aligns with your goals and interests. To do this, you should explore the various MBA programs and search for jobs that offer an opportunity to learn about and work in the field of Business Administration (BA).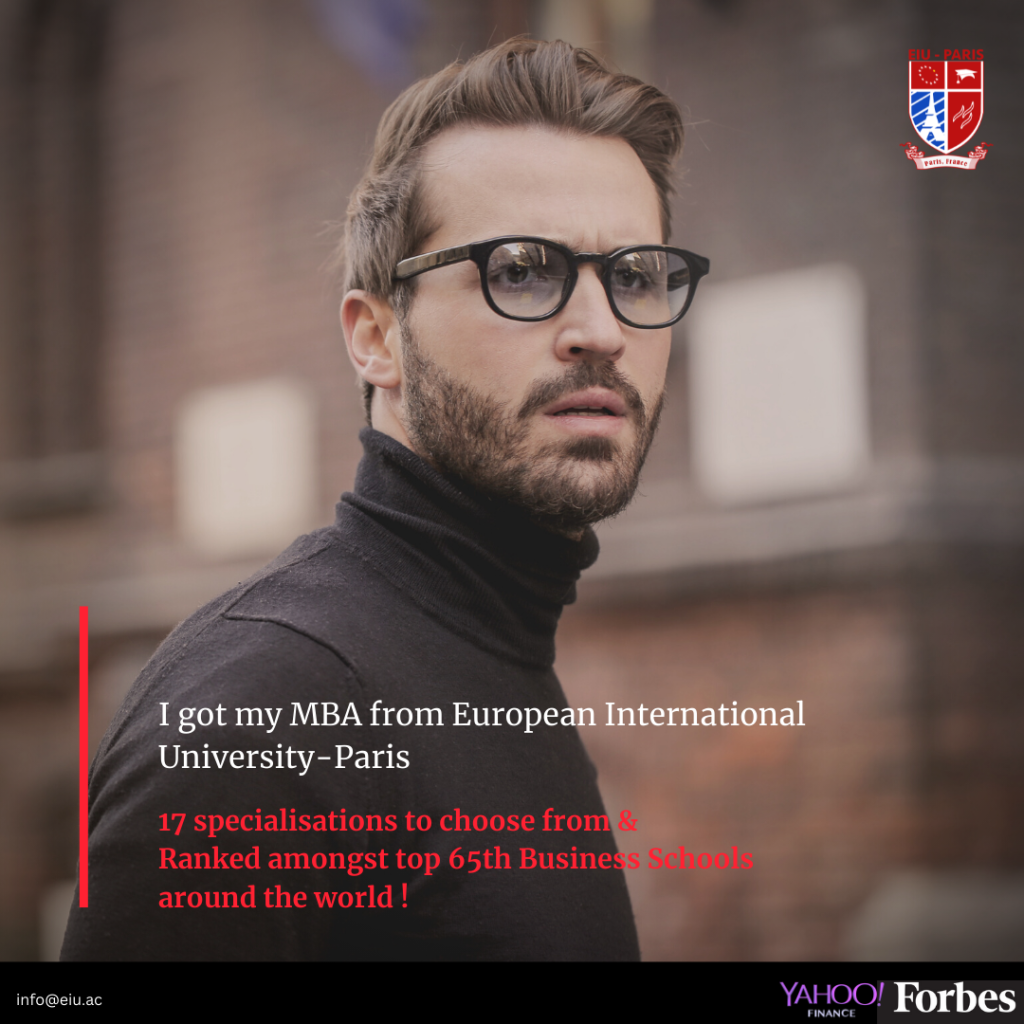 Learn about the different MBA programs.
At EIU-Paris MBA, we offer an extensive range of courses that can help you find a job in any area of business or marketing. Whether you want to focus on startups or you are already working with years of experience, we have something for everyone! Along with that we offer 17 specializations to choose your career wisely.
Speak to Career Counsellors in the University.
The best way to get started in the business world is to receive an undergraduate degree by doing bachelors level programmes in the business field example a BBA degree from EIU-Paris. We offer scholarships for students who have completed our basic business studies and demonstrate strong academic credentials. With EIU-Paris MBA, there is no excuse not to take full advantage of your education and pursue your career goals!
Tips for Successfullying in a MBA Career.
Many students decide on a program of study after completing their undergraduate degree. However, it's important to find the right program for you and not just settle for the first one that comes your way. Consider factors such as course load, career opportunities, and financial stability before making a decision.
Don't Be afraid to Take risks.
If you're feeling adventurous and want to take on new challenges, an MBA may be the right choice for you. But be sure to consider your long-term goals before making any big decisions. Risks can be great rewards in the business world!
Be Prepared for Change.
When it comes to your career path, don't be afraid to change things up every now and then if things are starting to feel too familiar or comfortable. Just remember that change is always good – it can help you stay ahead of the curve and reach your professional goals faster!
Conclusion
A successful MBA career can be a rewarding and fulfilling experience. By finding the right program for you and taking the necessary risks, you can make a significant impact in your field. However, it's important to keep in mind that change is always afoot, and you will need to be prepared for it. With the help of our guide, you should be well on your way to becoming an MBA success story!