Pastor of a church of 4000 members, televangelist, international speaker. A charismatic leader of knowledge and education with a servant's heart, a life dedicated to social and the humanity. Extremely motivated to develop further constantly and grow professionally and humanly by guiding others. Married and father of 3 children, with a very happy with family. This is Pasteur Dr Aintsoa Razafimandrato a Medical doctorate from Medical School Antananarivo Madagascar, 2006 and a Professional Doctorate in Christian Ministries by European International University- Paris – 2002
A doctor by training, among the elite of his generation and during the zenith of his glory he became a full-time pastor and devoted his life to helping his peers. Pastor Aintsoa Razafimandrato is the founder of the Faith International church based in Antananarivo. In 2012, he and his wife Sandra started the church with ten members, and ten years later this hundredfold worship association has more than 5,000 members scattered around the world and continues to grow with each meeting.
Pastor Aintsoa, ​​an intellectual and cultured person, a person who is always open to education and who considers that the latter is one of the pillars for the improvement of social life. Education is the levier par excellence: it will raise the individual standard of each one, it will have an impact over time on the community and ultimately on the nation.
Invited to speak in international Christian seminars and conferences, his rich, practical and profound sharing impacts the audience and produces a change in behavior. The Pastor is a nationally known televangelist, his daily television and radio interventions have become appointments, followed by hundreds of thousands of people. In his interventions, he combines preaching and formation, spiritual formation and personal development.
Le Pasteur est un télé-évangéliste nationalement connu, ses interventions journalières télévisées et radiophonique sont devenues des rendez-vous, suivies par des centaines de milliers de personnes. Dans ses interventions, il allie prédication et formation, formation spirituelle et dévelopement personnel.
The Doctor, Pastor Aintsoa Razafimandrato is more than a trainer: he is a Coach, a mentor and even a father for many.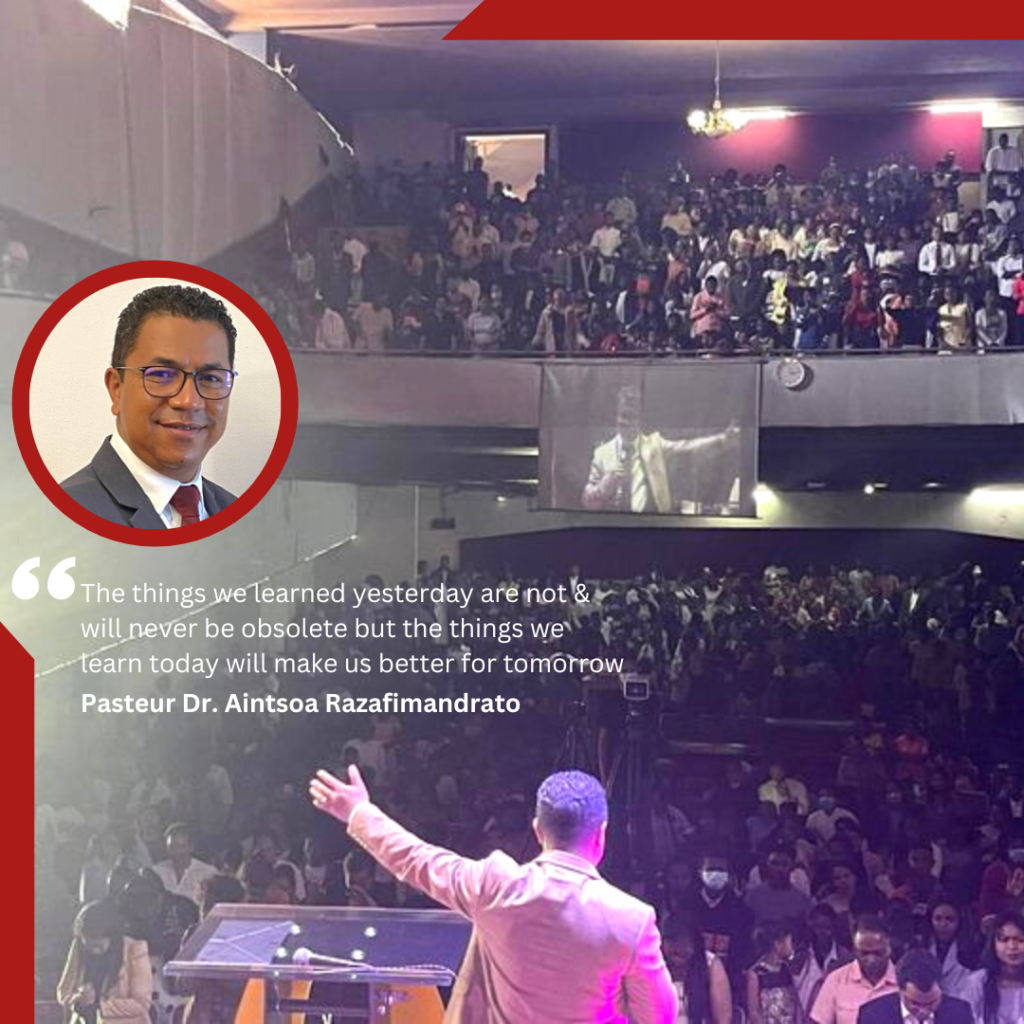 "An effective leader is a leader who learns, the things we learned yesterday are not and will never be obsolete but the things we learn today will make us better for tomorrow. Leadership may be innate, but a leader who stops learning is already ineffective." said Pasteur Dr. Aintsoa Razafimandrato
Dr. Aintsoa Razafimandrato is a person who emphasizes interhuman relations, knowing how to live with everyone is the key to happiness and success. We are all connected, we are all interdependent. When the people around us improve: our atmosphere improves; Improving our surroundings is improving our lives.
Pasteur Aintsoa Razafimandrato is among the most recognized for his work and for the impact he produces in Madagascar, despite his young age, his future is already written among the fathers of the nation.
During the Ceremony, Dr. Paul Charles, Senior Faculty & Speaker along with Prof. Dr. Edward Roy Krishnan Director General of European International University- Paris celebrated the achievement of the Pasteur with great honour.
Prof Edward said '' Evidently, the years of hard work and dedication has conclusively resulted in the most significant fruit one had ever wanted,  Many congratulations on your accomplishment and an enduring deed you continue to do for the humanity and the world.
The Professional Doctorate award is one of the highest levels of certification at the European International University (EIU-Paris).
To achieve this highest award, candidates go through a series of rigorous audit and evaluation of their personal and professional profiles and accomplishments along with significant contributions to society. In the French education system, this is popularly known as the VAE or Validation des Acquis de l'Expérience. The VAE is a procedure used to assess and recognize prior learning outcomes, consequently allowing any French educational institution to grant degrees partly or completely based on one's substantiated work experience.
The audit and evaluation of candidates and submission of their "portfolio of evidences" are done by a team of industry experts which is led by the Dean of respective faculty.
Dr. J Anand of EIU Paris said in a ceremony that the process for this achievement is acutely stringent making the selection worth commending a celebration"
Candidates' social standing in their community/province/state/country is also gauged and validated through noteworthy their contributions published on print, electronic or social media, as well as achievements in the form of creation/invention/problem-solving/social engineering efforts.
Dr. Paul Charles commented Perseverance is one key that has landed the Pasteur Razafimandrato in such a remarkable position and the world loves him zealously.
As an honour the University sent the video message for best wishes along with congratulations to the Pasteur.
Submitted by Tina Yang Senior Writer. Email tina at [email protected]