Meet Md. Shadi-Uz-Zaman, A Leading & Dynamic Entrepreneur of Real Estate & Housing Sector with devotion, integrity and honesty. Md. Shadi-Uz-Zaman is a young, honest, talented and leading personality who has been contributing significantly in the economic growth of Bangladesh. He is a worthy son of a Valiant Freedom Fighter and a retired government high official Md. Shahiduzzaman and a senior teacher Ms. Shahanara Begum. Md. Shadi-Uz-Zaman comes of an aristocratic Muslim family on September 25, 1982 in the district of Mymensingh. He has set an example as a highly meritorious and talented student all through his academic life. Md. Shadi-Uz-Zaman got First Division in S.S.C and H.S.C in 1997 and 1999 respectively. He did his BBA (Secured 2nd position with First Division) and MBA (3rd position with First Division) from International Islamic University Chittagong. Apart from this he earned Diploma in Computer Science & Programming and also completed MDP Course from Institute of Business Administration, IBA of University of Dhaka. After having post graduation he did his internship in Standard Chartered Bank, one of the leading multinational banks in the world. He also carried out his responsibilities in different capacities of various leading companies. He started his career from HSBC (Hong-Kong and Shanghai Banking Corporation) Bank.
At the age of only 27 he held the high position as General Manager of U.S Bangla Group, one of the leading business organizations in Bangladesh. Apart from this he is involved in various organizations as Chief Adviser and Adviser too. In line with his different business activities he established a very unique and International Standard ISO 9001:2015 certified Company named Notundhora Assets Limited. It is a National Housing Authority (NHA) registered Company. Notundhora Assets Ltd. has exclusively got the Clearance Certificate and Approval of Environmental Impact Assessment (EIA) from the Department of Environment (DOE) which are extremely rare in Real Estate and Housing sector of Bangladesh. Md. Shadi-Uz- Zaman is also an Adviser of "Bangladesh Press Club" (Motijheel Branch) and Dainik Banglar Dak.
At the very outset of 2013 Md. Shadi-Uz-Zaman set up the first ever of its kind in the country a professional Real Estate Training Centre titled "Mars Institute of Real Estate Training (MIRET)" in a bid to bring back trust in people's mind and revive this sector. He has made a unique instance by setting up such institute. Later on, he founded Real Estate Academy of Dhaka (READ) in 2016. Md. Shadi-Uz-Zaman is the inventor as key personality of 'Premium Plot' in the Real Estate Sector of Bangladesh.
With a view to revive and dependable to the people he has set an excellent example and all about this his many exclusive interviews were published by the leading National dailies, Electronic & Online Media of the country and among them: Daily Prothom Alo, Kaler Kantho, Bangladesh Protidin, Naya Diganta, Jai Jai Din, Amader Somoy, Banik Barta, Alokito Bangladesh, Financial Express, Muslim Times, Dhaka Tribune, Reflection News, Business Express, and so on so forth. The news of his such success stories were also published as Cover Stories in Arthokantho, Shilpa Kantho, Eai Somoy, Aporadh Bicitra, Chaya Lok, Aartho O Banijjo Songbad and a reputed English Magazine Fintech.
A single Exclusive Interview was also brought out in Prothom Alo, the widely circulated Bengali daily newspaper of the country and it was a wonderful achievement of Real Estate and Housing Sector undoubtedly. Apart from this, Md. Shadi-Uz-Zaman was honored as an illustrious personality for his enormous contribution in Real Estate and Housing Sector for three consecutive times which had been published in Prothom Alo one after another in three months. His single Exclusive Interviews were also aired by the leading TV Channels like Somoy TV, ATN Bangla, Ekushey TV, Nogorik TV and so on.
Md. Shadi-Uz-Zaman's various activities and his huge contribution in Real Estate Sector has been published not only in country's media but also in our neighboring country India's different leading dailies and magazines as well; and few of them are: The Daily Jagoron, The Daily Statesman, The Statesman Voices, Taser, Awami Express, Hello Kolkata, Songoti, Songbad, Bishaw Bangla, Salam India, Provati khobor, Indo-Bangla harmony, Hindukal and Lipi etc. A very precious and huge expected grand program titled "1st Convention of NRB Engineers (CONE)- 2019" held in the Pan Pacific Sonargoan Hotel on February 26, 2019 in which over six hundred NRB Engineers three hundred distinguished guests glorified the grand convention by their active presence. Honorable Prime Minister Sheikh Hasina inaugurated this prestigious grand program which had been organized jointly by the Bangladesh government and NRB Engineers. Md. Shadi-Uz-Zaman had the opportunity to attend such gigantic program's inaugural session after having the SSF and Security clearance.
The country's well reputed writer journalist, the Editor of Kaler Kantho and also the Ekushey Padak winner Mr. Imdadul Haq Milon came to the Corporate Headquarters of Notundhora Assets Limited where he read out a letter of gratefulness to Md. Shadi-Uz-Zaman for his outstanding contribution to country's economic growth and Corporate Social Responsibility (CSR). Md. Shadi-Uz-Zaman always likes to keep him busy in different development activities and sociocultural arena as well. He has been extending his support and co operation to the under privileged children, and also the helpless destitute since long; and to this end his wife Ms. Merryna Sadi, a talented and also Deputy Managing Director of Notundhora Assets Limited always gives her hands for doing such activities staying beside him.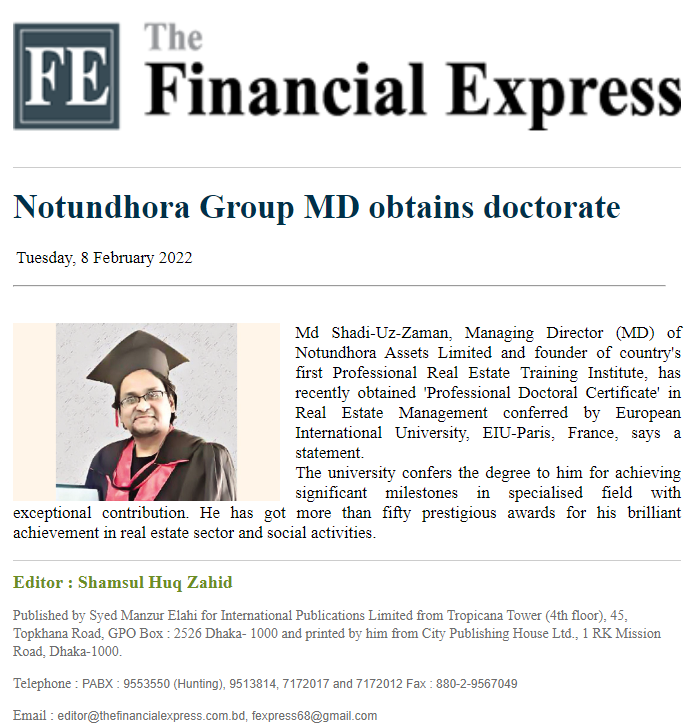 List of noticeable Awards of Mr. Md. Shadi-Uz-Zaman:-
1) "Hello Kolkata Socio-Cultural Excellence Award 2018" from India. The Award had been got from the Honorable Ex. Minister of India Mr. Probodh Chandra Sinha, the Honorable Mayor of Bidhannagar, Kolkata Mr. Sabyasachi Dutta and IGP of India Mr. Sandhi Mukherjee.
2) Special Achievement Certificate from Kolkata Press Club.
3) "Special Chayalok Cultural Award 2018" from the Honorable Information Minister Mr. Hasanul Haq Inu.
4) Special Excellence Award from the Honorable Minister Mr. AKM Mozammel Huq, Ministry of Liberation War Affairs (Bangladesh) and professor Dr. Md. Akhtaruzzaman Vice Chancellor, University of Dhaka.
5) "Moitri Sommanona-2019", the Award has been given by Advocate Abdul Mannan Khan the former Minister of State, Ministry of Housing and Public Works Bangladesh, Justice Shamsul Huda, Chairman Bangladesh Democracy Commission.
6) He has got one of the most prestigious Awards "Nepal Bangladesh Friendship Award 2019", the Award was given by Hit Bahadur Tamang, Minister, Ministry of Youth & Sports, Dharma Shila Chapagain, Minister, Ministry of Health and Kalpana Nepali, State Member of Parliament, Nepal. Merryna Sadi, Deputy Managing Director, Notundhora Assets Ltd. along with Dignitaries of the society of Bangladesh and Nepal were also present on the occasion.
7) "Manobadhikar Shanti Padak 2019", the Award was given by Lt. Gen. M Harun-Ar-Rashid BP (Retd.) Ex. Chief of Army of Bangladesh, Justice Mohammad Mamtaj Uddin Ahmed, Chairman Bangladesh Press Council and Maksudur Rahman Patwary, Secretary, Ministry of Land.
8) Md. Shadi-Uz-Zaman Received the 20th 'TRAB Award 2020' organized by the Television Reporters Association of Bangladesh (TRAB) at the Jatio Songit o Nrittokola Milonayton of Jatio Shilpakala Academy. The award was given by S M Rezaul Karim MP, Hon'ble Minister, Government of the People's Republic of Bangladesh Ministry of Housing and Public Works and Barrister Biplob Barua, Special Assistant to the Honorable Prime Minister and Secretary of the Department of Bangladesh Awami League. On the occasion Sohel Haider Chowdhury, General Secretary, Dhaka Journalist Union, Deputy Managing Director Notundhora Assets Ltd. Merryna Sadi and Dignitaries of the society were present.
9) Md. Shadi-Uz-Zaman got 'Business Excellence Award 2020' at the highly anticipated and discussed Global Business Summit 2020 Dubai (UAE). The Award was given by Bangladesh Ambassador Muhammad Imran, the Consul General of Dubai Md. Iqbal Hussain Khan and President of NRB CIP Association and Chairman of NRB Bank CIP Mahtabur Rahman (Nasir) in a stylish ceremony at the Crowne Plaza Hotel in Dubai. Chairman of the Dubai Chamber of Commerce along with reputed NRB CIPs and Deputy Managing Director of Notundhora Assets Ltd Merryna Sadi ware present.
10) Md. Shadi-Uz-Zaman was awarded the 'Bangladesh Malaysia Friendship Award 2020' at a richly stylish ceremony held at Hotel Intercontinental, Kuala Lumpur, Malaysia, jointly organized by Ntv Malaysia and Bangladesh Student Union Malaysia.
Md. Shadi-Uz-Zaman has now been awarded the most coveted Professional Doctoral Certificate (PDC) by the European International University
📩 [email protected]
📞WhatsApp: +33607591197
🌐 https://bit.ly/eiu_pdc https://eiu.ac/lead_form/
=============