Two decades of experience in the PR industry, accumulated leadership that has earned her agency the top-5 public relations consultancies in Thailand for the past 10 years and an enthusiastic feminist. That is Dr. Karine Lohitnavy-Frick, the Managing Director of Midas PR, who serves the company as its "Master Connector," a reflection of the agency's commitment to providing clients with access to key target markets and connectivity to opportunities.
Born in Belgium, Karine was educated in England, Luxembourg, Germany, Spain, Greece and France, speaks 8 languages, and has a double degree in Social Sciences and Political Sciences. A background of multi-cultural connection-building allows Karine to create valuable, lifelong business and interpersonal relationships, and this enables her to provide clients with excellent growth and business development opportunities. What sets Karine apart is her local knowledge paired with an international flair. These multi-cultural beginnings allowed her to make powerful contacts along the way, connecting people with their counterparts and subsequently opening doors to opportunities for her clients.
This is after the journey of nearly two decades of rich experience has earned her a prestigious Doctorate Degree in Public Relations from the European International University- Paris
She started Midas PR in 2007 after gathering ideas and honing her skills in Luxembourg and then refining her PR approach by working in Thailand. Since then, the company has grown strongly and consistently to its current position as Thailand's leading PR firm.
Karine is a renowned thought leader and in-demand speaker on the topics of Women Leaders, Diversity, Reputation Management, Corporate Communications – and enabling emerging entrepreneurs to flourish and succeed. She takes every chance to share her expertise by mentoring young businesspersons and speaking at a number of leadership, business and PR conferences, such as the Women in Business Series and the Thailand Startup Summit.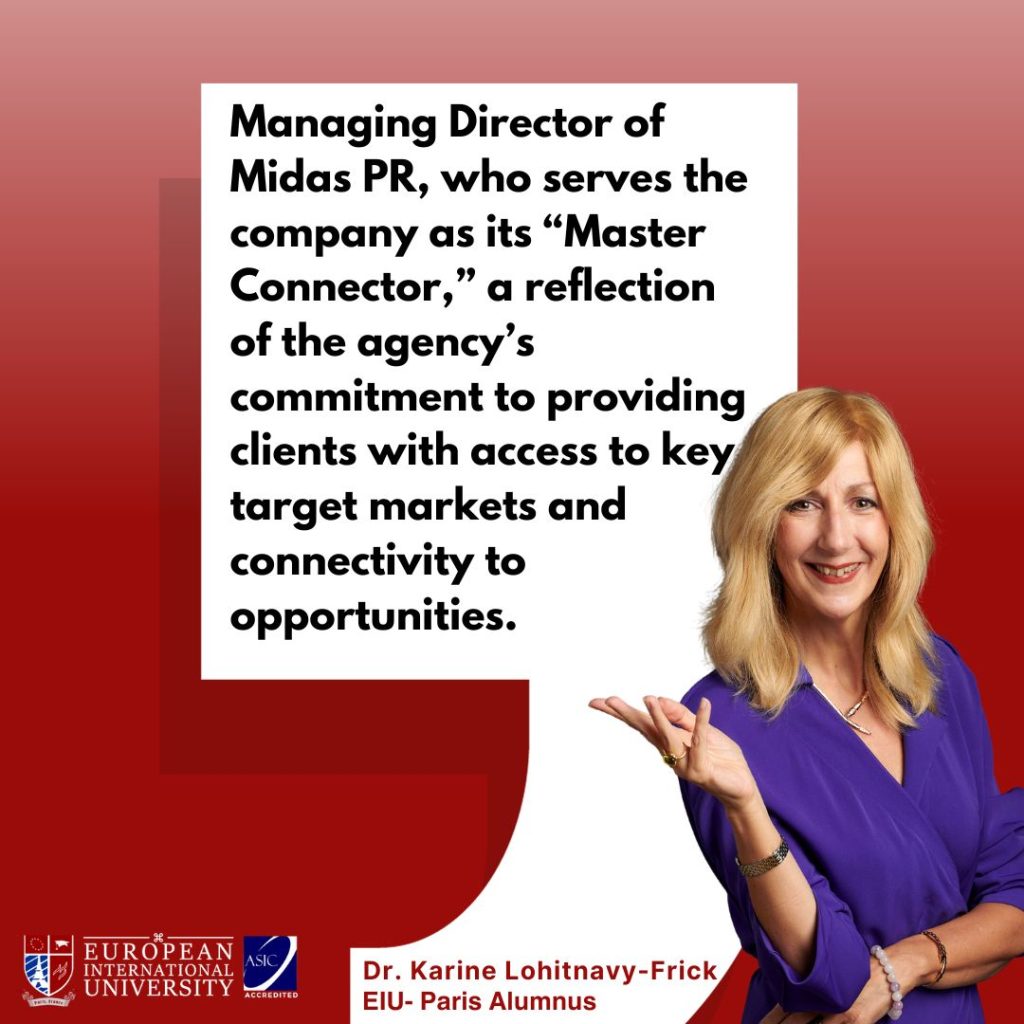 Karine played a key role in the official launch of the Public Relations and Relations and Communications Association (PRCA) Thailand and is currently a founding member and inaugural Chair of the organisation. It was a major milestone in the development of PR in Thailand, which was long overdue. In fact, Thailand was one of the very few countries where most agencies and practitioners did not belong to any national professional association, so bringing awareness of the significance of this professional body to Thailand's PR community has been an important goal for Karine. As the first chairperson of PRCA Thailand, Karine was committed to creating a more professional, ethical, and prosperous PR industry, enhancing professional approach to PR campaign measurement and ensuring professional opportunities for continuous improvement of the next-gen PR professionals. With the presence of PRCA Thailand, the country's communications community can expect capacity building initiatives and make their voices heard in the Thai economy.
Karine is also a founding member and leader of Lionesses of Siam, and was named "Most Influential Public Relations Businesswoman (Southeast Asia)" in The 2021 Influential Businesswoman Awards hosted by Acquisition International. She has led Midas on its path to becoming a highly decorated and regionally acclaimed agency, including Most Outstanding Public Relations Agency 2021 – Thailand from Corporate Vision, Best Corporate Social Responsibility Award (PRCA Award 2020); The Golden Globe Tigers Awards 2020 for Excellence & Leadership in Branding & Marketing; Global Business Insight Awards 2019 for Most Outstanding Public Relations Firm; and Thailand Brand Leadership Award 2018 for Best PR Company (Thailand) and Best PR Agency Thailand 2016.
Having achieved another great milestone in the year 2023 of earning a Doctorate degree from EIU-Paris is another breakthrough in Dr. Karine's career. The innovative Professional Doctorate (PD) programme from EIU-Paris focuses on practical applications of a particular topic. The Doctorate degree could actually be viewed as an honorific acknowledgment of the holder's exceptional knowledge and skill in their field of study.
All PD candidates are processed using the VAE method. A candidate must submit a portfolio of supporting documents for examination by a VAE committee, which then assesses the individual's work history, abilities, and skills. This process is known as "Validation des Acquis de l'Expérience" or "Validation of Prior Learning and Experience" (VAE) in French. The applicant may receive a diploma or certification from EIU-Paris if they are accepted. Many holders of professional doctorates will be qualified for particular leadership roles within their industry after earning this degree.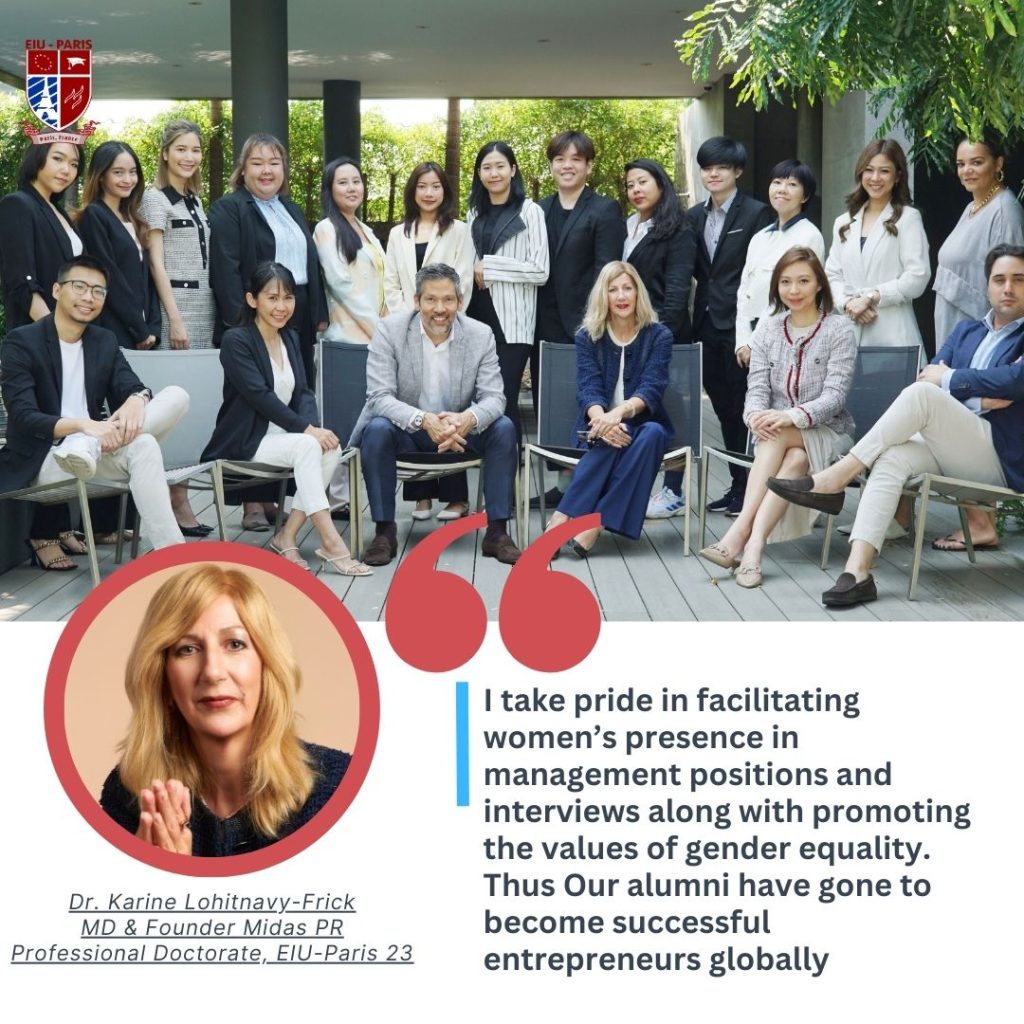 Gender Equality & equal Opportunities
As an avid supporter of gender equality in the workplace, Karine strongly believes that gender plays no part at all in determining the chance of a person being recruited or promoted. She has introduced a policy facilitating women's presence in management positions and interview processes within the agency. Apart from internal gender mainstreaming, the company is actively involved in promoting the values of gender equality externally. Karine and her business are an active supporter of #WonderWomenWednesday. Karine regularly organizes internship and job shadowing opportunities for both overseas and local students in a bid to attract more girls and women into PR. She takes pride in the fact that many alumni have gone on to become successful entrepreneurs or land coveted jobs overseas thanks to their fruitful training in her business.
Additionally, Karine puts LGBTQ-friendly policies into effect at Midas PR, providing equal opportunities and access to senior positions to non-binary people. As of 2020, over 10% of staff self-identify as non-binary, transgender or non-heterosexual.
"When PR leaders get together, great things get done", wrote Karine in one of her LinkedIn posts. This is why efforts to accelerate international collaborations can be easily seen at Midas PR. With these initiatives her public relations became even more integrated globally, and expanded the its presence and visibility overseas. Under Karine's leadership, the agency is the first and only PROI Worldwide member in Thailand.
Karine is not just a boss who issues guidance for her team. She cares deeply for the well-being of her Midas family. To create an environment conducive to productivity, the business has relocated to its own building — a 4 storey townhouse which offers unparalleled working conditions. The layout of the space can satisfy diverse work environment preferences — inside open-air patio with green trees and chaise-lounge chairs, two large conference rooms, a co-working space, private booths for taking phone calls or participating in Zoom-conferences, and even "cycling chairs" (which allow to work while working out at the same time). Most prefer to come to the new office every day — not only for work, but also to enjoy their regular activities, as well as off-site team trips (like the recent company's outing to Phuket, which included a stay in a luxury resort and a trip on a large sailing boat).
It has been much more challenging for foreigners like Karine to establish and run a company due to Thailand's language barrier for Westerners, complicated documentation process and volatile socio-political landscape. However, with her multicultural flair and excellent interpersonal skills, Karine has and will continue to drive her agency to greater success and regional expansion. "She shall either find a way or make one." That is Hannibal and also Dr. Karine Lohitnavy-Frick.

said Dr. J Anand of EIU-Paris
Submitted by Tina Yang on 01.10.23