The EIU Alumni Community offers a number of resources for its members, including the opportunity to network and continue learning beyond graduation. Through the Alumni Community, alumni can connect with one another, access career services, and find volunteer and mentoring opportunities. The EIU Alumni Community also provides access to online courses, webinars, and other e-learning opportunities, giving alumni the chance to keep learning and stay up to date in their chosen fields. The Alumni Community also offers networking and social events, increasing alumni engagement and helping them to stay connected with their peers. Finally, it provides alumni with access to helpful resources, such as discounts on EIU events, publications, and services. This helps alumni stay connected to EIU, even after they graduate. Overall, the EIU Alumni Community provides alumni with the resources and opportunities they need to stay connected and continue learning.

EIU's Alumni Community will be a dynamic global network of over 28000 current alumni from our 8 year history. Through the Alumni Community, our alumni will be able to stay informed about the latest events, programs, and activities at EIU. With the alumni directory, they stay connected with each other and continue to build the bond they began on campus. The Alumni Community will offer numerous benefits to its members. Through exclusive events, our alumni have the opportunity to network with other professionals and make valuable contacts. Alumni may also take advantage of a variety of continuing education programs, such as online learning and professional development opportunities. Alumni are also encouraged to stay engaged through volunteer opportunities, with a particular focus on helping current students have the same rich experiences they had during their time at EIU. EIU is committed to connecting our alumni with the resources they need to succeed. Through the Alumni Community, EIU alumni will have the opportunity to forge meaningful relationships and take advantage of the programs and services available to them.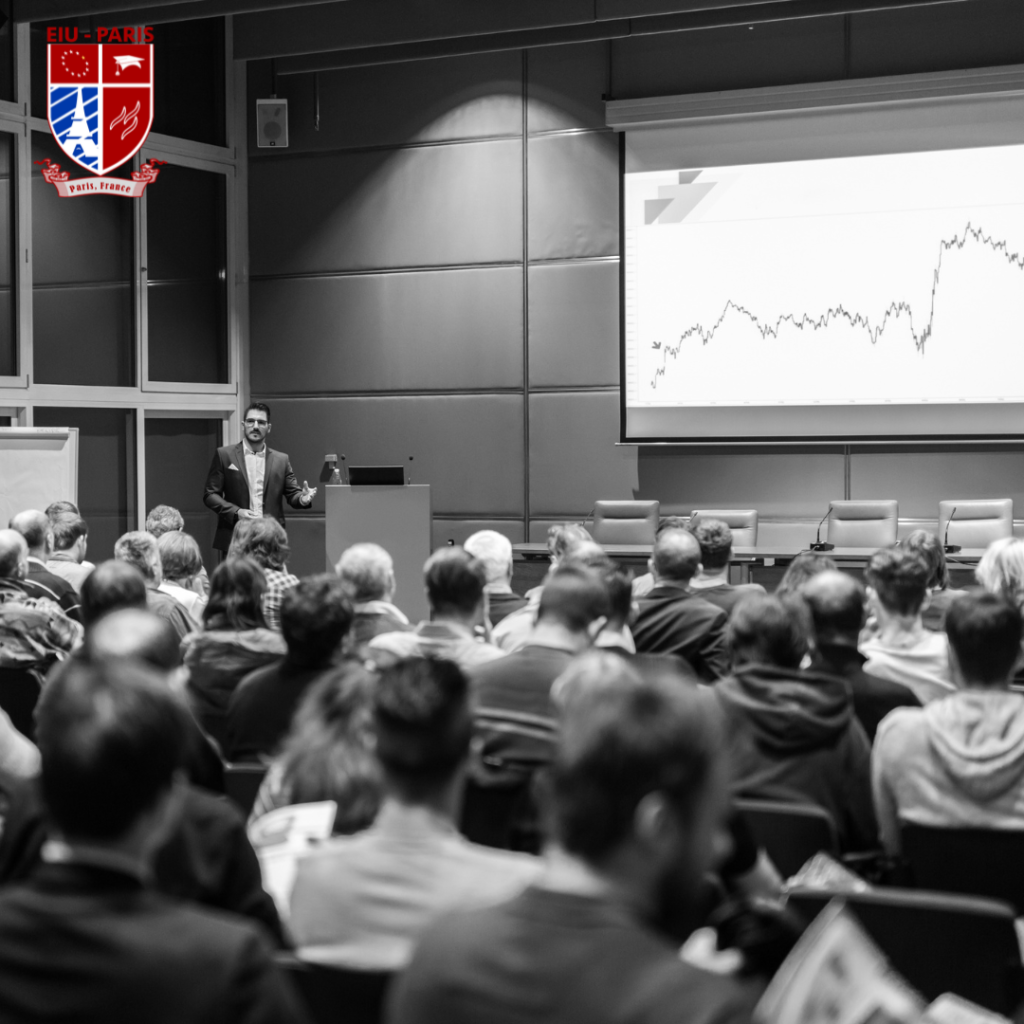 EIU-Paris Alumni Community Network is coming soon.
Features of EIU's Global Alumni Community:
Represent your global community.
Apply to Chair the community: We elect new Chair every 2 years giving exclusive benefits to the Chair of the Alumni Community
Key responsibilities of the Chair
As our Chair of Convocation, you will be responsible for providing a clear and formal channel of communication between the global alumni community and the University during your two-year term. You will effectively represent the diverse interests of our alumni and support us in developing the services we offer to our alumni community.
You will help us shape the agenda for these meetings and chair the session during special Alumni get togethers, which will be a hybrid event to ensure as many alumni as possible from around the world can participate. You will help in planning the annual Alumni Events
Throughout the academic year, you will be invited to – and expected to attend – a select number of events, celebrations and supporter/donor receptions, which is your opportunity to meet more of our alumni community and ensure everyone's needs and interests are represented in our services. You will act as an ambassador for the University during these events, with support from the Advancement team.
During your time in office, you will also be a member of the University Court and sit on the Honorary Degrees Committee, Viva Voce sessions, Strategic Alumni meetings with the opportunity to make recommendations for the award of Honorary Degrees from our University.
Benefits:
The role is voluntary
An opportunity to reconnect with your University and EIU-Paris Global Alumni Community.
Professional development in the areas of leadership and governance.
Invitations to University events throughout the academic year, including celebrations and supporter/donor receptions.
Work closely with colleagues from the Advancement team to shape future benefits and events for alumni, including the annual Alumni Day of Action.
A seat on our Honorary Degrees Committee, which grants you the opportunity to make recommendations for future Honorary Degree awards
Increases sense of responsibility and enhances leadership skills
Opportunity to grow your own personal network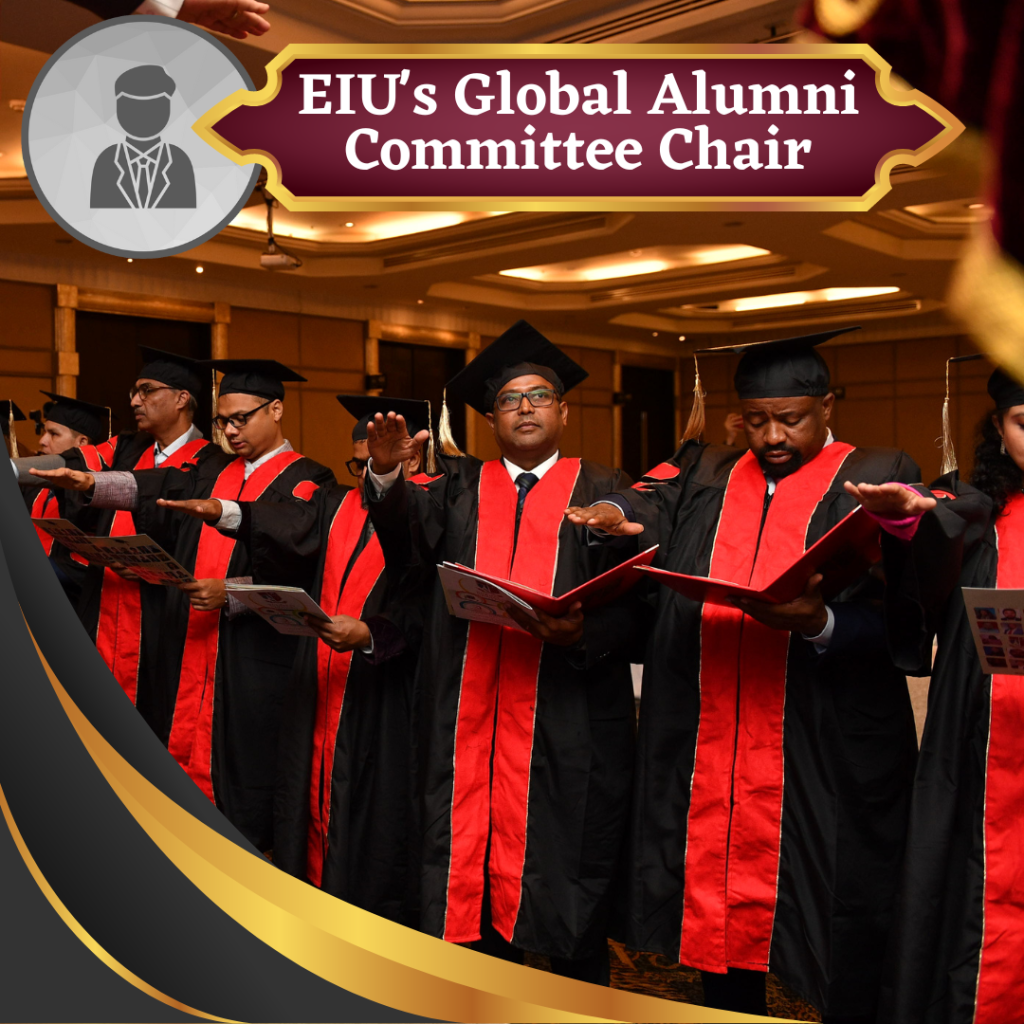 Eligibility Criteria:
To be Chair of Convocation, you must be a member of EIU-Paris alumni community.
Our alumni community is made up of our graduates and honorary graduates, staff (both current and retired) and people who spent part of their time studying at EIU-Paris.
If you meet one or more of the below criteria, you're part of our alumni community!
I hold a degree or other award from EIU-Paris
I am an alumnus of the University
I am a current or retired member of academic and academic-related staff of EIU-Paris.
I hold an Honorary Degree or Honorary Fellowship of the University.
As EIU's Global Alumni Committee Platform is in the planning phase so we call for ideas and volunteers for the same from our great community of students, alumni, staff & partners across all regions,
Contact Dr. J Anand at [email protected] for any suggestions