Accounts and finance are closely related disciplines. Accounts is the practice of recording and reporting financial data and results, while finance is the area of business dealing with the management of investments and the creation of capital. Both disciplines are essential for the management of an organization's finances, and each relies on and impacts the other. For instance, accounts provide the financial information necessary for making informed financial decisions, while finance provides the financial theory and principles upon which accounting is based. Both areas are also used to ensure that financial operations are conducted properly and that effective controls are in place to safeguard an organization's assets.
The economy of families, companies and states works to a large extent thanks to accounting and finance. These two concepts allow people to control income and expenses and manage investments and savings. Accounting records data and gives an overview of the situation of a company. So, it is undoubtedly a crucial business language that every entrepreneur needs to understand, but that is only one aspect of the larger picture. Finance seeks to make predictions and facilitate decision-making by minimizing future risks, which makes it the other piece needed for a complete and successful company.
This means that one depends on the other and by having control of both, a company has an enormous capacity to lead successfully. Those who master accounting and finance can achieve excellent professional positions in a changing market. However, not everyone has the chance to learn in a traditional way. There are people who must become experts with self-learning and work experience.
Mr. Karibwa Aviu, also known as Karl, with a lot of effort and dedication, founded Kiribooks Prompt Services, an Australian-based bookkeeping and accounting service provider that helps music producers and creative professionals master their cash flow with great confidence by implementing a three Simple Step Strategy to become successful business owners. The success of this venture is that it does not have a generic or vague vision, like most businesses in the market do. Its not just a normal accounting firm rather it provides strategic consulting to its clients to thrive in their businesses.
Moreover, Karl published a book titled "What Cashflow and Rhythm have in common: Learn how to finally understand the financial side of your business" three years ago. In his own words, "understanding Accounting and Finance at a strategic level is like having a Complete Business Financial Calendar right in front of you to guide you and to answer the two most critical questions for a business owner: 'What has happened' and 'what is about to happen' within the business management, down to the cashflow level."
He's a Registered Tax Practitioner, a Xero Certified Advisor and Qualified Accountant with the AIPA AFA designation, an Associate of the Institute of Financial Accountants (UK), and an Associate of the Institute of Public Accountants (Australia). He holds several qualifications such as a Professional Diploma in Bookkeeping and MYOB (Australian College, 2010), a Diploma in Accounting and Finance (London Institute of Business Studies, 2019) and a Post Graduate Diploma in Accounting and Finance from the European International University-Paris (2022).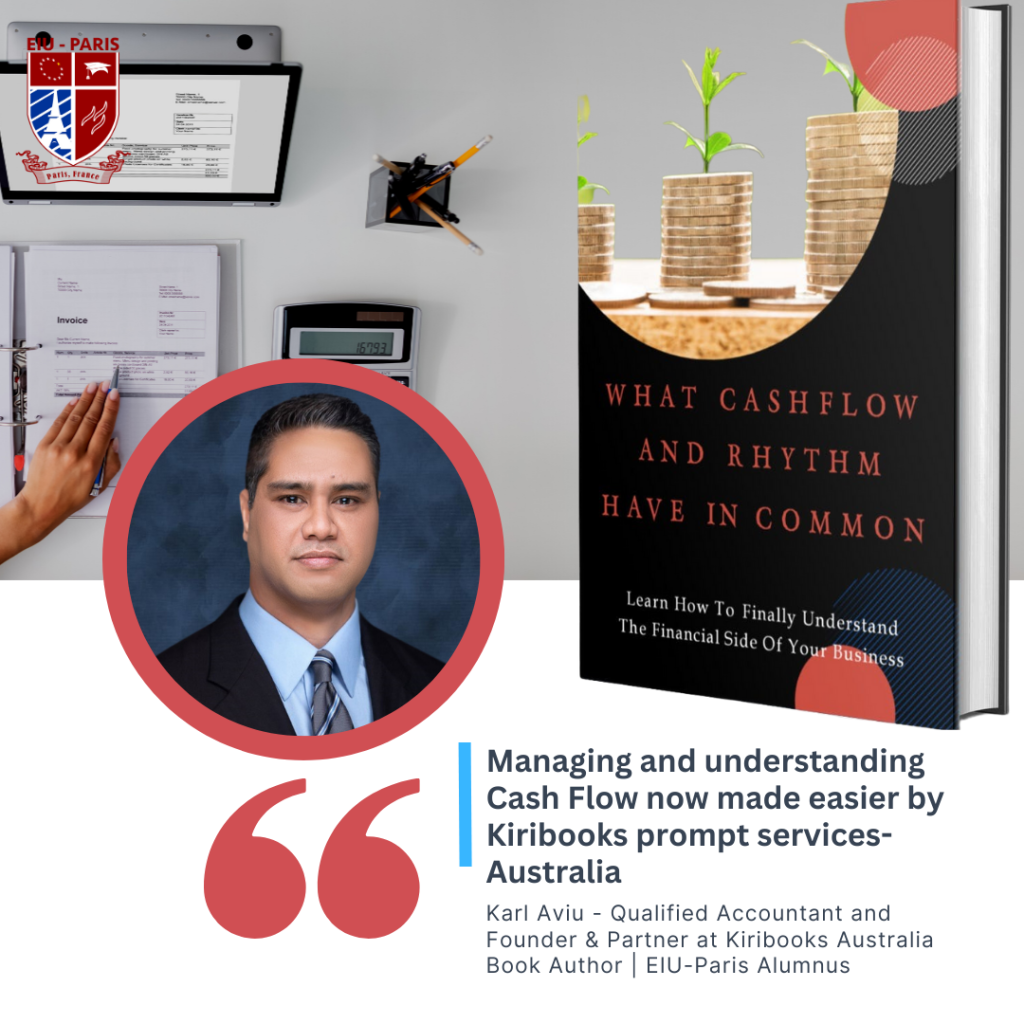 I chose EIU-Paris to study and further acquire new skills because of its executive education methodology as it provides video components part for each topic of the courses that are brilliant. Besides that, watching and listening to a lecturer explaining his or her terms on the subject matter was also a great bonus.

Karl Aviu
EIU-Paris helps professionals challenge themselves with the immersion of great classes and practical tools. These features make our students acquire deeper knowledge and become leaders of their fields. Mr. Karibwa Aviu stated the following words: "I have gained phenomenal skills in accounting and finance both on a deeper and strategic management level. The PGD degree in Accounting and Finance offered by EIU was unlike any other education institution that I have come across with. The programme was very practical and related to real life scenarios, so for someone like me who was self-taught, gained knowledge and skills from real life experience as an accountant, I found the programme to be very beneficial – both personally and professionally."
Studying a PGD at EIU-Paris
In order to give new skills or expanding on what people in the workforce currently do, the European International University-Paris has designed Postgraduate Diplomas that are at the forefront of executive business education. By acquiring this knowledge in a practical and rigorously academic way, our students increase their competitive edge. People may choose to continue to one of our Master's Degrees after successfully completing the five modules in this program.
PGDs are perfect for anyone who want to increase their knowledge and expertise in a certain industry-specific topic. They combine a top-notch curriculum with interactive forms to create a leadership mindset with business skills. We've also dessigned several other programs in business such as our BBA, MBA and DBA.
Moreover, our prestige speaks for us: The European International University is ranked #55 WORLD'S BEST BUSINESS SCHOOLS for 2023 by CEOWORLD Magazine.
Our students can learn at a prestigious European business school without having to abandon their projects, families and brilliant professional careers. The best of this experience is that all our programs are accessible, affordable and adaptable.
Submitted by Alessandro Odoardi on 12.06.2023 Contact: [email protected]