A customer service job in banking is appealing to many people. The banking industry offers a wide variety of options, from entry-level positions to high managerial positions. Being a worker in the banking industry also entails development in an industry that consistently provides labor and well-paying employment.
Every day, the employees of these banks oversee financial transactions. These individuals enjoy the trust of accessing consumer accounts, making loans, and many other things. A career in banking equips people with a variety of abilities that can be put to use as a branch manager, teller, or administrative assistant, among other positions in the banking industry.
However, it is important to recognize that jobs in this financial sector can be demanding and hard to come by. With digitization, many jobs have disappeared from banks and being hired for the ones that remain is highly competitive.
Ms. Josephine Ndidi Edu knows what it means to build a career in banking from the ground up. She has worked for Eco Bank Nigeria Plc ("Ecobank") as a Clearing officer and Marketer (March 2009-February 2010), for Guaranty Trust Bank Limited ("GTBank") as a Switch Board Operator (February 2011-September 2014) and then as a Legal Administrative Officer/Para-Legal (November 2014-June 2022), and for Optimus Bank Limited as a Para-Legal/Legal Administrative Officer (June 2022 up to now).
As someone who has worked in the most prestigious banks in Nigeria, Ms. Josephine Ndidi Edu has had the opportunity to contribute immensely to the success of the Legal Group in areas of litigation, loan recovery, garnishees and handling of complaints, searches by ensuring that records and filling system are well managed and the Bank's schedules. She's helped as well to get updates by adequately following up external solicitors daily, and with that it's been possible to know the outcome of proceedings in court, work on reconciliation of expense ledgers and prepare budget and advice on expense lines for the Group while successfully managing customers' expectations both internally and externally.
Currently, she also handles Board and Board related tasks, attends legal meetings, prepares weekly and monthly reports and ensures smooth running of Optimus Bank Limited's Legal Group.
In addition to her extensive work experience, with which she has been able to acquire enormous knowledge in finance and law, Josephine has an extensive training that supports her search for personal growth: She holds an OND (2005) and NHD (2008) in Accounting from Auchi Polytechnic, Edo State. She wanted to continue her academic and professional development without having to stop the momentum that her career was achieving in the financial world. For this reason, she chose the European International University-Paris to do her Bachelor of Business Administration (BBA) in Finance to study at her own pace along with her day job.
In 2023, Josephine earned a first-class bachelor's degree in Finance from EIU-Paris and has demonstrated the ability to quickly learn new skills, adapt to new environments, and deliver tasks with the utmost care and professionalism while anticipating customer needs and adapting to succeed in a changing market. Moreover, she has demonstrated the ability to deliver dependable value over the short and long term through the knowledge she has acquired.
"Empowering women is critical for the world's economy and people" – Christine Lagarde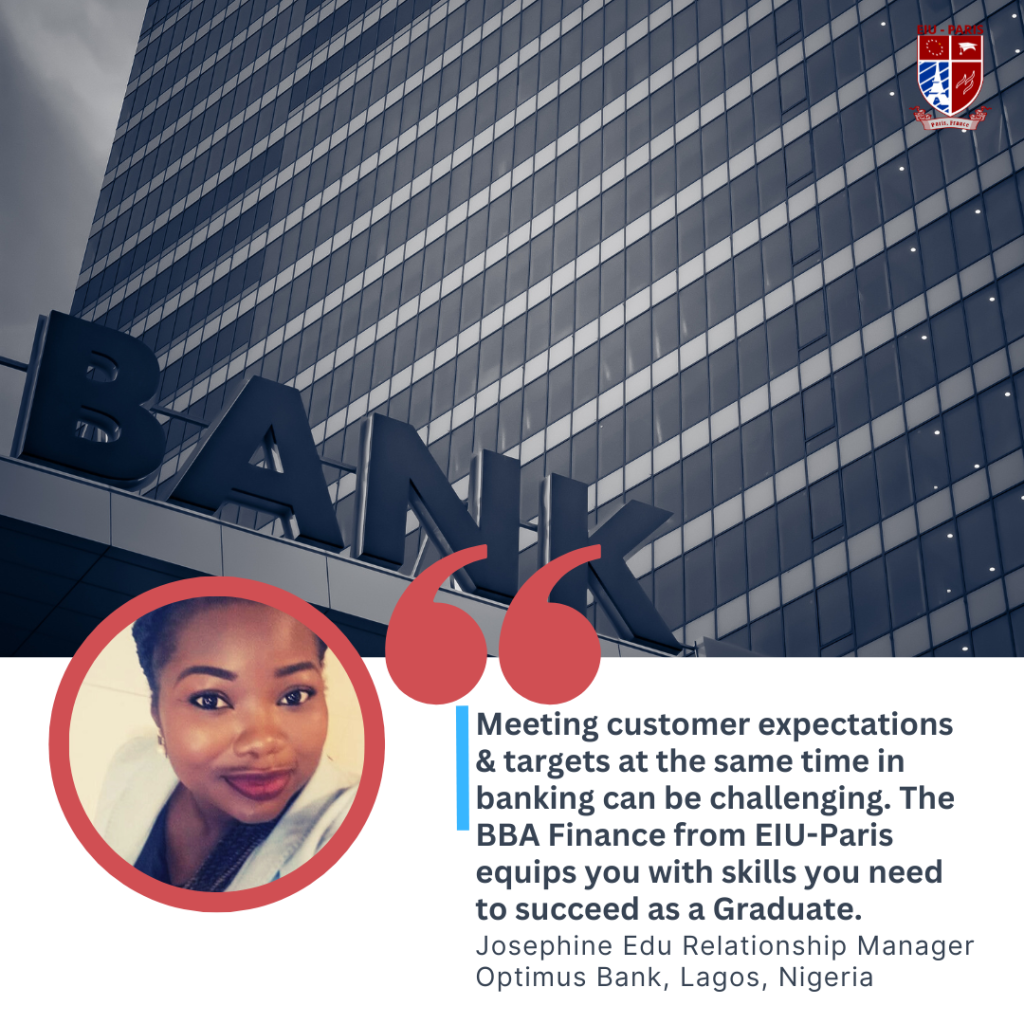 Christine Lagarde, President of the European Central Bank and one of the most influential women in the world, said that "empowering women is critical for the world's economy and people". She even added that "If banks and financial supervisors increased the share of women in senior positions, the banking sector would be more stable". For this reason, at EIU-Paris we strongly support the efforts for women to continue growing in the financial sector (and in business in general terms): With quality and affordable education that allows them to go to the next level and have a bigger impact on the world.
According to Ms. Josephine Ndidi Edu, "EIU-Paris has helped me grow and demonstrate the enormous potential that women have in law, finance and business. Not only was I able to continue developing my professional career, but I have also obtained first-rate training from an excellent university."
BBA at EIU-Paris
Obtain a Bachelor of Business Administration degree to advance academically. One of the most well-liked professional degrees will instruct you in the foundations of business and management. With this training, you can either launch your career immediately or utilize it as a stepping stone to enroll in a reputable MBA program.
It is essential that you select the appropriate course for graduation. You must therefore be aware of your professional career goals. The BBA degree is the one for you if you want to manage a large organization or launch your own firm eventually. There are numerous benefits to earning this degree over others, including its high worth.
The European International University-Paris offers its students the chance to study the full degree (three years) or go for a top-up (one year) in case you already have a recognized diploma in business, management or a related field. You can also choose among different specializations: Travel and Tourism Management, Hotel and Hospitality Management, Integrated Marketing Communications, International Business Management, and Finance.
EIU-Paris offers study at your own pace options most affordably for its students who in other words do not need to worry about the impact of higher education on their pockets! We offer first-class education at affordable prices, with the aim of providing opportunities for professionals in all parts of the world to graduate from a French university.
The time to make an impact in your professional career is today. Contact [email protected]
Submitted by Alessandro Odoardi on 16.06.2023