Invitation to submit Scholarly Journal Articles – EIU Students & Alumni
Ladies and gentlemen, we have some exciting breaking news to share with you today! As part of a special announcement, we are thrilled to inform you that, through our pre-existing partnership with UNILOGOS, all EIU students now have a once-in-a-lifetime opportunity to showcase their research and academic prowess on an international stage.
We are delighted to announce that our very own alumni, the esteemed Professor Dr. Gabriel Lopes, has been appointed as the Editor-in-Chief of the International Journal of Professional Business Review (JPB), a Scopus-endorsed scholarly journal of the highest caliber. And the best part? As an EIU student, you can now submit your scholarly journal articles to be peer-reviewed and considered for publication in JPB!
As you may know, being published in a Scopus-endorsed journal is a VERY BIG DEAL and can open up new doors for your academic career. And the fact that our students now have the opportunity to do so, through our association with UNILOGOS and our very own Professor Dr. Gabriel Lopes, is truly remarkable announced Prof. Dr Joel Farnworth d Dean of Management Studies EIU-Paris
Editor in Chief – International Journal of Professional Business Review
European International University- Paris takes great pride in their students who achieve success in their career endeavors and one of such alumni has also made us more proud. He is none other than Prof. Dr Gabriel Lopes. When students are successful in their chosen fields, they bring honor and recognition to their alma mater. Prof. Lopes an EIU-Paris Alumni has been chosen as a Chief Editor of JPB – International Journal of Professional Business Review. He is also The president and founder of UniLogos.
Dr. Gabriel Lopes works directly at Logos University International (UniLogos), a university with international accreditation, at CCU – Central Christian University (Malawi) as a member of the University Senate and Professor, at City University (Cambodia) as Professor of International Law, at European International University (France) as professor of the Psychology Program, at FACMED as Director and Full Professor, at Pro Deo State University (New York, USA) as visiting professor and at several other renowned institutions.
As a researcher, Prof. Dr. Gabriel Lopes, has publications in several journals with Qualis Capes A and B standards, and even in The Lancet, one of the most important in the world.
The magazine has indexes of great relevance, among which we can highlight SCOPUS (ELSEVIER)
Scopus
Scopus is the largest database of abstracts and citations of peer-reviewed literature, with bibliometric tools to track, analyze and visualize research. It covers the areas of Science, Technology, Medicine, Social Sciences and Arts and Humanities. It is an international base with a wide representation of scientific production in Latin America. In addition to being a database of abstracts, Scopus is also a database of researchers, as it catalogs all authors of articles indexed by it and assigns an identifier to each cataloged author, the Author ID.
SCOPUS (ELSEVIER) , REDALYC (MEXICO), Directory of Open Access Journals (DOAJ), Latindex, Ebsco Host Publishing, Cengage Gale Learning, PKP Index, Google Scholar and OpenAire We are happy with this great step towards research!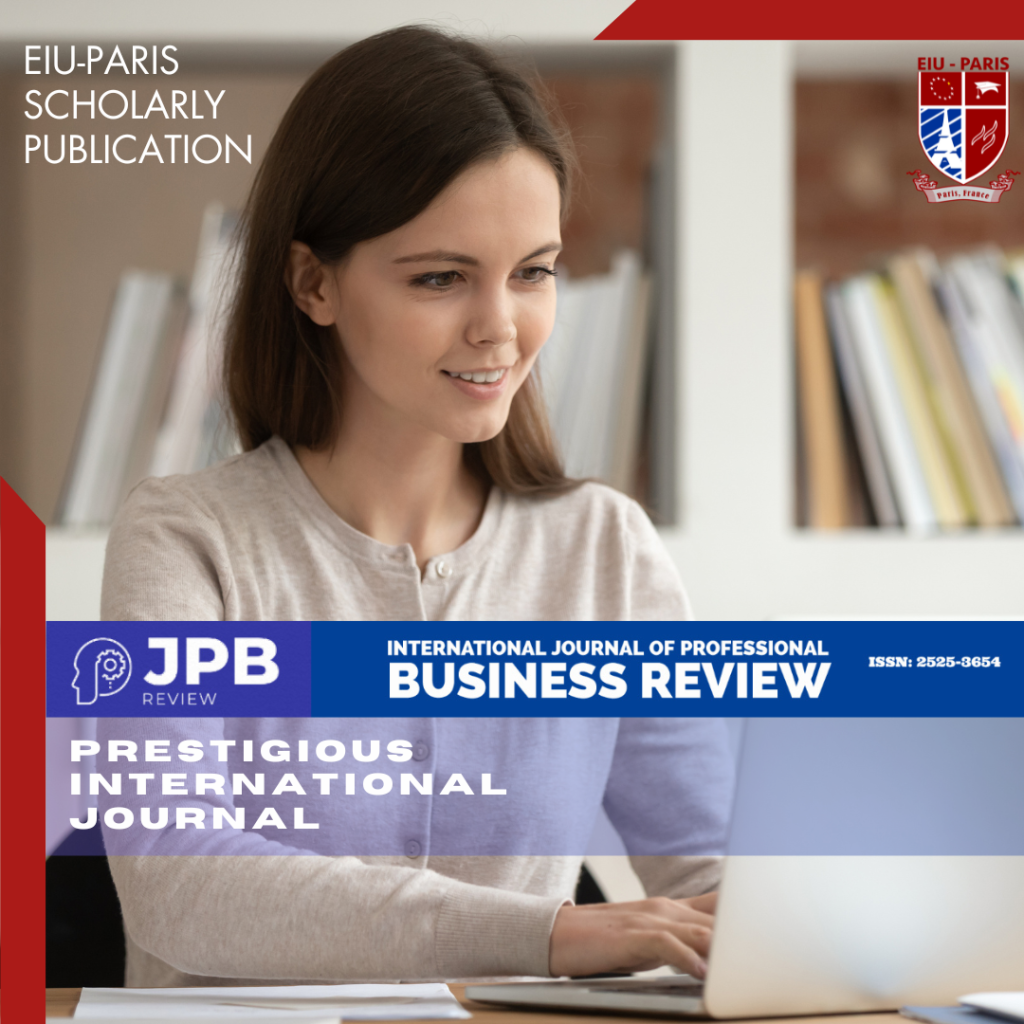 We understand that there may be some concerns about the cost of publication, but we have great news for you! Through our association with UNILOGOS and our alumni's appointment as Editor-in-Chief, we are able to offer an impressive 50% discount on the publication fee. This means that EIU students can now publish their work in JPB for only $250, a fraction of the original cost of $500.

Announced Prof. Dr. Edward Roy Krishnan
So, what are you waiting for? This is a once-in-a-lifetime opportunity to showcase your academic prowess and get published in a prestigious international journal. Submit your scholarly journal articles today and let's show the world what EIU students are made of!
EIU-PARIS SCHOLARLY PUBLICATION – A new section is being developed as EIU-Paris moves towards the next milestone into the domain of Scholarly Publications.
Author Fees – Publication
Article Publication (accepted papers): Standard Price 500.00 (USD) For EIU Students – 250(USD) only
Contact: 📩 [email protected] 📩 [email protected]
📞WhatsApp: +33607591197