Bashar Younes, a 43 years old holding Syrian national, based between Istanbul & Baghdad is a professional Human Resources leader with more than 18 years of practical experience gained in UAE & Iraq. Currently he is also a research student studying and investigating his research project for the timely completion of his Doctoral in Business Administration (DBA) at the European International University- Paris.
Bashar's first job was working as a Store Keeper of an Electronic showroom at an age of 15, He got employed at an early age at a store which was quite large and his role was to handle the input and output on books and running inventory end of the month, Bashar used to get high salary for such job that time than anyone else but a years later he discovered that salary was paid by his dad to push him depending on himself.
Currently he is a Director of Human Resources at Al-Rafidain Group in Iraq, leading a team of diverse nationalities around Iraq. During his journey from the start to his current position he has worked for several international companies such as Rotana Hotels in Iraq, Roya International in Dubai, Harlow International in Dubai, Pioneer Pharmaceutical in Iraq, Warwick Hotels in Iraq & Lebanon, and Sharjah National Hotels in UAE.
Bashar is known as a the " Diplomatic Boss" within the business & corporate environment due to his style and nature of being tactful & using diplomacy in his management style, thus achieved this nickname as his colleagues know that Bashar recognizes when to act as a leader and other time as a manager.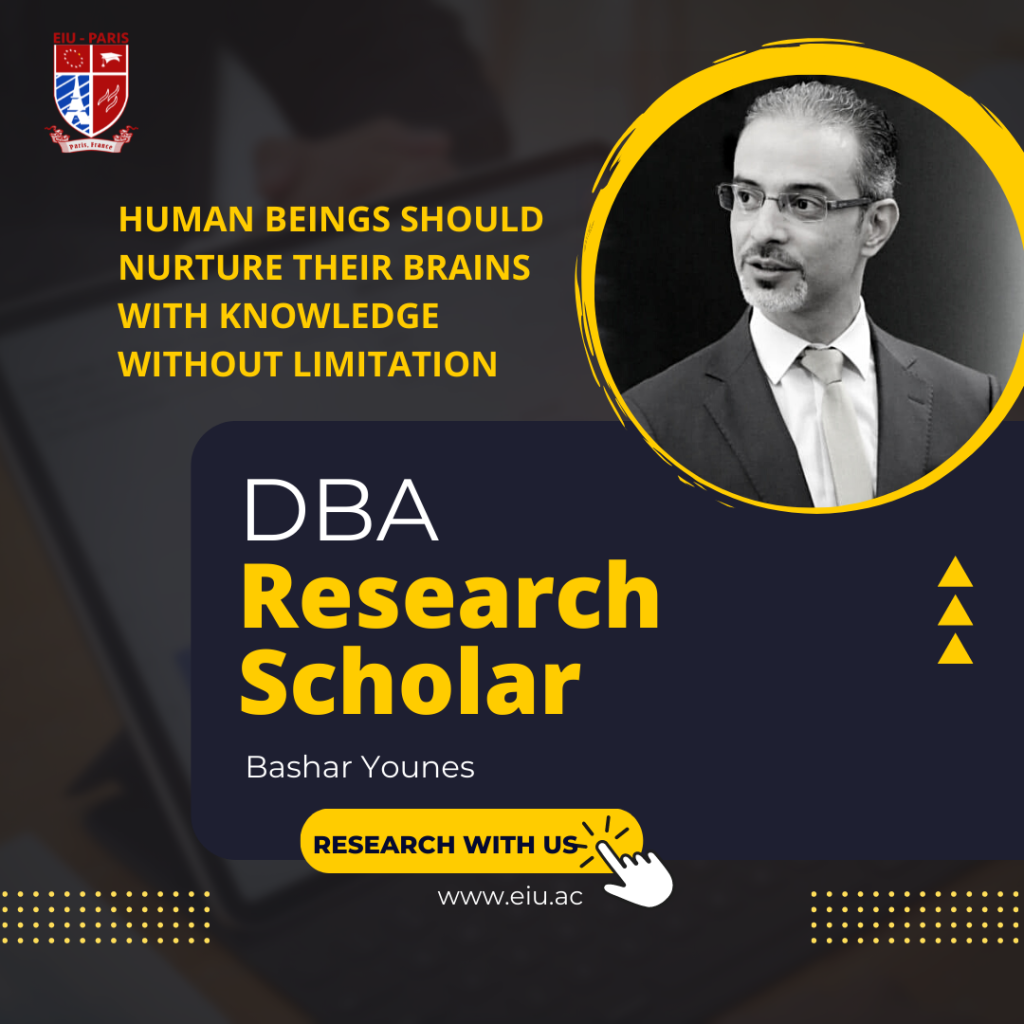 Speaking about his career, Bashar said "I started my journey as a Management Trainee in the United Arab Emirates at 2004 while I was still working on my MBA, I proved to the management my ability to gain trust, learn new techniques, continue educating myself and deliver results at the same time. I enrolled in many training courses over the past eighteen years, including a Mini MBA from the American Management Association. In every company I have learned something great and has added to my knowledge and made me more skilful which is now helping me in my current position.
During a discussion with Dr J Anand , Bashar said "Human Beings should nurture their brains with knowledge without limitation", and he has transferred this mindset to his children to motivate them reading valuable books that are matched with their passion.
Currently Bashar Younes is a Research Student at European International University– Paris while completing his DBA -Doctor of Business Administration and his target is to enrich his knowledge and horizon through research. He explained well the need of this research-based Doctorate for his career to become more advanced in his approach by inculcating new methods, and techniques as well as professional and personal growth which will open wider opportunities to hold future executive positions within international organizations.
Submitted by Tina Yang on 27, OCT 2022 [email protected]
How can a doctoral degree help in the career of executives?
Research & Publications Department – European International University- Paris Contact [email protected]