MBA in Healthcare Management from EIU-Paris transformed my life as a Radiologic Technologist. It not only helped me with the insights of the healthcare industry but also equipped me with the ability to understand and overcome the day-to-day struggles of the Healthcare system as a technician and a manager: Mahmoud B. Tayyem, Chief Radiology Technologist, and Radiation Protection Officer
Mr. Mahmoud B. Tayyem is a registered Radiology Manager, and a Radiation Protection Officer. He is a proud recipient of degrees in Radiography, Biology, Neurology, and Management of Healthcare with more than 10 years of experience in the fields of Radiography, Radiation protection, Research, and Healthcare management.
While rejoicing his accomplishments, Mr. Tayyem in his commencement speech said "Being a manager and a healthcare professional at the same time brings numerous challenges. The most important thing is how to balance your patients' and your employees' needs, and rights, which requires your expertise as a medical professional along with the management and administration skills. Earning my Masters in Business Administration with specialisation in healthcare management at European International University has set a strong foundation for me to manage my department efficiently, confidently and above all holistically, without affecting the quality of my clinical practice."
"The experience and journey of my MBA programme from European International University-Paris was life changing. It radically altered my outlook and perspective on healthcare and what I am called to do as a Radiologic Technologist and Radiation Protection Officer."

Mr Mahmoud B. Tayyem MBA EIU-Paris
He also added that the healthcare-focused curriculum by EIU-Paris allowed him to learn practical business competencies around accounting, finance and operations through the lens of the healthcare industry, which was directly applicable to his work.
EIU-Paris stands tall to share the inspiring accomplishments of yet another valedictorian Mr.Tayyem, who earned his Masters in Business Administration with specialisation in Healthcare Management. A renowned, experienced and well-established Radiologic Technologist and a progressive Researcher, Mr. Mahmoud told Dr J Anand of EIU-Paris that he further wanted to gain a holistic understanding of his field as a healthcare expert, along with strategic management mindset that complemented his clinical skills. Henceforth, he opted for MBA in Healthcare Management at EIU-Paris.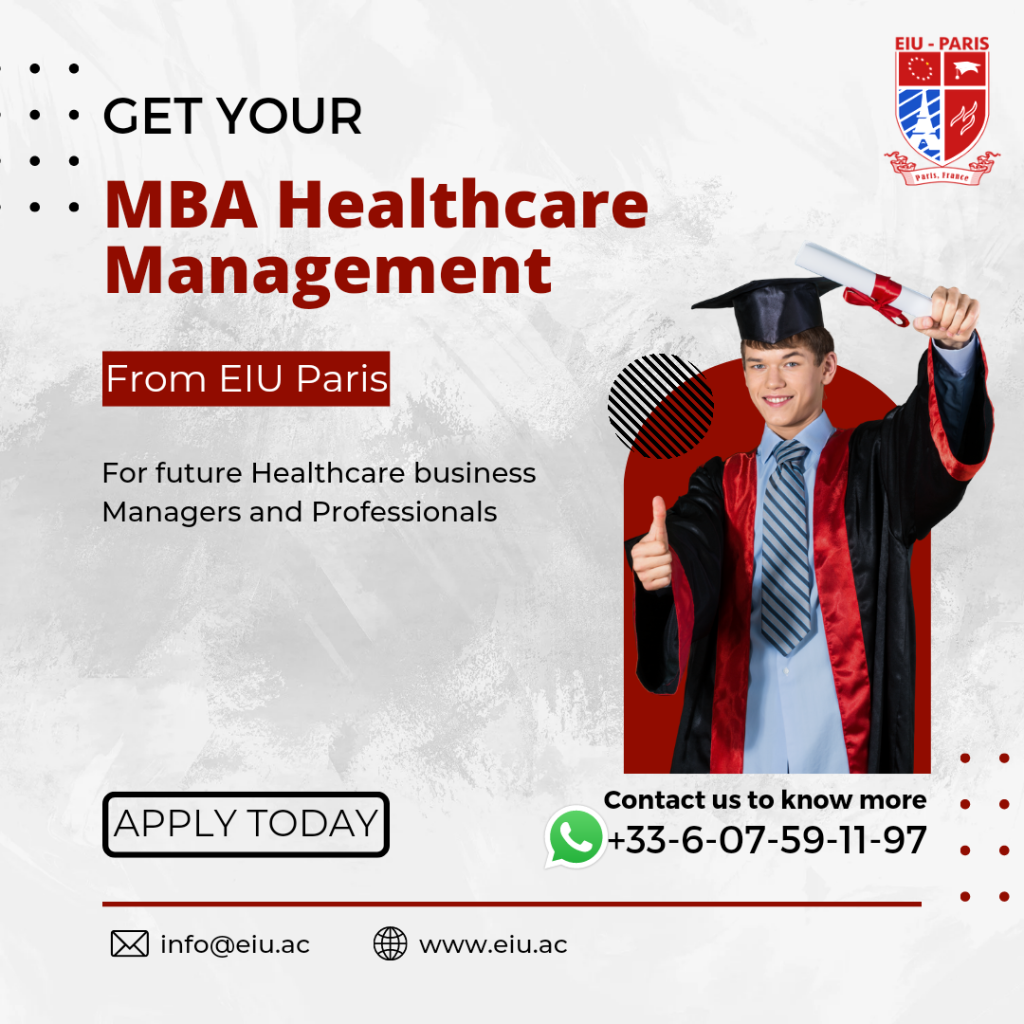 MBA in Healthcare Management by EIU-Paris is one such professional degree programme that has earned a profound leap among healthcare professionals and experts. With the advancement in the demand of managers capable of handling the healthcare sectors globally, MBA in Healthcare has gained vast prominence. As this industry is witnessing an increase in numerous health issues, thus, the management of these factors also requires increasing attention.
Email or text "CAREER"
📩 [email protected]
📞WhatsApp: +33607591197
🌐 https://eiu.ac 🌐 https://eiu.ac/lead_form/