Highly prestigious traditional institutions tend to have memorable facilities and highly inclusive activities for their students. But because of the need to move close to their campus and abandon their careers, many potential talents choose not to further their college careers. The European International University-Paris, as a prestigious benchmark in distance education, offers the possibility for gifted and hard-working people from all over the world to study without putting aside their jobs and personal commitments. An inspirational success story for us is that of Mansur A. Kaura, a recent graduate of the Master of Business Administration (MBA) in Strategy.
Passionate about science achieves great success in finance.
A significant number of young people are inclined towards scientific careers in search of a good future. There is no doubt that scientific work is of utmost necessity in any nation that desires development and when a student graduates with these types of degrees, they are expected to work in their area of expertise. However, it's not always like that. There are individuals who are passionate about science who later move towards leadership: Such is the case of world leaders such as German Chancellor Angela Merkel or British Prime Minister Margaret Thatcher, who studied physics and chemistry respectively.
Mansur A. Kaura is a living example of this kind of exciting transitions. He graduated with a bachelor's degree in Biochemistry from Usmanu Danfodiyo University, but fought to make his National Youth Service to Zenith Bank in Ondo State, Nigeria. Although many dismissed him from the start, he provided an excellent service at this financial institution. Upon the completion of the program, he was hired as an Executive Assistant.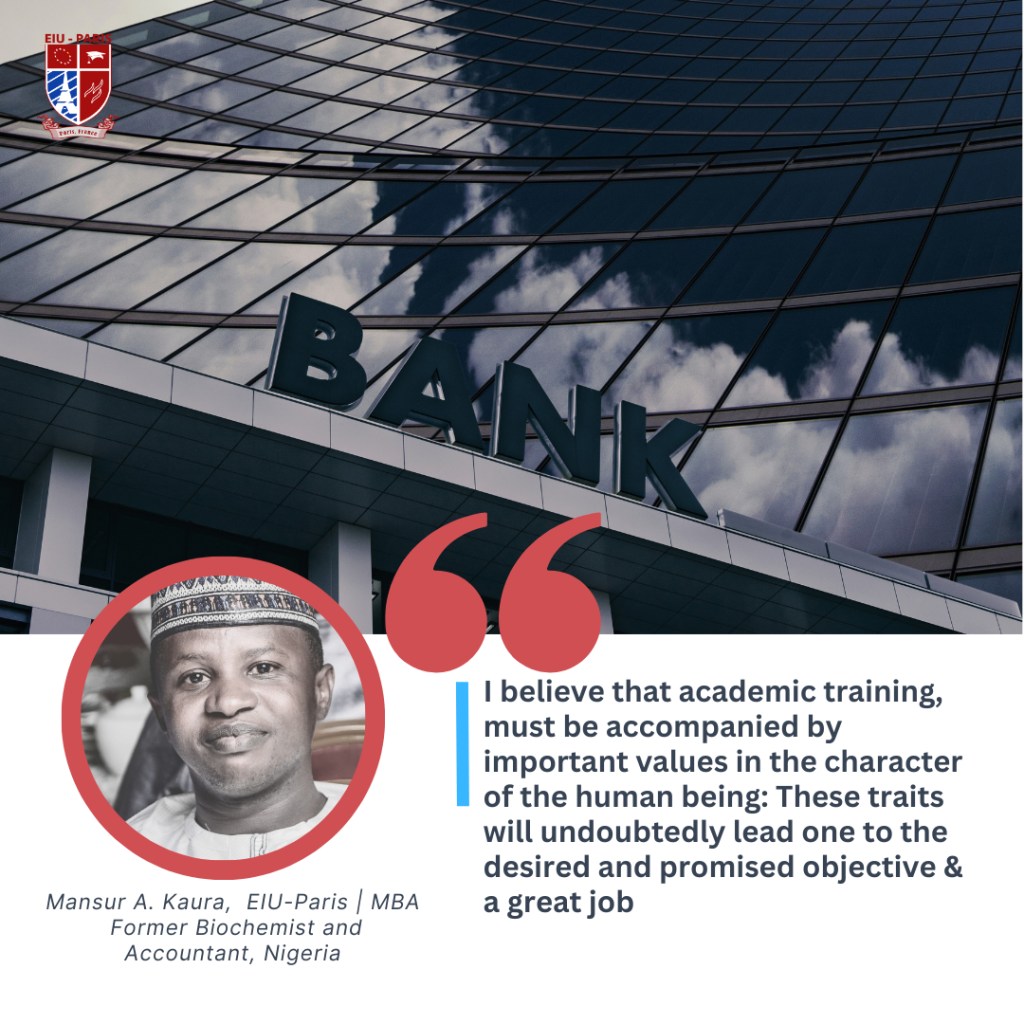 Personal growth never stops: The need to keep working and studying.
Even though Mansur A. Kaura showed that he had what it took to be considered a good worker for Zenith Bank, he knew he had to continue to grow personally to be more empowered as a top financial expert and manager. In that sense, he has completed various postgraduate programs and has become a Bank Manager with profitable balance sheet within just five years experience with globally recognized Polaris Bank in Nigeria. And ever since the branch under his supervision he never recorded a loss but appreciable profit monthly.
He pursued further studies at International School of Management London,
Nigeria College of Accountancy Jos, South America University Delaware,
Global Wealth University and Institute of Oil and Gas Research and Hydrocarbons Studies.
Then, Mansur realized that an MBA provides advanced business skills in areas such as business strategy, human resource management, accounting and finance. And all these skills can help make strategic decisions that impact the business environment. That's when he found the EIU-Paris, with which he knew he could learn all this and get his degree from a prestigious European business school.
In his own words, he said that "Today as a result of self-empowerment via premier platforms like EIU, I offer interviews, counsels and advocacies in economic and financial matters. I can't believe the remarkable proficiency that an MBA from EIU-Paris offered me and now feel exceptionally capable to strive not only in management but in other areas of my life".
The future looks bright and the best is yet to come.
Mansur believes that academic training, although very important, must be accompanied by important values in the character of the human being: One's tenacity of purpose, dedication, enthusiasm for self-improvement, and open-mindedness. He believes that these traits will undoubtedly lead one to the desired and promised objective. As a former biochemist and also an accountant, the business manager of one of Nigeria's most reputable banks, Masur is a powerhouse in the field of international business management with a number of relevant certificates, and soon planning to start his PhD in Economics.
Study an MBA at EIU-Paris
A few years ago, the Master Business Administration (MBA) seemed to be studies exclusively suitable for professionals who held high positions, people with long professional experience or, in the case of recent graduates, those students who had many financial resources or outstanding qualifications. At EIU-Paris, we have an excellent MBA program that will allow recent undergraduate graduates, people who want to change the course of their career or new entrepreneurs to prepare for the business challenges of the 21st century.
Moreover, our school is ranked 55th as one of the best business schools in the world (CEOWORLD Magazine). Cases like Mansur A. Kaura's show us that our intense work to educate people around the world is a noble purpose and we're succeeding on it. We believe that excellent management training should be available to everyone and that is why we have designed a cost structure that makes all of our programs affordable and accessible through the Internet. This is the time to get the education of your dreams.
Submitted by Alessandro Odoardi [email protected]