Davinder 'Tony' Grover on using Gurbani and psychology to motivate the masses.
By Dr J Anand
Do you ever receive a "quote of the day" from one of the several WhatsApp family group chats that touches on a relatable life event but in a positive way? I once compiled these sayings on a Pinterest board so I could refer to them whenever I needed a reminder. I was interested by Davinder 'Tony' Grover's similar idea, where he posts a thought to inspire others every day, as I went through his Instagram profile, fittingly named Tony's Thought of the Day (TOD).
Tony is a successful businessman who was born in Thailand and raised in India. He has his own company, Alwin Traders.
He describes how his journey was conceptualised and how his "Thoughts of the Day" have led to new relationships and an endless supply of inspiration. I recently asked him a few questions
You manage the 'Tony's Thought of the Day' Facebook and Instagram pages. How long have you had your page? What motivated you to begin it, too?
Although 'Tony's Thought of the Day' has been an idea for 16 years, my Instagram page was just launched a few years ago. It all started when someone recommended I share ideas backed up by Gurbani, noting that headings are frequently used to provide meaningful examples from everyday life. I initially began expressing my thoughts via emails, then later also by SMS, with her advice and help. As WhatsApp grew in popularity, Eventually, I began sharing and using them on Facebook and more recently, on Instagram.
What do you want your material to accomplish? Has the response met your expectations?
When you see a fire when people are in danger, get a bucket of water and put out the flames, a master once instructed his apprentice. You just do your duty, regardless of how little your bucket is or whether there isn't enough water to completely put out the fire. They claim that Guru Nanak Dev Ji's mission was to put out people's fires, whether those fires were caused by interpersonal conflicts, cultural differences, social injustices, personal negligence, or ideas that were consuming their life. People are enduring a raging fire of resentment and my daily words help them realise how important and precious life really is.
Before you started, did you have any prior experience in content creation?
I set out on my journey with a concept in mind, and as more individuals joined in over time, the notion turned into a procession. A small number of individuals edit my work every day, and I respect their judgement since they point out my errors. Then there is my brother, my mentor Dalbir Singh, and his entire family who have helped me by giving me advice on how to post reels on Instagram and how to expand their audience. If you ask me, I know very little about how things are carried out, but I am fortunate to have had mentors. I'm convinced it will significantly impact people's life because of the sagacity of Gurbani and my understanding of psychology.
Did you anticipate that you would earn almost 3,000 followers in such a short period of time? To what do you attribute your following?
I sometimes had an audience of 20 to 30 people when I visited people's homes to give speeches, but I was content to speak to only five people. It's incredible to think that my page has 3,000 followers. It seems as though I am speaking to 3,000 individuals who are seated in front of me. It's a lot to take in. My readers have always showered me with blessings and gratitude. The likelihood that what I offer will have changed someone's life has always been more important to me than the stats.
Since My father passed away quite recently  and as a tribute to him, I shared just one of the lessons out of the innumerable life lessons he gave me. That reel became viral. People have praised what I said and what I shared. The response has been overwhelming and I am short of words to express my gratitude. I only hope my thoughts have been inspirational enough to veer the direction of some people's thoughts in a positive direction, and bring about harmony and peace in their lives.

Davinder Grover is a renowned Psychologist in Bangkok, Thailand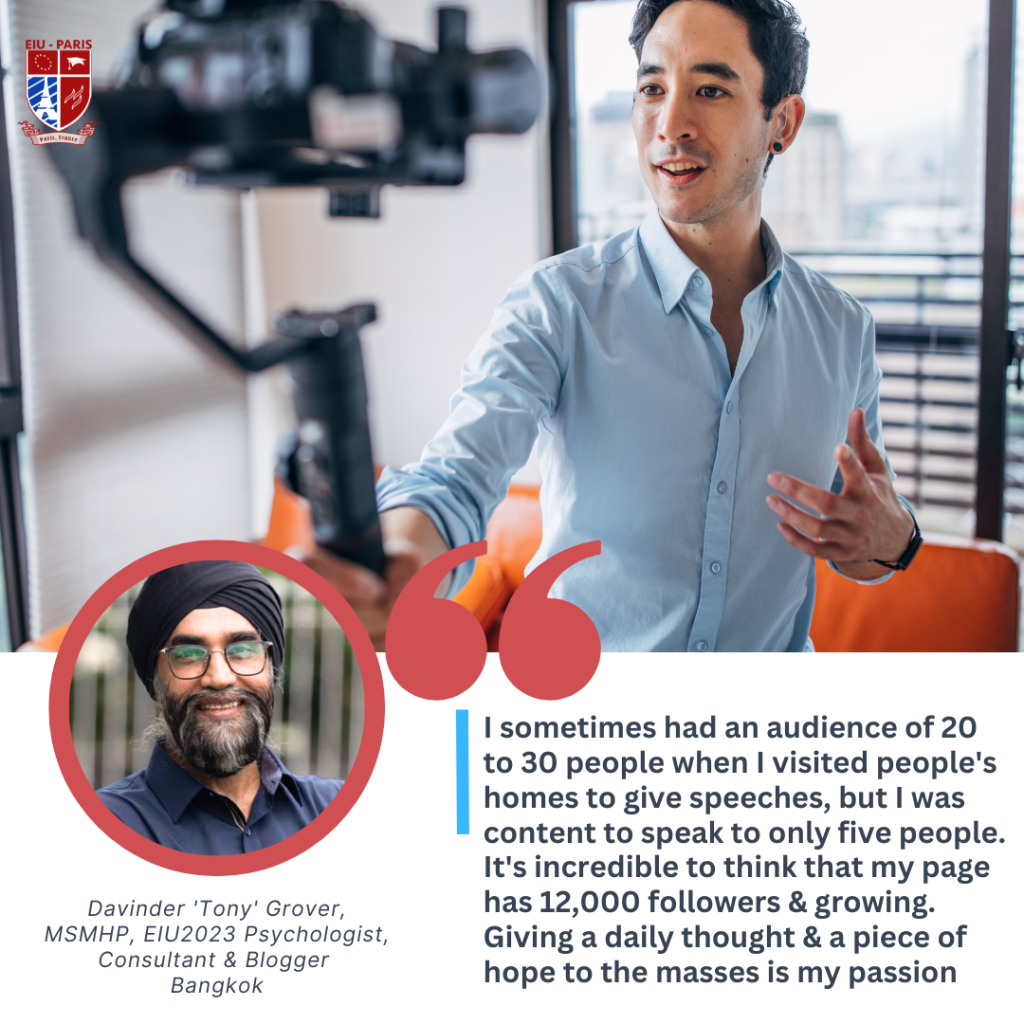 Davinder Grover recently speaking in an interview with a local magazine said that today in the world despite increased scientific productivity and material success, statistics show that rates of mental disorders such as suicide, alcoholism, drug addiction, marital breakdown, and other problems are increasing at a steady rate. It seems that as the material comforts of life increase, so does mental health. Sobriety is achieved if a person matures completely according to the characteristics and laws of human nature. Mental illness is the result of failure of such development. 
As mental health psychologist Davinder is a professional specializing in the diagnosis, treatment, and prevention of mental health and behavioral issues. He works with individuals, families, groups, and communities to assess mental health issues such as depression, anxiety, eating disorders, ADHD, and substance abuse. Mental health psychologists like Davinder use a variety of therapeutic approaches to help individuals gain a better understanding of themselves and develop the insight and skills necessary to make positive life changes. They might also provide psychotherapy, psychoeducational services, conduct research, and teach at universities.
Davinder runs a private psychological consulting company in Bangkok under the name of TONY'S WISDOM WAVE & helps his clients on their issues. He shed great insights for future students who are looking to pursue career in similar profession as himself. He said ''I decided to pursue a Master's degree in Mental Health and Psychology from European International University -Paris because I wanted to gain the knowledge and skills necessary to help people on a deeper level. I wanted to understand the science of the human mind and be able to effectively counsel and provide therapeutic interventions. I have always been passionate about helping others, and I knew that a Master's degree in this field would provide me with the necessary education and training to become a successful professional counselor or psychologist.
MSMHP from EIU-Paris has allowed me to further develop my knowledge and gain an even deeper appreciation for the complexities of human behavior and the therapeutic process. All in all, my program has provided me with a strong foundation to pursue a successful career in psychology.

Davinder 'Tony' Grover
If you are considering a career in the field of mental health and psychology, then a master's degree is a great way to expand your knowledge and gain additional skills. With a master's degree in mental health and psychology, you will be able to work as a professional in this field and make a real difference in people's lives.
During one of EIU's convocation ceremony in Bangkok quite recently I asked Prof Dr Edward Roy Krishnan about Davinder's ongoing research in the field of Psychology and he simply quoted "He is an exemplary student of psychology at EIU-Paris" summarizing Davinder's dedication in one sentence.