In the realm of education, the pursuit of excellence is at the forefront of every accomplished scholar and institution. One such luminary is Dr. Mahadeva, a high-profile professor, and an exceptional academician who recently achieved the distinguished accolade of D.Litt from EIU Paris. This prestigious recognition, equivalent to the highest award in education, Doctor of Literature, highlights Dr. Mahadeva's remarkable contributions to his field. As we delve into his journey, we also uncover the commitment and stringent evaluation process followed by EIU Paris, a renowned institution that continually attracts top profiles and researchers.
Dr. Mahadeva: A Beacon of Academic Excellence:
Dr. Mahadeva stands as a testament to the heights one can achieve through dedication and relentless pursuit of knowledge. With the completion of his D.Litt from EIU Paris, he joins an exclusive league of intellectuals, who have been bestowed with this prestigious distinction. The D.Litt degree represents the pinnacle of scholarly achievement, symbolizing profound expertise, extensive research, and a significant contribution to the field of literature. Dr. Mahadeva's attainment of this esteemed accolade highlights his profound understanding, groundbreaking research, and his commitment to advancing the boundaries of knowledge in his specialized field.
EIU Paris: Fostering Excellence in Education:
EIU Paris, the institution that conferred the D.Litt degree upon Dr. Mahadeva, is a vanguard of academic brilliance. Renowned for its commitment to excellence and innovation, EIU Paris attracts high-profile academicians and researchers from around the world. Its reputation as a leading institution in South India adds to its prominence in the academic landscape. The upcoming event in Dubai, where Dr. Mahadeva will be attending, further emphasizes EIU Paris' standing as a global hub for intellectual exchange and academic discourse. The institution serves as a catalyst for the growth of scholars and researchers, offering a platform for collaboration, knowledge dissemination, and the pursuit of educational and research endeavors.
EIU Paris' Stringent Evaluation Process:
At the core of EIU Paris lies a rigorous evaluation process that ensures the selection of exceptional individuals for its esteemed programs and awards. The institution holds a steadfast commitment to maintaining high standards of quality and intellectual rigor. The recognition bestowed upon Dr. Mahadeva highlights the meticulous selection process undertaken by EIU Paris, which seeks out individuals of outstanding academic achievements, research prowess, and significant contributions to their respective fields. This commitment to excellence ensures that EIU Paris attracts top profiles and researchers who add immense value to the institution's academic community.
EIU's D.Litt at Dubai Event: A Celebration of Academic Eminence:
EIU Paris' upcoming event in Dubai provides a platform for luminaries like Dr. Mahadeva to converge and celebrate academic excellence. The event showcases the institution's commitment to nurturing an environment where top researchers and scholars aspire to be a part of EIU Paris and pursue its distinguished Doctorate qualifications. It serves as a testament to the institution's dedication to creating a global network of exceptional academics and fostering collaboration, intellectual growth, and the dissemination of knowledge. The event will feature distinguished speakers, insightful panel discussions, and opportunities for attendees to connect and engage with renowned professionals in the field.
EIU Paris: Empowering Students and Shaping the Future:
EIU Paris is not just a destination for accomplished academics; it is also a beacon of hope for aspiring students seeking a transformative education. The institution's focus on IT and Data Sciences, reflected in the recent addition of programs such as the Bachelor of Science (BS) in IT and the Master of Science in IT and Data Analytics (MSITDA), highlights its commitment to equipping students with the skills necessary to thrive in the digital age. By incorporating the latest industry trends and technological advancements into the curriculum, EIU Paris ensures that its graduates are well-prepared for the evolving IT and data analytics domains.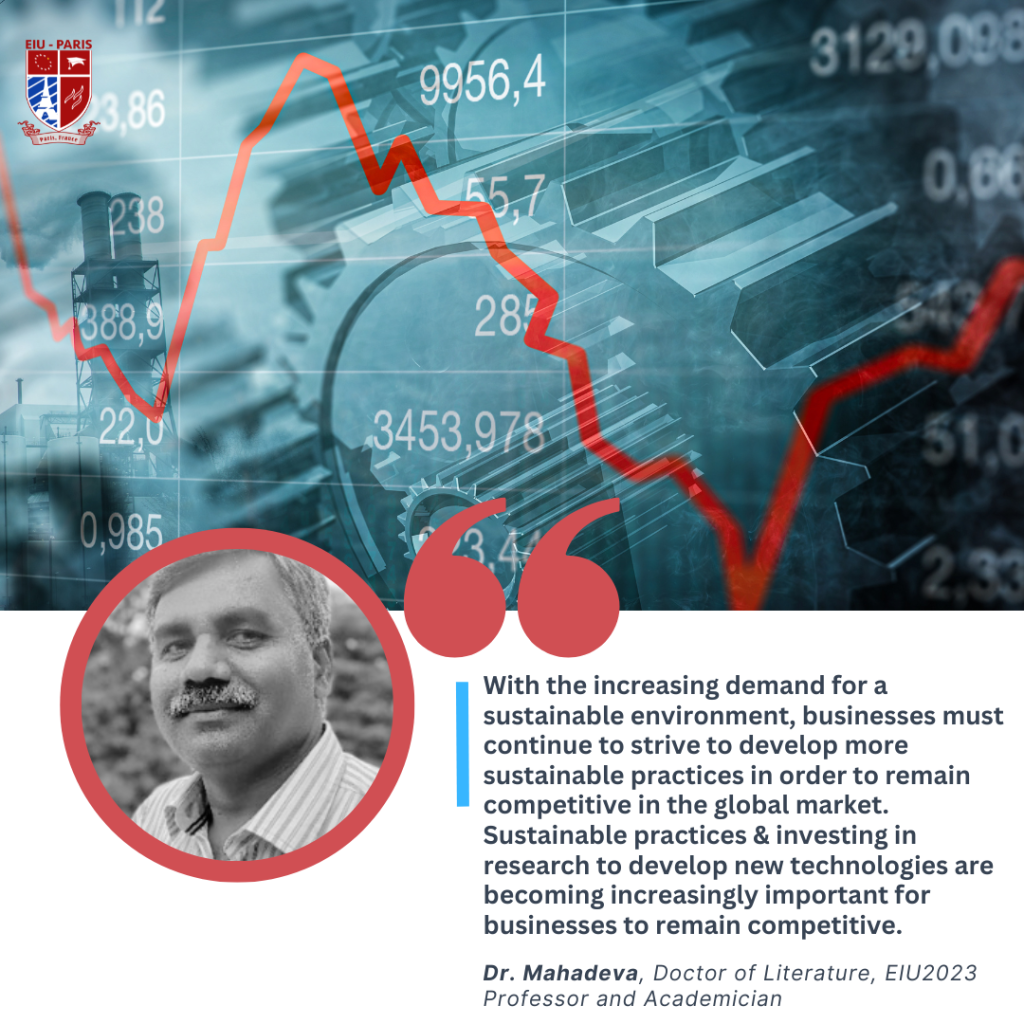 Award of D. Litt. Degree in Economics from European International University – 2023 upon my thesis "Human Settlements and Development Issue in India" has advanced my academic career, besides realising my dream. The EIU has awarded the degree after following all the requirements and procedures professionally. The EIU efforts of social cause shall be complimented for upholding values in advancing knowledge.

Dr M Mahadeva
Professor & Dean Research,
Institute of Finance and International Management (IFIM)
Bengaluru, India
Conclusion:
Dr. Mahadeva's achievement of the D.Litt degree in economics from European International University-Paris reflects his exceptional academic contributions and profound commitment to advancing education and research. As a high-profile professor, Dr. Mahadeva embodies the spirit of excellence and innovation. His journey exemplifies the value that EIU Paris places on attracting top profiles and researchers, while its stringent evaluation process ensures the highest standards of academic quality. Through its forthcoming Dubai event and continued commitment to empowering students, EIU Paris solidifies its position as a distinguished institution that propels education and research to new heights. As Dr. Mahadeva and EIU Paris continue to make significant strides in their respective fields, they inspire the next generation of scholars, researchers, and aspiring professionals to push the boundaries of knowledge and contribute to the advancement of society
Submitted by Dr J Anand on 06 Aug 2023
Continue reading Dr. M Mahadeva's scholarly contributions on EIU-Publications.