Student finance is available to eligible students to help them meet the costs of higher education. It can be in the form of grants, loans, scholarships, or bursaries. There are a variety of student finance services available, including:
Student finance application services that help you apply for student finance.
Student finance advice services that provide advice on funding options and managing your finances.
Student finance management services that help you manage your student loan repayments.
Student finance hardship funds that provide financial support to students who are experiencing financial difficulties.
The type of student finance services available will vary depending on your country of residence. For now the service is offered in a few countries as in the image below: The Student Loans Company is responsible for providing student finance to eligible students is renowned JMMB Bank in Jamaica. The also provides a number of student finance services, including:
An online application service
A telephone helpline
A network of student finance centers
A website with information on student finance
If you are eligible for student finance, We recommend that you contact the student finance provider in your country to find out more about the services available or contact Advanced Solutions Technical Institute ASTI on the numbers below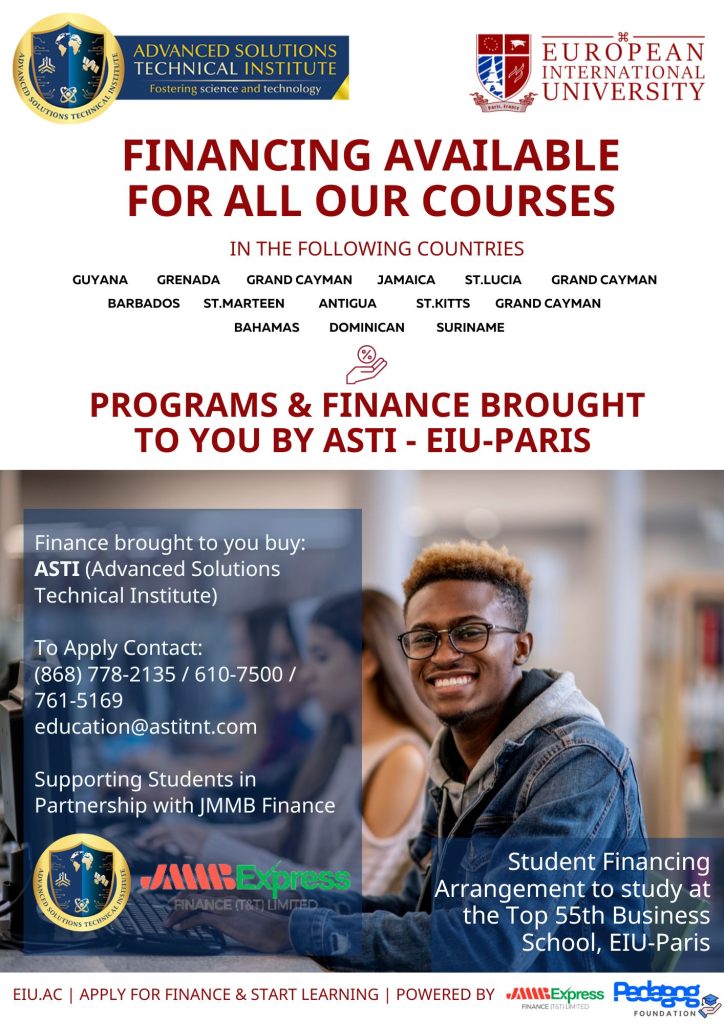 Finance brought to you buy:
ASTI (Advanced Solutions Technical Institute)
To Apply Contact: (868) 778-2135 / 610-7500 /761-5169 | [email protected] | Supporting Students in Partnership with JMMB Finance
For any queries contact [email protected]