Abdallah Maharik is a Chief Financial Officer of a large Organization in Egypt and is a proud alumni of EIU-Paris. He has something to share about his career and experience
For 25 years I have been working in the field of accounting and finance and have held several management positions, the most recent of which is my current position as Financial Sector Manager of a group of companies working in the field of food has focused my interests over the last 15 years in the field of finance to help some projects that want to make expansions in their production capacity to obtain the required funding to exhaust these expansions. Funding positions have been strengthened by obtaining a CMA certificate (Certified Management Accountant).
I also work as a consultant for some companies in the field of restructuring financial management and achieving internal control. It has achieved important achievements in applying governance standards in some industrial companies within Egypt. I was able to finance a food industry project for 26 million euros through a bank in Germany.
During this journey, knowledge, reading books and research were my best friend. And I wanted to crown my efforts by doing postgraduate studies in MBA and then working as a doctor in business administration specialized in strategic management.

Abdallah Maharik
And by researching and listening to the opinions of some friends I found that the curriculum provided by esteemed university EIU-Paris could enrich the mind with what it needs and achieve more successes in business and governance along with learning modern ways of managing the organization more efficiently so I joined immediately.
During this journey, I would not have achieved anything from it without the support of my mother, my wife and my children during this journey, they are always the main driver as they have provided the right environment to achieve this.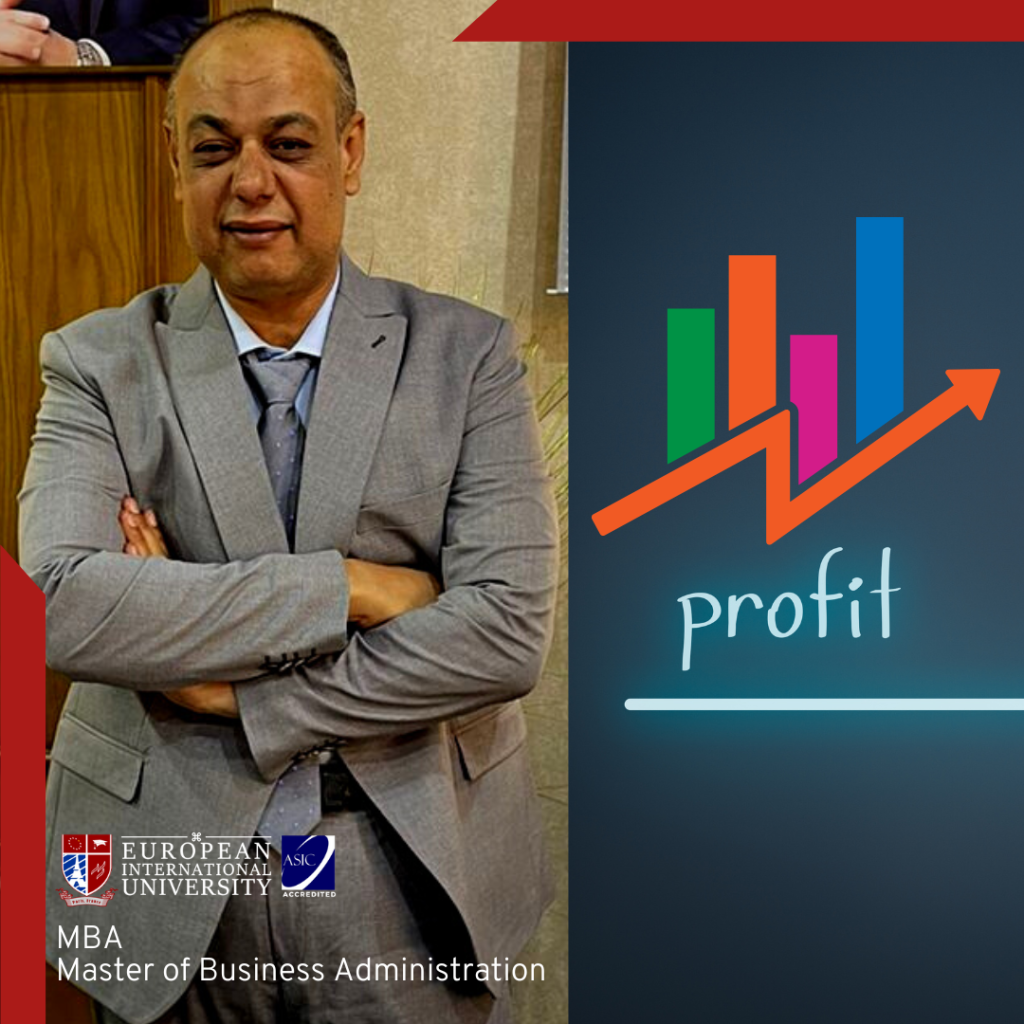 What are the Benefits of a Successful MBA Career.
A successful MBA career can offer many benefits for students, including:
– Increased earning potential: An MBA degree can give you the ability to earn money after you finish your program. Many businesses require a high level of skill and experience, so having an MBA will increase your chances of landing a job that matches your skills and qualifications.
– More opportunities : A successful MBA career can lead you to new opportunities for travel, which can help broaden your horizons and expose you to new cultures. Additionally, traveling during college can give you valuable experiences that you can use in your future career.
– More fulfilling work experiences: After completing an undergraduate or graduate program at an accredited school, most students receive offers from several top employers seeking their expertise in business. This variety of opportunity makes it easier for students to find work that meets their needs and interests, which allows them to build their own careers rather than following someone else's path.
– Improve overall efficiency- The real use case when the MBA learning is practiced in running different departments can bring overall efficiency both in productivity and profitability. It equips you with essential modern management skills and knowledge and prepare you with an enterprising spirit grounded on solid business practices. The programme also aims at providing you with analytical and decision-making capabilities in order to face different kinds of new challenges resulting from the rapid changes seen in today's growing business environment. You will study tools and techniques that will help you develop and manage products and services that will be competitive internationally.
Submitted by Dr J Anand [email protected]