When people go to college, they have an aspiration to become well versed in certain professional areas. And although a degree can last between one to two years in most universities, a very important object of study is almost always left aside which is Management.
Upon graduation, many professionals aspire not only to be seen as experts in their work, but as leaders who are capable of managing projects, teams, and even companies. Ms. Emelda Revocatus John holds a LLB degree from Mzumbe University (Tanzania), but she knew it was necessary to further develop her business and leadership skills. That is why she decided to pursue a Master of Business Administration (MBA) from European International University-Paris.
Based in Dar es Salaam, Tanzania, Emelda is a highly effective professional with vast experience in Human Resources issues. She's also performed very well on acting as a change agent and employee relations champion.
Ms. Revocatus knows how important the human resources management is for every company. All businesses need a strategic method of developing and assisting people, and providing a positive work environment. This task can be quite challenging as this position's duties vary across various organizations and industries, as they often include hiring, paying and providing benefits, as well as providing training and development to increase the abilities and talents of employees. Emelda offers an array of skills in accurate talent sourcing and acquisition, talent management, and development by conducting job performance assessments, and recommending and implementing action plan strategies to meet Human Capital needs.
This expertise in the area of human resources is not the result of a few readings, or of luck that is given from one day to the next. Ms. Revocatus has worked truly hard for several years to be where she is. She has had jobs as Legal Officer (Law Home Solicitors), Human Capital In-line with the advisory functions (Deloitte), Recruitment Specialist and HR Business Partner (Favorite HR Services), Human Resources and Management Consultant and then Head of Human Resources (BUMACO Insurance Company Ltd).
"Successful HR management is all about understanding people, managing relationships and creating a culture of trust and respect."

said Ms. Emelda Revocatus MBA-EIU-Paris
Consequently, she is a true leader that brings positive impact by managing the organization's Human Resources Development strategies and agenda in partnership with business functional leaders and line management. Our institution provides the opportunity for women like Ms. Revocatus to grow and become better leaders. At EIU-Paris, we know that a world with smarter and more capable women means a more prosperous and advanced society.
In a recent conversation with Dr. J Anand of EIU-Paris, Emelda said that the curriculum & ease of studying at your own pace at European International University is best suited for professionals. The focus on practicality and core business models makes one industry ready after you graduate.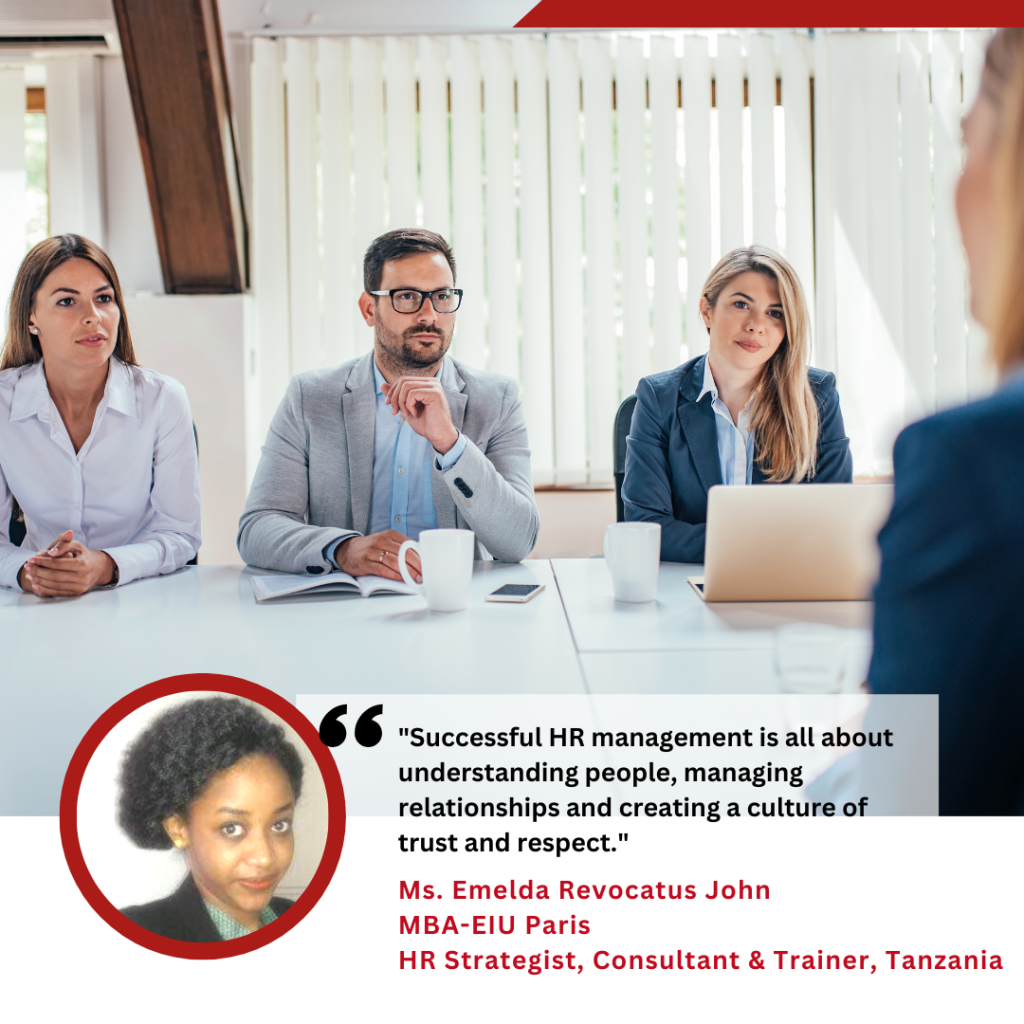 EIU-Paris' MBA: An empowering degree for today's women
Although the spaces for the development of women's capacities have grown, female talent continues to encounter certain difficulties in moving forward.
For this reason, at EIU-Paris we are committed to the potential of women. Our MBA program gives them a competitive advantage in the job market, so they can accompany their previous undergraduate studies and experience with a postgraduate degree from a prestigious French university. The European International University is ranked #55 WORLD'S BEST BUSINESS SCHOOLS for 2023 by CEOWORLD Magazine.
It is not necessary to give up your professional career or sacrifice a year abroad with unnecessary expenses. From their computers and on their own time, today's women can advance their role as leaders by doing an MBA entirely online. Having successful families and careers is a task that demands enormous efforts. With our help, more and more women will find this path a little easier and more fruitful.
"Life is not easy for any of us. But what of that? We must have perseverance and, above all, confidence in ourselves. We must believe we are gifted for something and that this thing must be attained." – Marie Curie
Submitted by Student Intern, Alessandro Odoardi For thoughts and queries email [email protected]