This particular article celebrates the success and commitments of a very renowned personality which is none other than Dr Ramamurthy Subramaniam. From being president of IIWAM the aesthetics institute KL to being an international trainer and key opinion leader for plenty of products, he sure made it impossible for us to not offer him our prestigious Professorship title in Aesthetic medicine.
First, let's delve deeper into his educational background and get insights into how our star rose to so much fame. With a whopping 23 years of experience, Dr Subramaniam obtained his MBBS from Manipal University (India) and has been practicing Aesthetic Medicine since the year 2000. He quite literally defines the idea of a global education through the various degrees he obtained in different parts of the world he pursued Dermatology in Cardiff, Fellowship in Laser Surgery in Utah, Fellowship in Dermatologic Laser Surgery in Bangkok and Cell Replacement Therapy in Geneva. This strong educational sea of achievements, not surprisingly, poured into his professional life, allowing him to flourish in this field.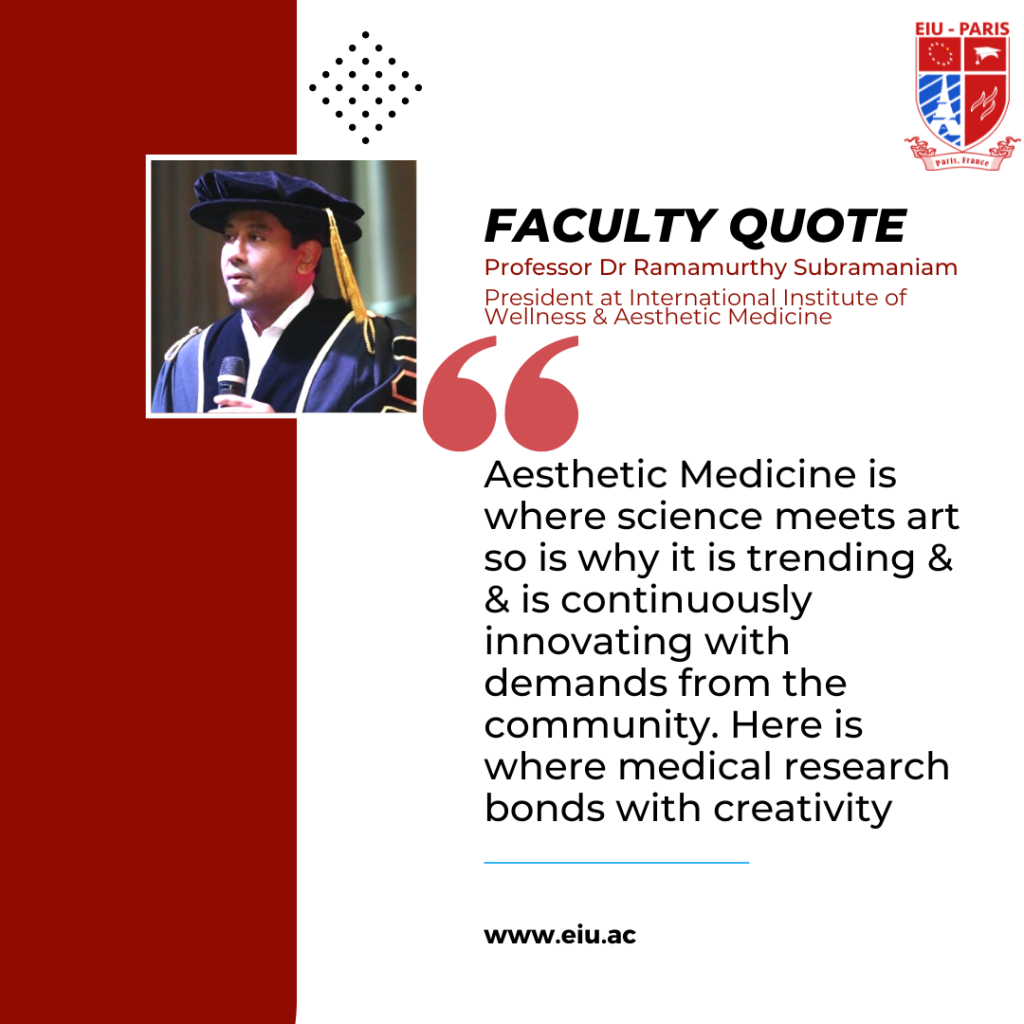 Who said a doctor can't master the job of a businessman because Dr. Subramaniam would definitely prove them wrong on that front. He has set up several aesthetic practices such as Derma Genesis, Skin Club, Global Aesthetic, DAOS Aesthetic and later merged the companies for listing which only made the businesses stronger and led to immense growth.
He even successfully did a Joint Venture with DermaGenesis Malaysia and L'Oreal DermaGenesis, Paris in 2009 which has surely created a buzz around his brand. He is also the President for DAOS Corporation (US) which provides an online learning platform in Aesthetic Medicine where he can train aspiring aesthetic medicine students and prepare them on their own pathway to success. This list of his outstanding achievements could go on and on as we hope it does because Dr. Subramaniam has definitely proven his expertise to the world.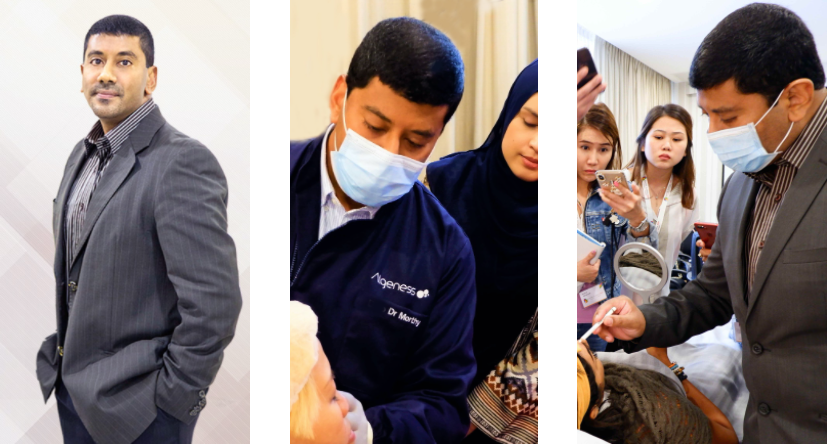 With an outstanding demonstration of career like this along with the completion of stringent requirements at EIU-Paris, Dr Ramamurthy has been awarded Professorship in Aesthetic Medicine and this will further aid him propel his glorious career. The purpose of our award is to primarily recognize the achievements of Dr. Subramaniam and acknowledge his dedication and passion for his career. His specialization tethered up with his years of professional experience made him the perfect candidate for our honorary award. Our award has always aimed to applaud doctors and individuals who show an excellent transition from education to career and how they've used what they've learned to transform it into an outstanding career.

Becoming a professor is a great privilege and an incredible responsibility. I am proud and honored to accept the challenge of educating young minds and helping them grow academically. Teaching is an incredibly rewarding career, and I'm excited to be joining this esteemed profession.

Professor. Dr Ramamurthy
The Professorship title award is very rare and held in very high regard at EIU-Paris and aims to validate the careers of most successful individuals who deserve recognition. We are glad to have extended the same towards Dr. Subramaniam whose achievements proved him worthy of it.
Your expertise in the field of Aesthetic Medicine training and coaching is far more extensive having been actively involved in training and coaching aesthetic medical providers in a variety of settings for over years which includes conducting workshops, trainings, and courses on aesthetic treatments, patient education, and office management as well as written numerous articles and presented at various aesthetic and medical conferences. Furthermore, you having developed and implemented educational programs for national aesthetic organizations, helping elevate the academic standing and competency of aesthetic medical providers, you deserve this Professorship said Prof. Dr. Edward Roy Krishnan of EIU-Paris
Submitted by Rea Shah [email protected]
For Doctoral Eligibility Consideration contact 
📩 [email protected] | [email protected] 
📞WhatsApp: +33607591197
European International University 
For Admission related inquiries email [email protected]
📑https://eiu.ac/lead_form/
Facebook
Instagram
Linkedin
Twitter