As a student studying MS in IT and Data Science, this individual brings with him an impressive 15 years of extensive and diverse work experience in the government sector. With his proven leadership and management skills, he has successfully led multiple teams and executed various projects. His strong organizational acumen and business orientation make him an asset in any context. Additionally, his commitment to strategic contribution aligns perfectly with our university's vision. He holds an MBA, a post-graduate Executive Diploma in public policies, and several professional certificates, showcasing their commitment to continuous learning.
Currently pursuing a PhD in knowledge management, they exemplify his dedication to advancing his expertise. Furthermore, his involvement in various committees and interest in volunteering activities highlight his engagement in the community. Their academic accomplishments and recognition from educational and cultural institutions validate his credibility and aptitude.
Studying MS in IT and Data Science at EIU – Paris is an incredible journey. The program provides a perfect blend of theoretical knowledge and practical skills.

Abid Marzouq Abid Al Dhahri,
MS in IT & Data Science, EIU2023 UAE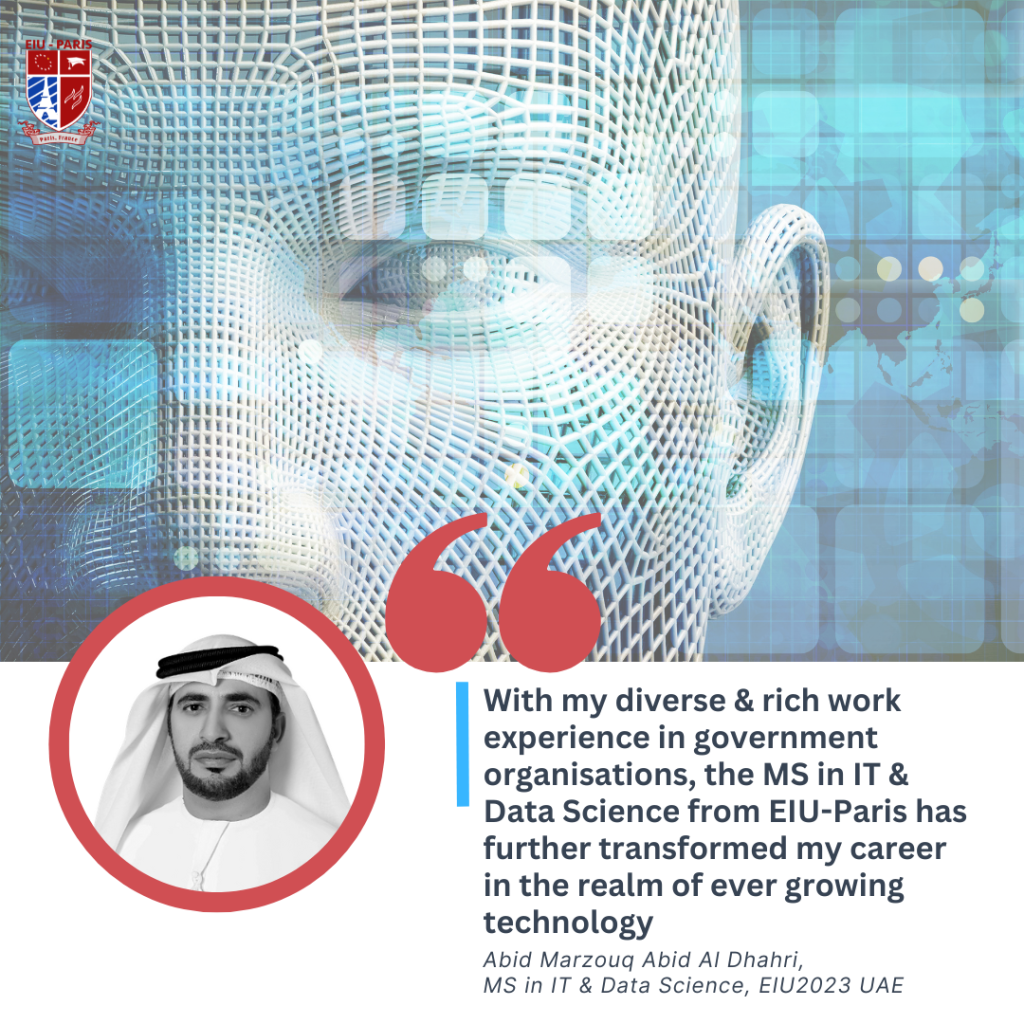 With my diverse & rich work experience in government organisations, the MS in IT & Data Science from EIU-Paris has further transformed my career in the realm of ever growing technology. Studying MS in IT & Data Science at EIU-Paris was a transformative experience. The online resources made learning convenient and accessible. I feel prepared to excel in the ever-evolving field of data science. said Abid in a conversation with Dr J Anand of EIU-Paris.
𝙴𝙸𝚄-𝙿𝚊𝚛𝚒𝚜 𝚒𝚜 𝚛𝚊𝚗𝚔𝚎𝚍 #𝟻𝟻 𝚆𝙾𝚁𝙻𝙳'𝚂 𝙱𝙴𝚂𝚃 𝙱𝚄𝚂𝙸𝙽𝙴𝚂𝚂 𝚂𝙲𝙷𝙾𝙾𝙻𝚂 𝚏𝚘𝚛 𝟸0𝟸𝟹
📩 [email protected]
📞WhatsApp: +33607591197
🌐  https://eiu.ac/lead_form/